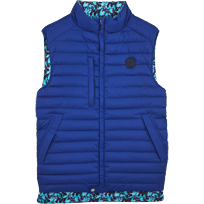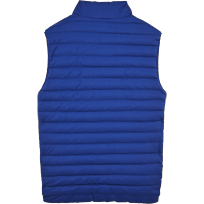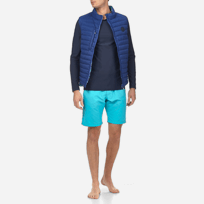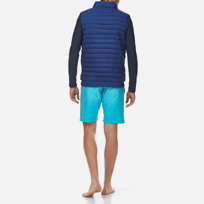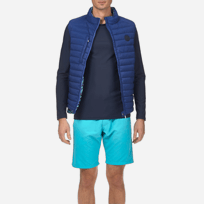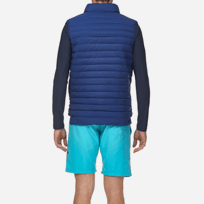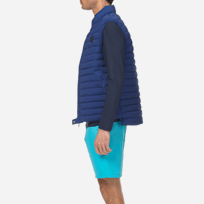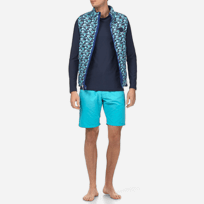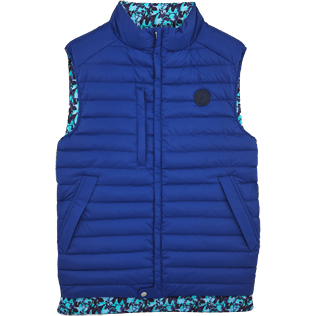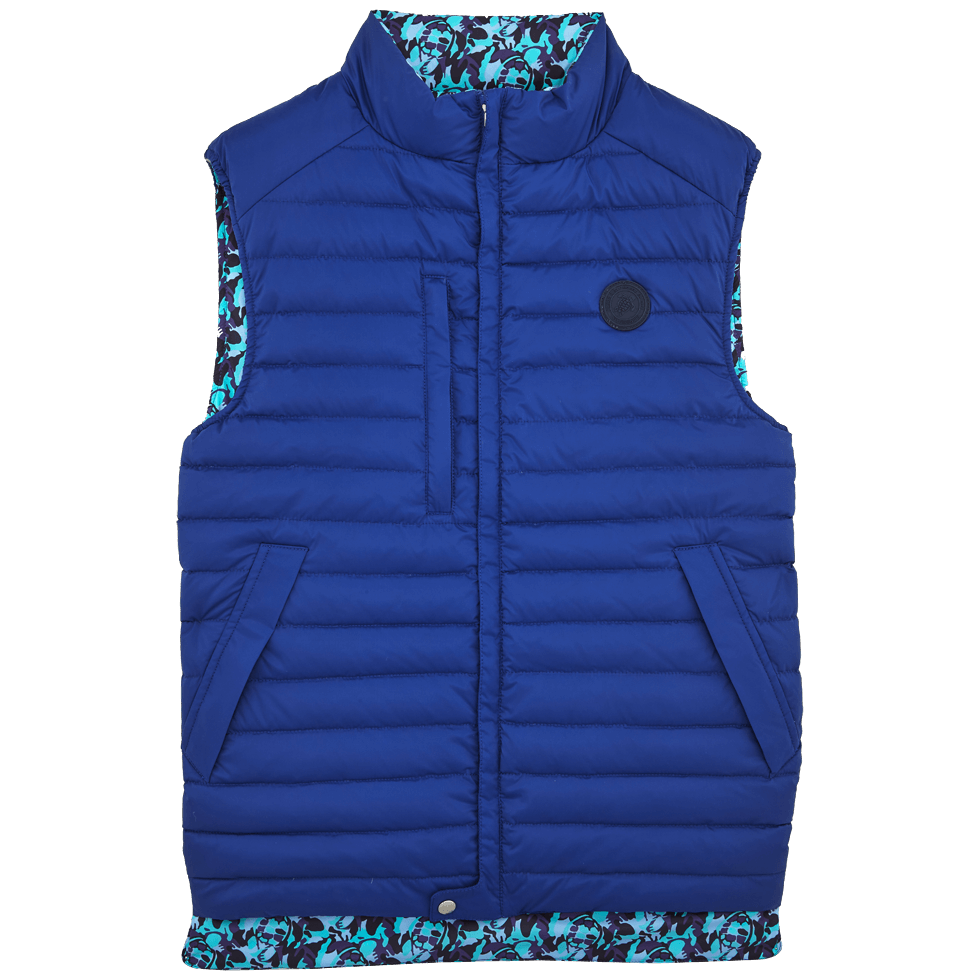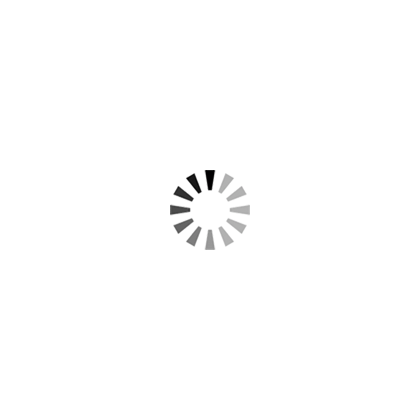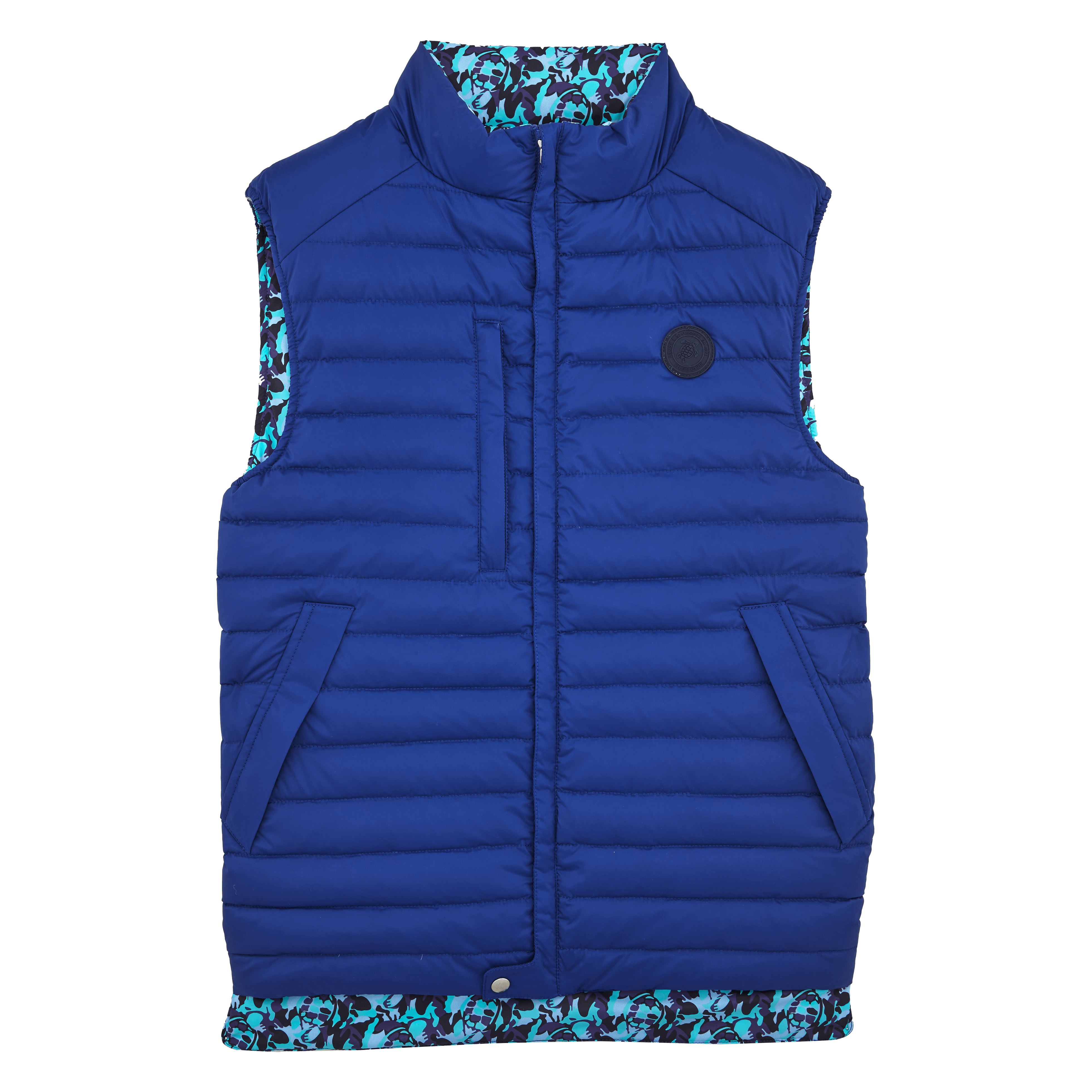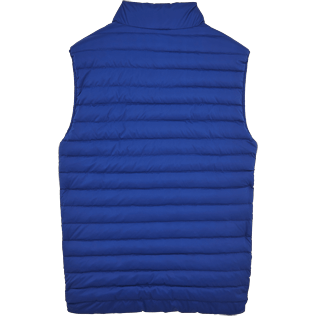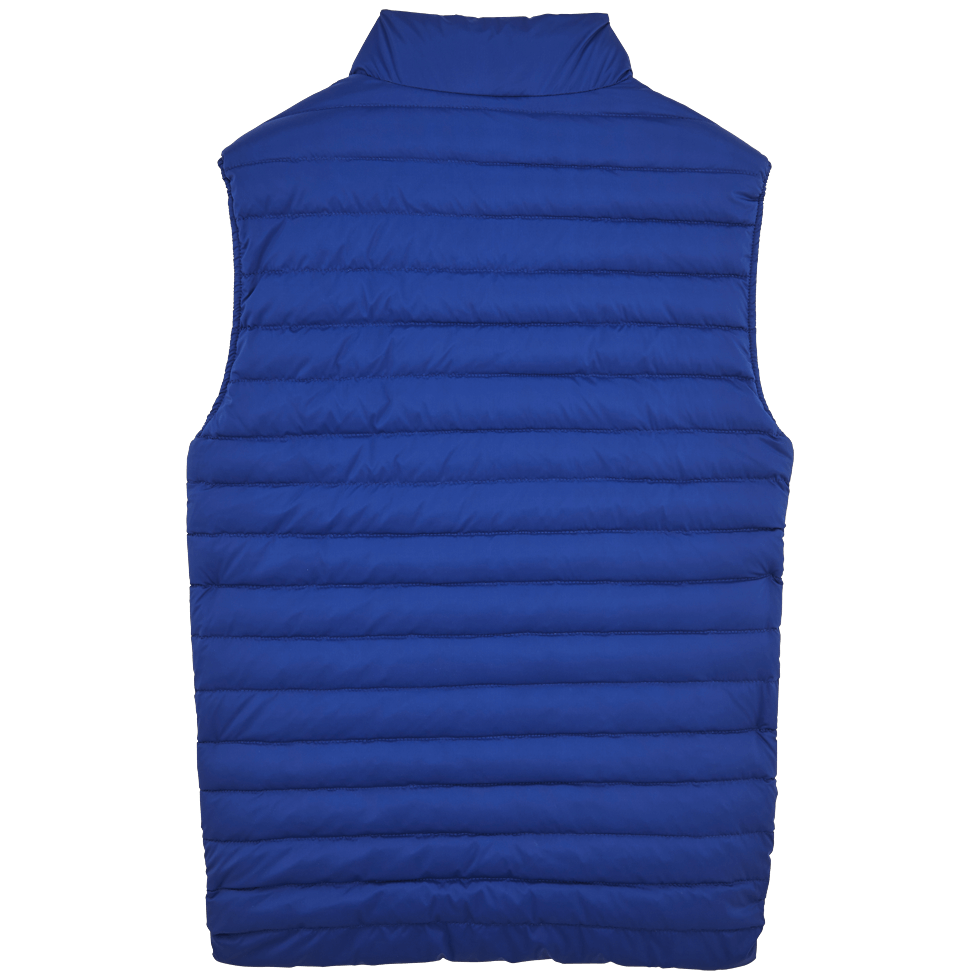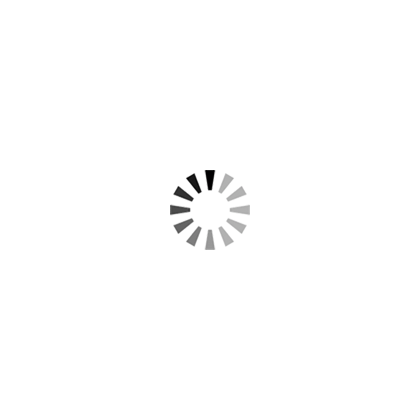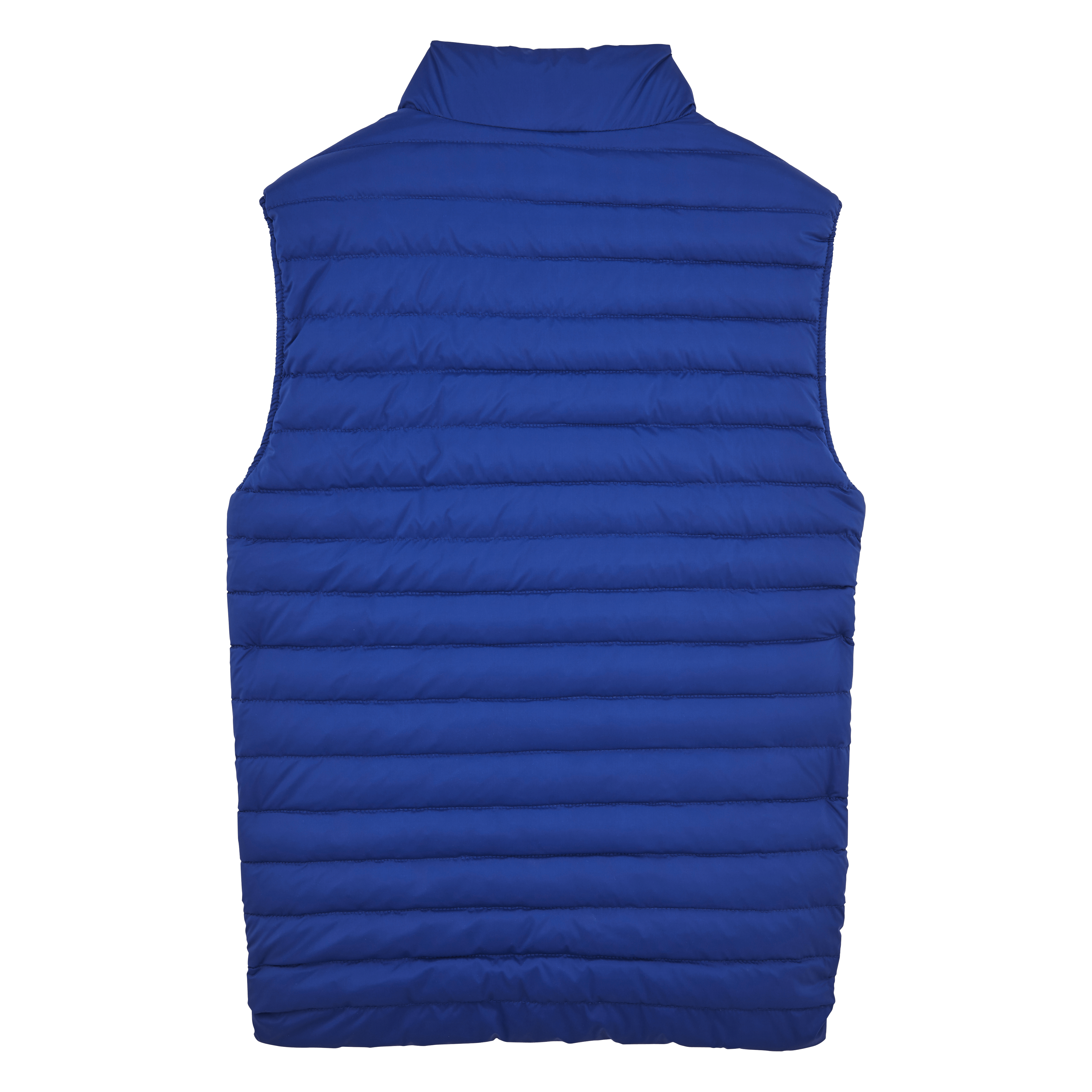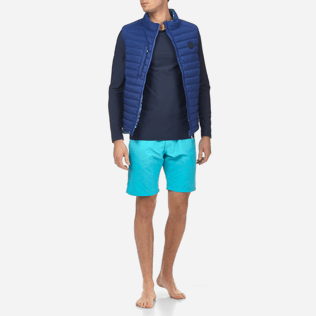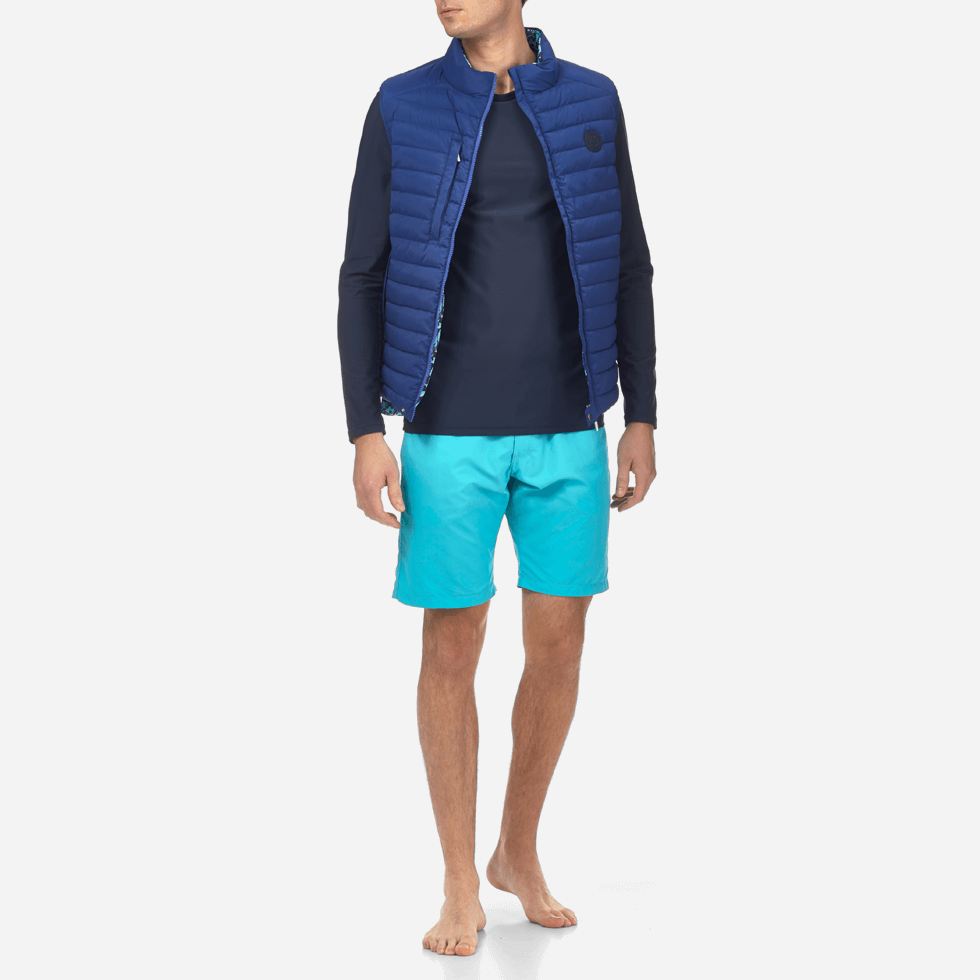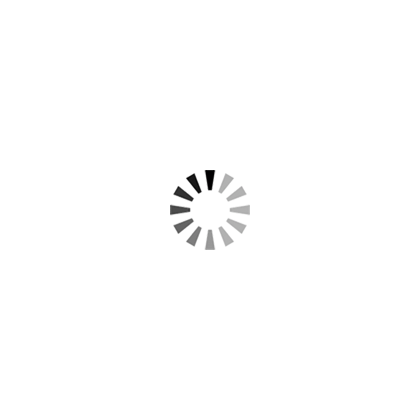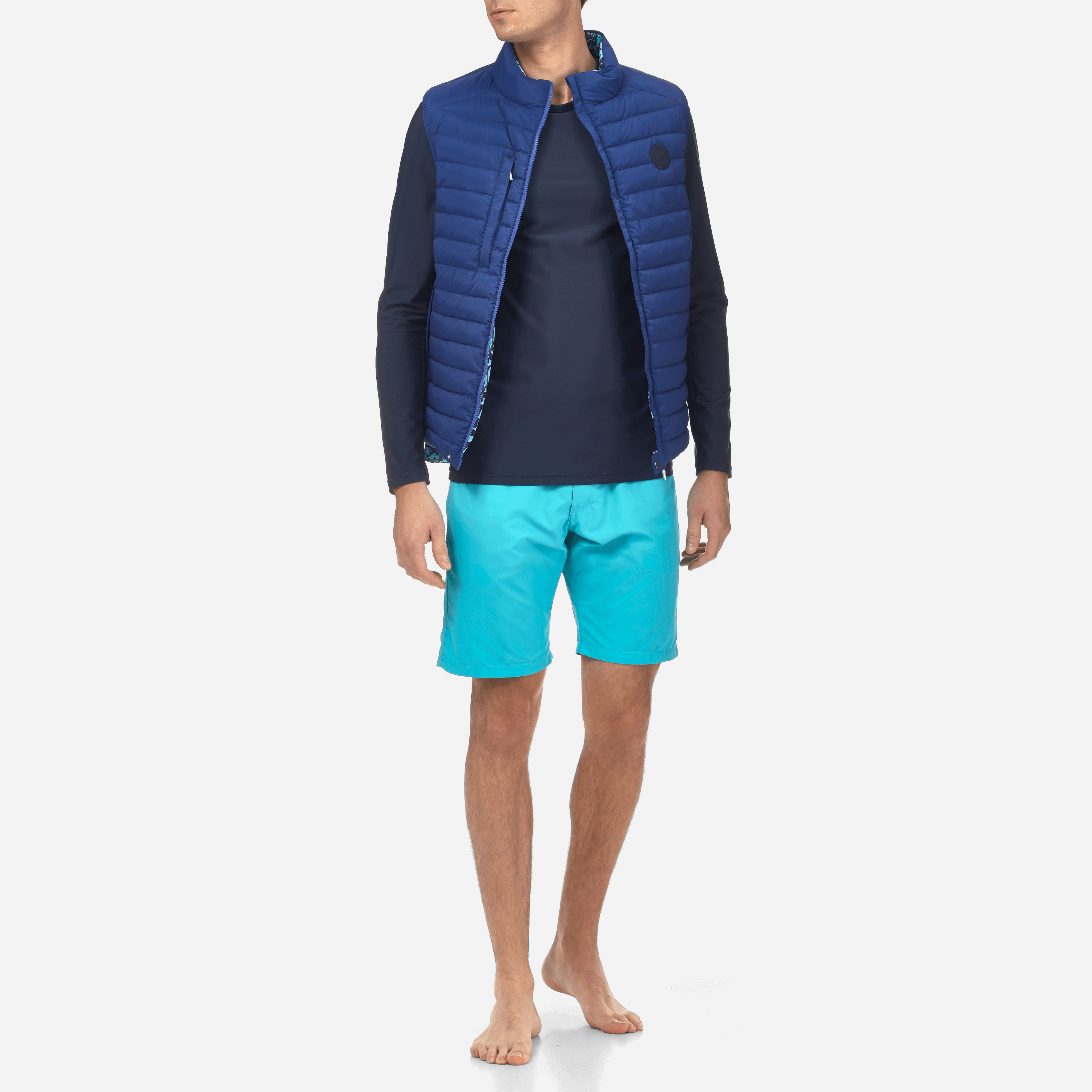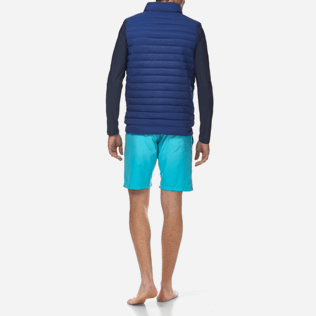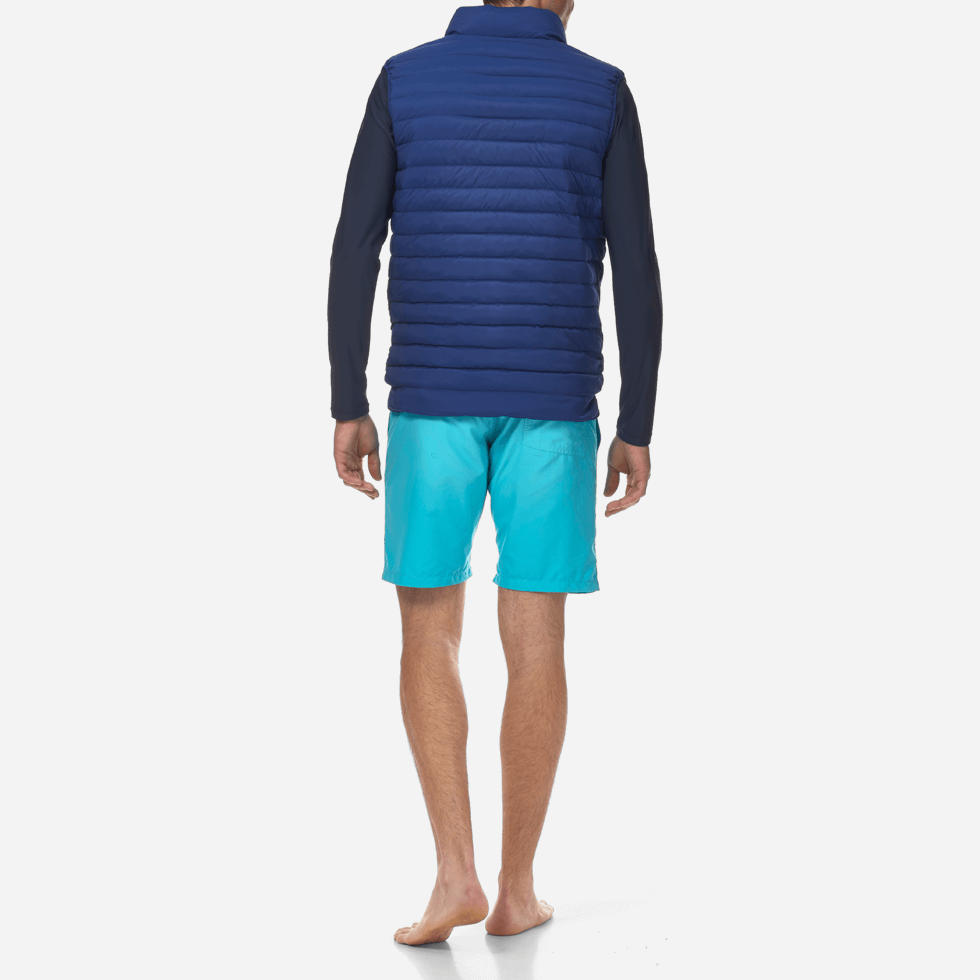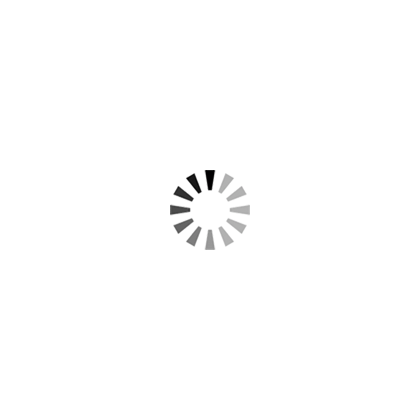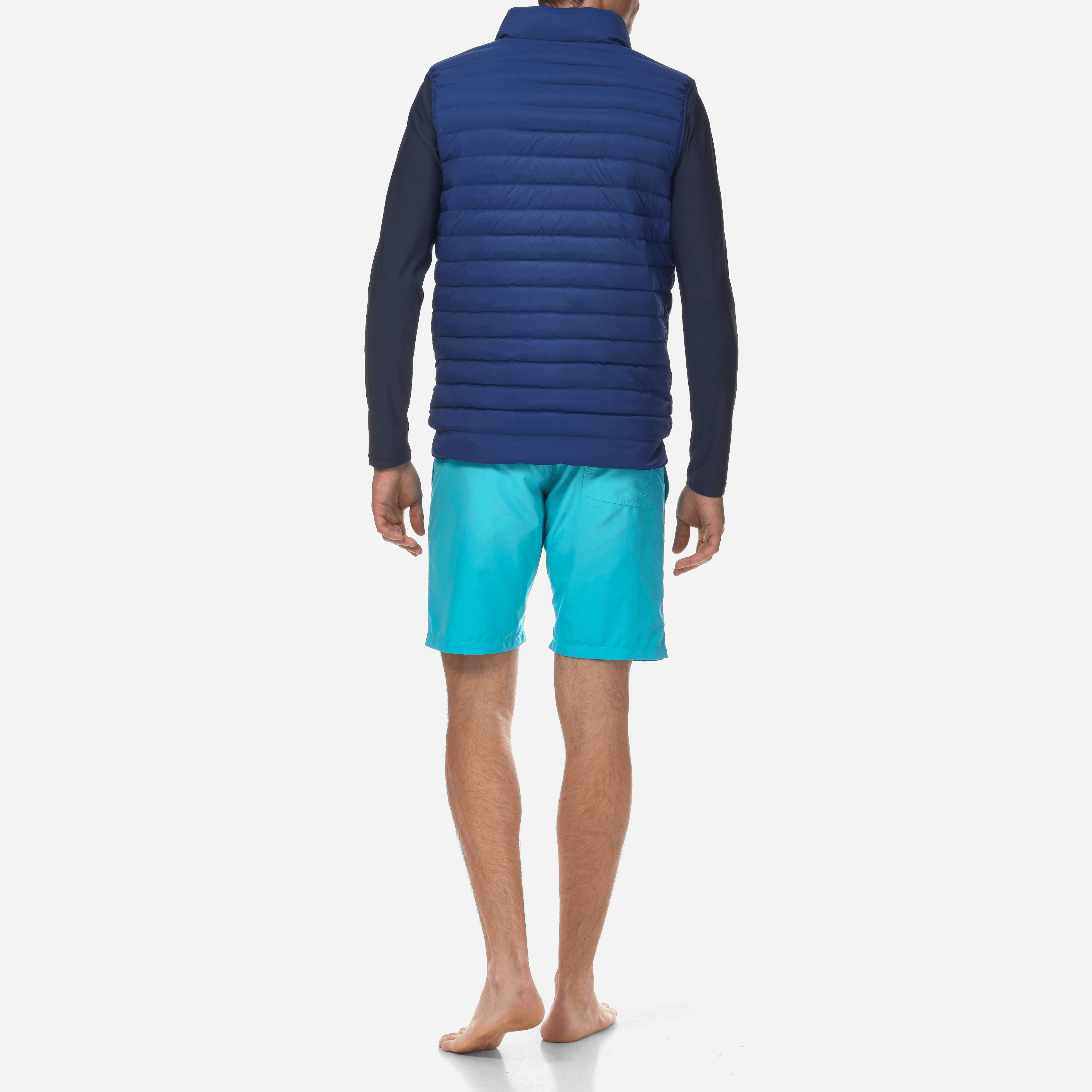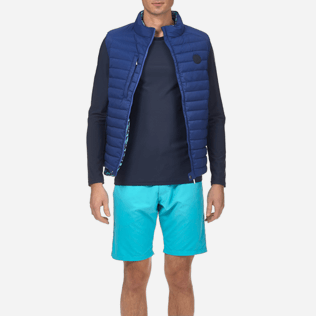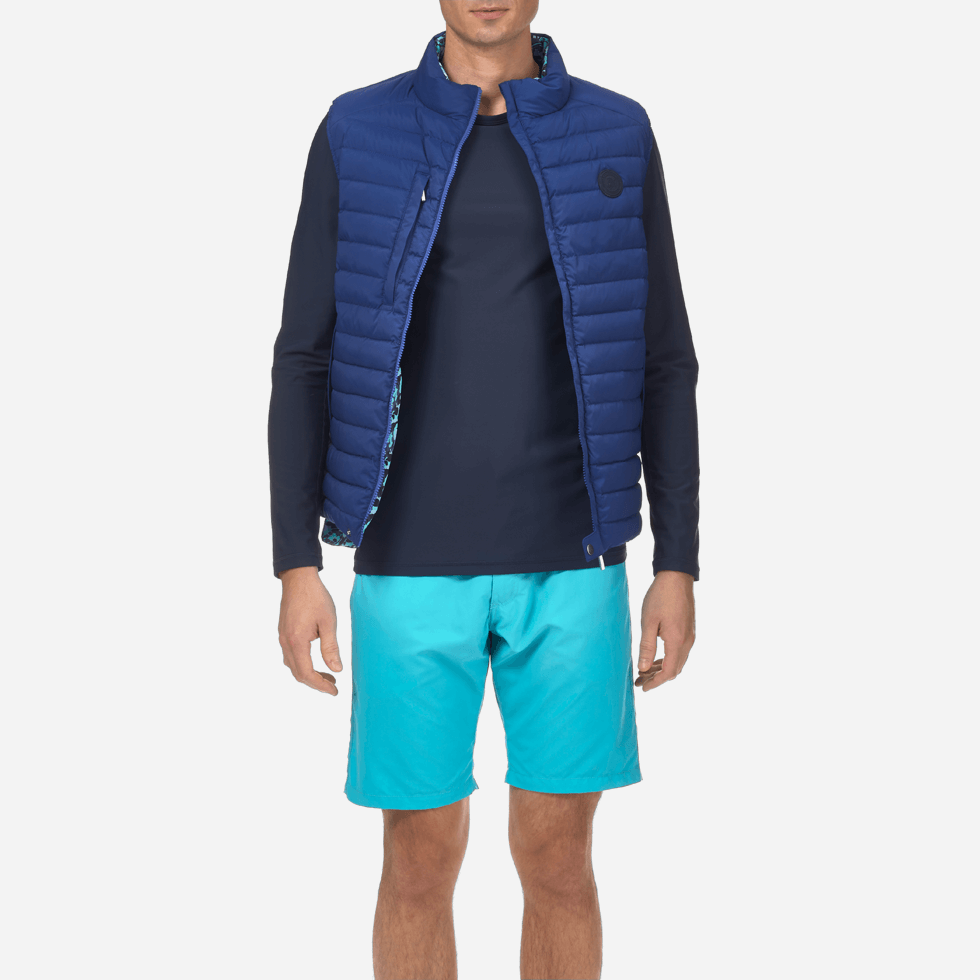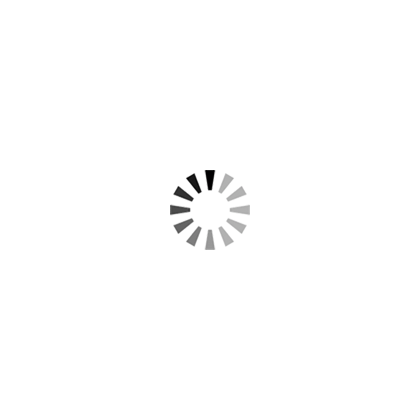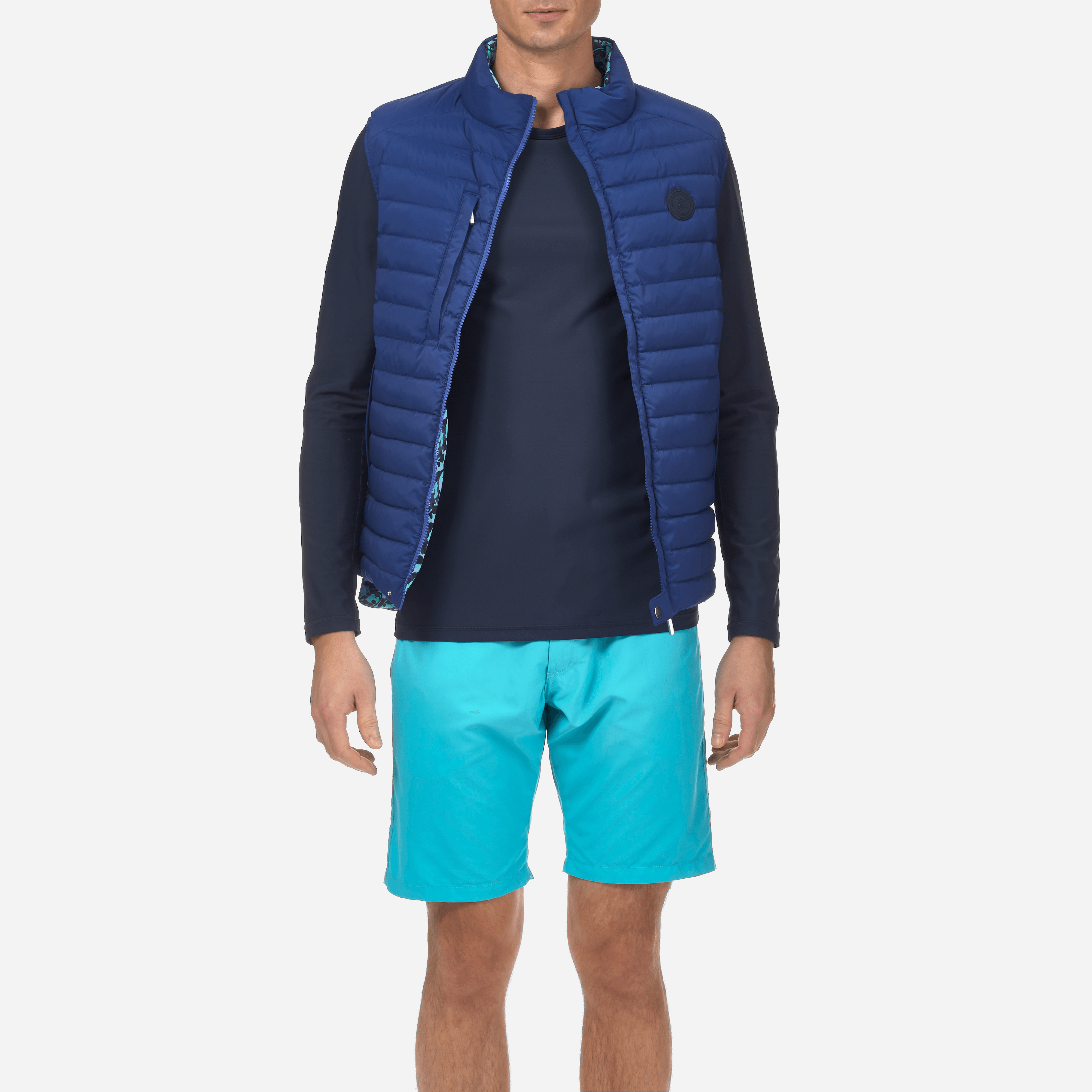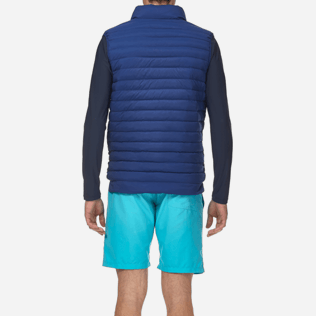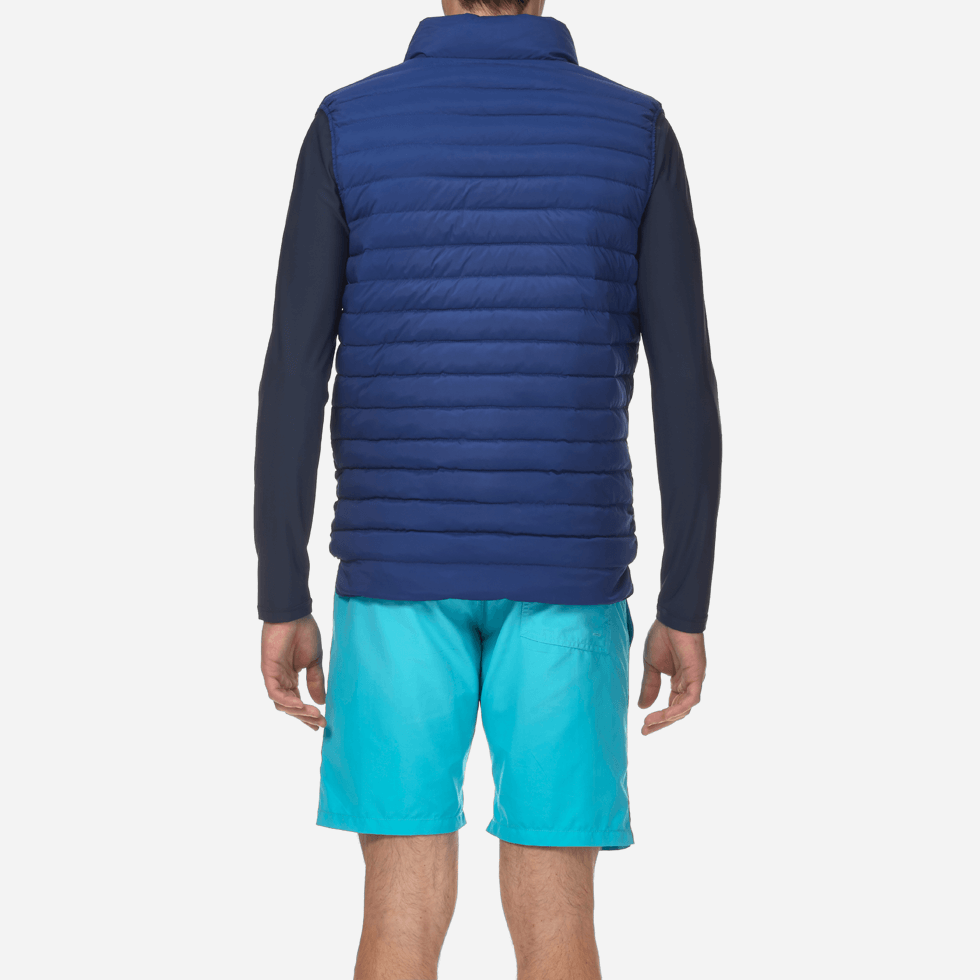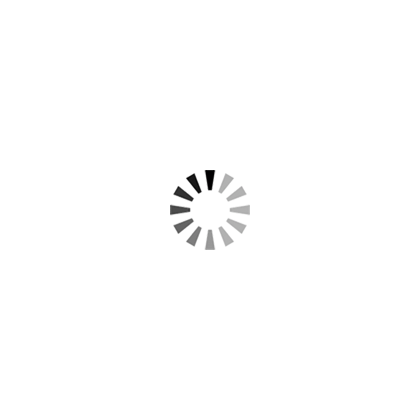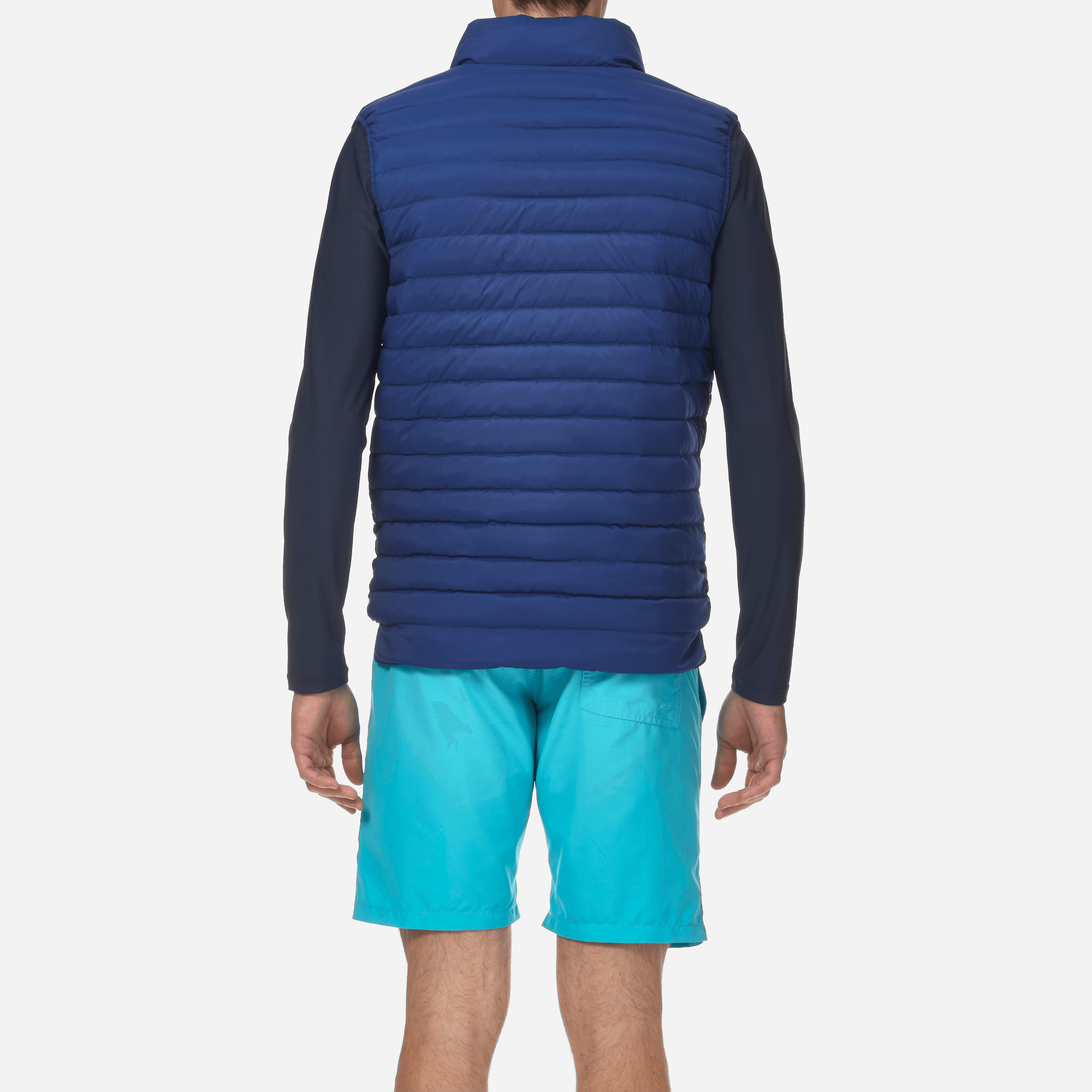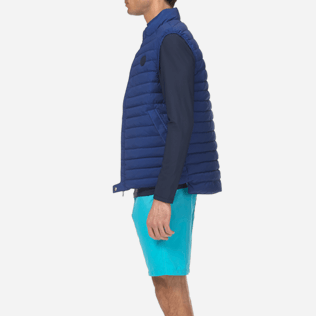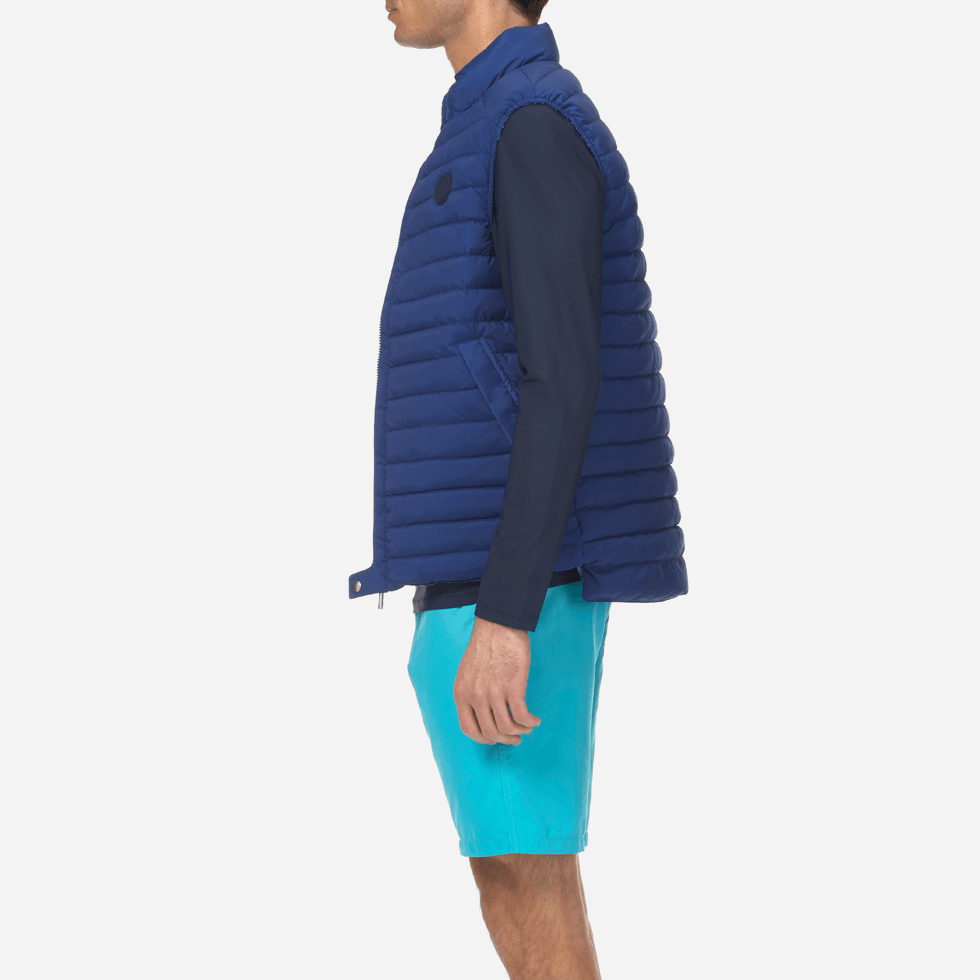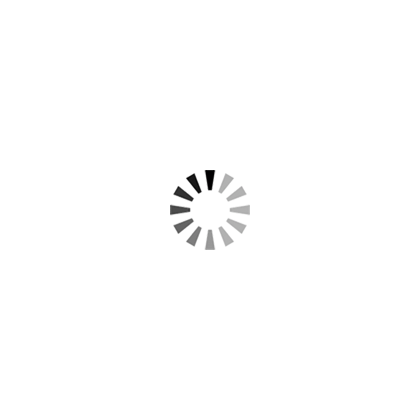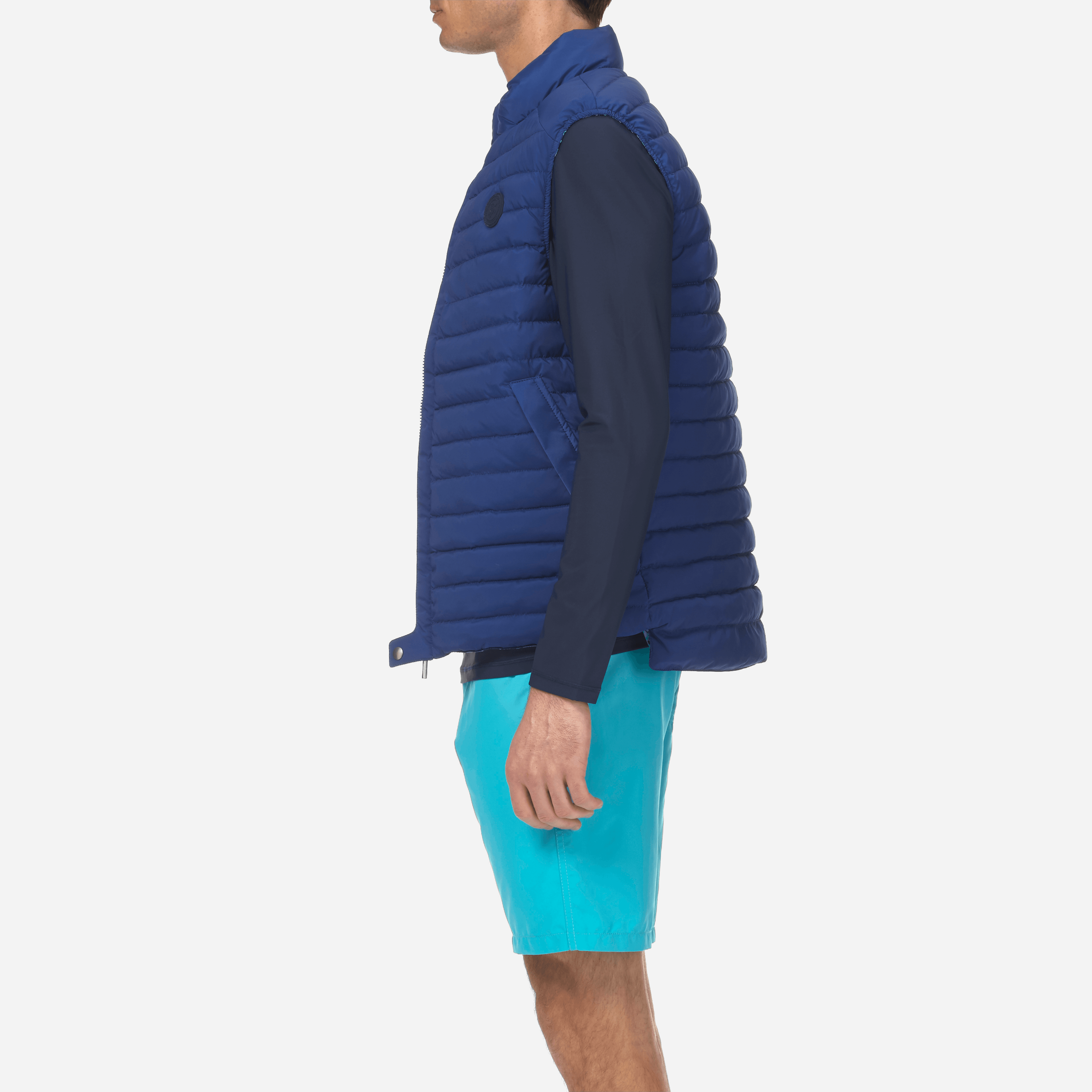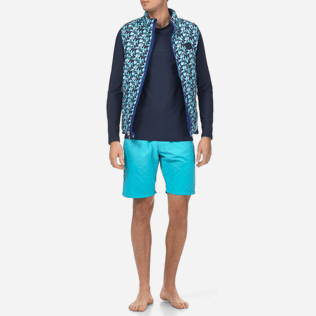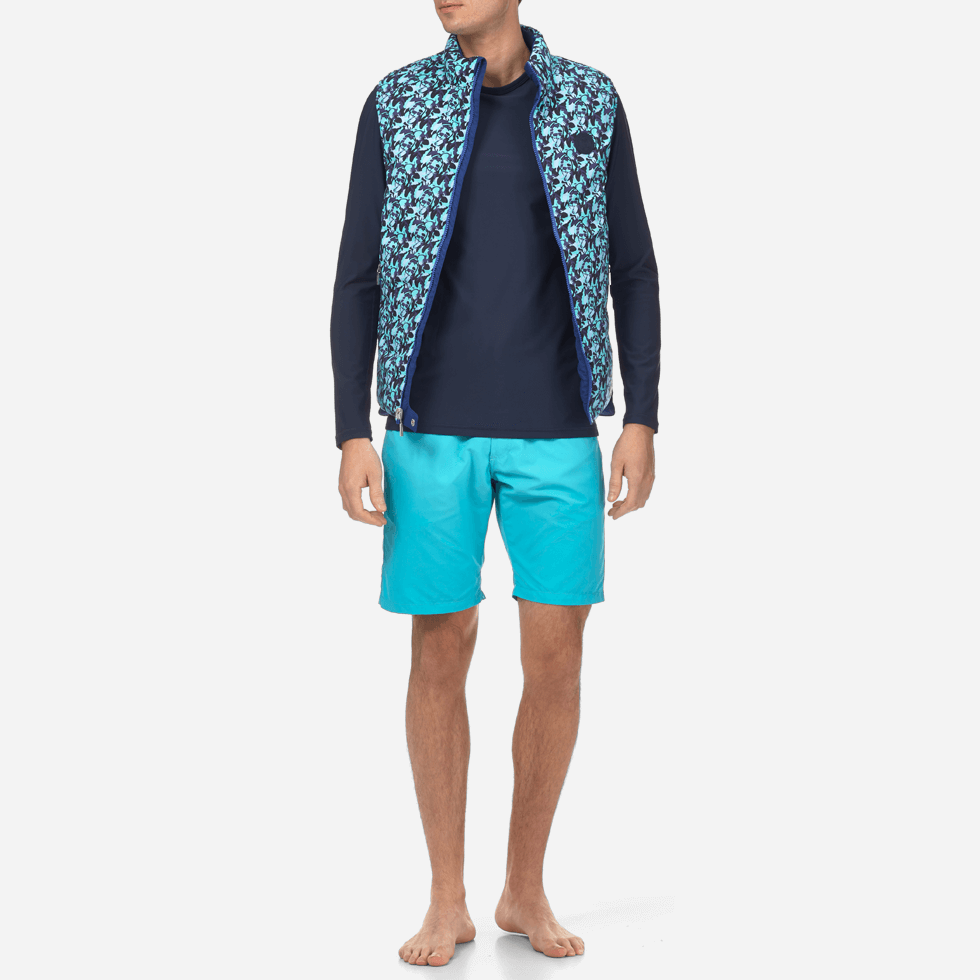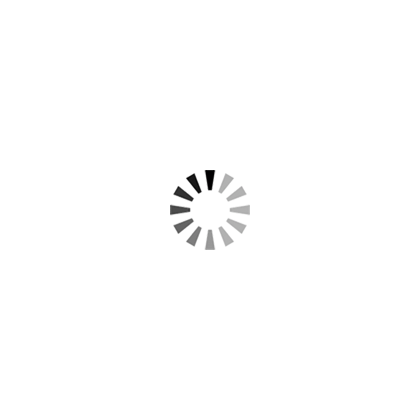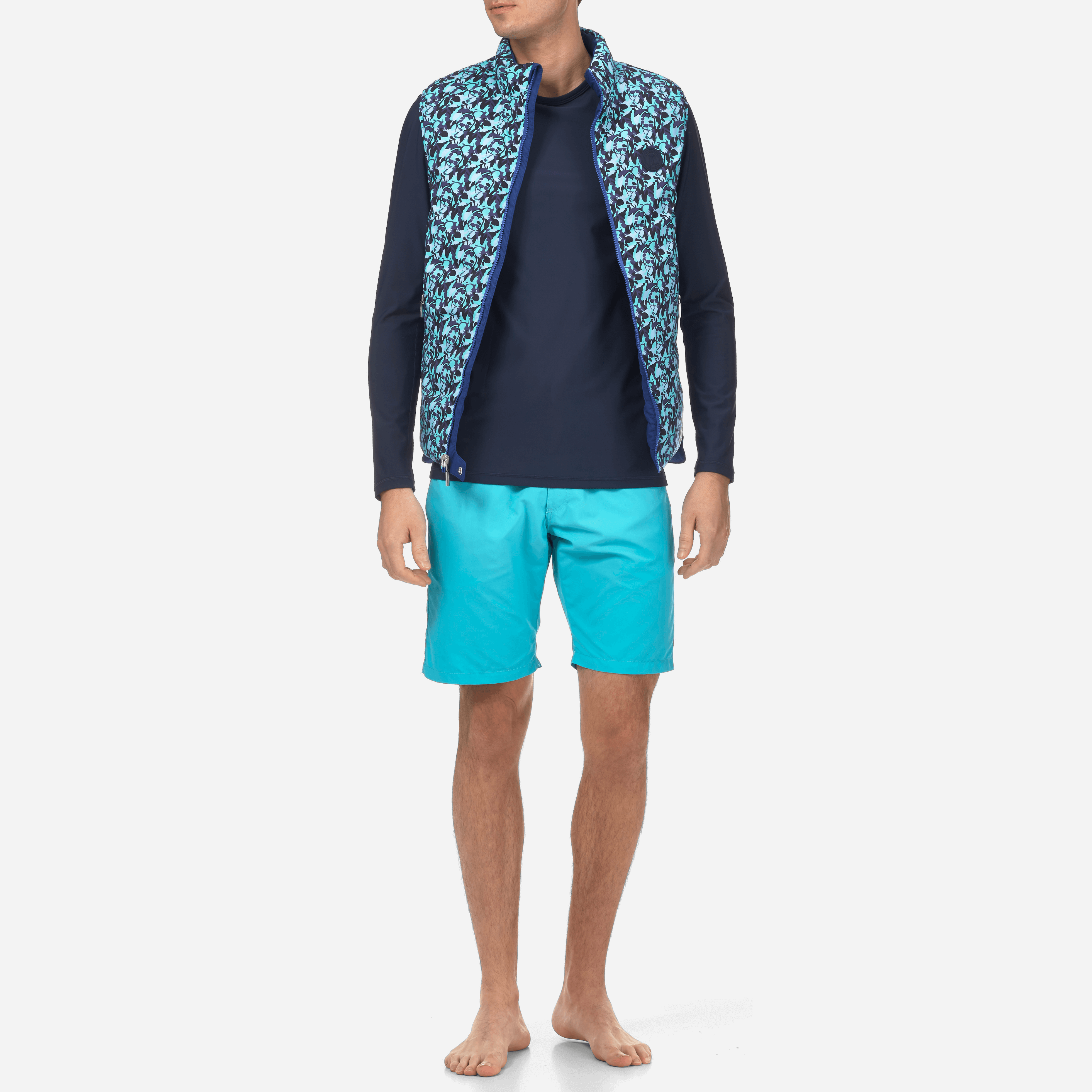 Sleeveless Doudoune Camouflage turtles
Details
XXS is out of stock at the moment. You can:
1. Check availability in store
2. Be alerted when this size is back
Additional Information




Description
Sleeveless doudoune, two zipped pockets on the sides, slightly raised collar, logo Vilebrequin on the left in rubber, reversible down doudoune, 100% recycled feather, made in Europe.
Practical and light, the Vilebrequin doudounes roll and arrange in a snap in their little storage pouch. They get carried away and slip anywhere to never be caught off guard.
Unisex
100% recycled
High levels of thermal efficiency
High-quality and durable material
In respect of natural resources
XS - 3XL
Style:
versant
Model:
VSA8903E-322
Color:
CELESTIAL / BLUE
Standard Free shipping
Home delivery within 2-6 working days from order confirmation. Please check our FAQ for more details.
Express Delivery
Home delivery within 1-3 working days from order confirmation if order placed before 1pm CET.
30 Days Return Policy
You have 30 days from receipt of your order to return a product purchased from our Online Shop. Please use the return form included in your package.
Where we ship
On our European website, we deliver to the following countries. Click your destination country to get more information about delivery times.
Expected delivery time: - 5 to 13 business days

Expected delivery time: - 5 to 13 business days

Expected delivery time: - 5 to 13 business days

Expected delivery time: - 5 to 13 business days

Expected delivery time: - 5 to 13 business days

Expected delivery time: - 5 to 13 business days

Expected delivery time: - 5 to 13 business days

Expected delivery time: - 5 to 13 business days

Expected delivery time: - 5 to 13 business days

Expected delivery time: - 5 to 13 business days

Expected delivery time: - 5 to 13 business days

Expected delivery time: - 5 to 13 business days

Expected delivery time: - 5 to 13 business days

Expected delivery time: - 5 to 13 business days

Expected delivery time: - 5 to 13 business days

Expected delivery time: - 5 to 13 business days

Expected delivery time: - 5 to 13 business days

Expected delivery time: - 5 to 13 business days

Expected delivery time: - 5 to 13 business days

Expected delivery time: - 5 to 13 business days

Expected delivery time: - 5 to 13 business days

Expected delivery time: - 5 to 13 business days

Expected delivery time: - 5 to 13 business days

Expected delivery time: - 5 to 13 business days

Expected delivery time: - 5 to 13 business days

Expected delivery time: - 5 to 13 business days

Expected delivery time: - 5 to 13 business days

Expected delivery time: - 5 to 13 business days

Expected delivery time: - 5 to 13 business days

Expected delivery time: - 5 to 13 business days

Expected delivery time: - 5 to 13 business days

Expected delivery time: - 5 to 13 business days

Expected delivery time: - 5 to 13 business days

Expected delivery time: - 5 to 13 business days

Expected delivery time: - 5 to 13 business days

Expected delivery time: - 5 to 13 business days

Expected delivery time: - 5 to 13 business days

Expected delivery time: - 5 to 13 business days

Expected delivery time: - 5 to 13 business days

Expected delivery time: - 5 to 13 business days

Expected delivery time: - 5 to 13 business days

Expected delivery time: - 5 to 13 business days

Expected delivery time: - 5 to 13 business days

Expected delivery time: - 5 to 13 business days

Expected delivery time: - 5 to 13 business days

Expected delivery time: - 5 to 13 business days

Expected delivery time: - 5 to 13 business days

Expected delivery time: - 5 to 13 business days

Expected delivery time: - 5 to 13 business days

Expected delivery time: - 5 to 13 business days

Expected delivery time: - 5 to 13 business days

Expected delivery time: - 5 to 13 business days

Expected delivery time: - 5 to 13 business days

Expected delivery time: - 5 to 13 business days

Expected delivery time: - 5 to 13 business days

Expected delivery time: - 5 to 13 business days

Expected delivery time: - 5 to 13 business days
Expected delivery time: - 5 to 13 business days

Expected delivery time: - 5 to 13 business days

Expected delivery time: - 5 to 13 business days

Expected delivery time: - 5 to 13 business days

Expected delivery time: - 5 to 13 business days
Expected delivery time: - 5 to 13 business days

Expected delivery time: - 5 to 13 business days

Expected delivery time: - 5 to 13 business days

Expected delivery time: - 5 to 13 business days

Expected delivery time: - 5 to 13 business days

Expected delivery time: - 5 to 13 business days

Expected delivery time: - 5 to 13 business days

Expected delivery time: - 5 to 13 business days

Expected delivery time: - 5 to 13 business days

Expected delivery time: - 5 to 13 business days

Expected delivery time: - 5 to 13 business days

Expected delivery time: - 5 to 13 business days

Expected delivery time: - 5 to 13 business days

Expected delivery time: - 5 to 13 business days

Expected delivery time: - 5 to 13 business days

Expected delivery time: - 5 to 13 business days

Expected delivery time: - 5 to 13 business days

Expected delivery time: - 5 to 13 business days

Not served

Expected delivery time: - 5 to 13 business days

Expected delivery time: - 5 to 13 business days

Expected delivery time: - 5 to 13 business days

Expected delivery time: - 5 to 13 business days

Expected delivery time: - 5 to 13 business days

Expected delivery time: - 5 to 13 business days

Expected delivery time: - 5 to 13 business days

Expected delivery time: - 5 to 13 business days

Expected delivery time: - 5 to 13 business days

Expected delivery time: - 5 to 13 business days

Expected delivery time: - 5 to 13 business days

Expected delivery time: - 5 to 13 business days

Expected delivery time: - 5 to 13 business days

Expected delivery time: - 5 to 13 business days

Expected delivery time: - 5 to 13 business days

Expected delivery time: - 5 to 13 business days

Expected delivery time: - 5 to 13 business days

Expected delivery time: - 5 to 13 business days

Expected delivery time: - 5 to 13 business days

Expected delivery time: - 5 to 13 business days

Expected delivery time: - 5 to 13 business days

Expected delivery time: - 5 to 13 business days

Expected delivery time: - 5 to 13 business days

Expected delivery time: - 5 to 13 business days

Expected delivery time: - 5 to 13 business days

Expected delivery time: - 5 to 13 business days

Expected delivery time: - 5 to 13 business days

Expected delivery time: - 5 to 13 business days

Expected delivery time: - 5 to 13 business days

Expected delivery time: - 5 to 13 business days

Expected delivery time: - 5 to 13 business days

Expected delivery time: - 5 to 13 business days

Expected delivery time: - 5 to 13 business days

Expected delivery time: - 5 to 13 business days
Expected delivery time: - 5 to 13 business days

Expected delivery time: - 5 to 13 business days

Expected delivery time: - Standard shipping: 2 to 5 business days - Express shipping: 1 to 2 business days

Expected delivery time: - Standard shipping: 2 to 5 business days - Express shipping: 1 to 2 business days

Expected delivery time: - Standard shipping: 2 to 5 business days - Express shipping: 1 to 2 business days

Expected delivery time: - Standard shipping: 2 to 5 business days - Express shipping: 1 to 2 business days

Expected delivery time: - Standard shipping: 2 to 5 business days - Express shipping: 1 to 2 business days

Expected delivery time: - 5 to 13 business days

Expected delivery time: - 5 to 13 business days

Expected delivery time: - Standard shipping: 2 to 5 business days - Express shipping: 1 to 2 business days

Not served

Expected delivery time: - Standard shipping: 2 to 5 business days - Express shipping: 1 to 2 business days

Expected delivery time: - 5 to 13 business days

Expected delivery time: - 5 to 13 business days

Expected delivery time: - 5 to 13 business days

Expected delivery time: - Standard shipping: 2 to 5 business days - Express shipping: 1 to 2 business days

Expected delivery time: - Standard shipping: 2 to 5 business days - Express shipping: 1 to 2 business days

Expected delivery time: - 5 to 13 business days

Expected delivery time: - 5 to 13 business days

Expected delivery time: - 5 to 13 business days

Expected delivery time: - 5 to 13 business days

Expected delivery time: - Standard shipping: 2 to 5 business days - Express shipping: 1 to 2 business days

Expected delivery time: - Standard shipping: 2 to 5 business days - Express shipping: 1 to 2 business days

Expected delivery time: - Standard shipping: 2 to 5 business days - Express shipping: 1 to 2 business days

Expected delivery time: - 5 to 13 business days

Expected delivery time: - Standard shipping: 2 to 5 business days - Express shipping: 1 to 2 business days

Expected delivery time: - 5 to 13 business days

Expected delivery time: - 5 to 13 business days

Expected delivery time: - 5 to 13 business days

Expected delivery time: - Standard shipping: 2 to 5 business days - Express shipping: 1 to 2 business days

Expected delivery time: - Standard shipping: 2 to 5 business days - Express shipping: 1 to 2 business days

Expected delivery time: - Standard shipping: 2 to 5 business days - Express shipping: 1 to 2 business days

Expected delivery time: - Standard shipping: 2 to 5 business days - Express shipping: 1 to 2 business days

Expected delivery time: - Standard shipping: 2 to 5 business days - Express shipping: 1 to 2 business days

Expected delivery time: - 5 to 13 business days

Expected delivery time: - 5 to 13 business days

Expected delivery time: - Standard shipping: 2 to 5 business days - Express shipping: 1 to 2 business days

Expected delivery time: - Standard shipping: 2 to 5 business days - Express shipping: 1 to 2 business days

Expected delivery time: - 5 to 13 business days

Expected delivery time: - 5 to 13 business days

Expected delivery time: - Standard shipping: 2 to 5 business days - Express shipping: 1 to 2 business days

Expected delivery time: - 5 to 13 business days

Expected delivery time: - Standard shipping: 2 to 5 business days - Express shipping: 1 to 2 business days

Expected delivery time: - Standard shipping: 2 to 5 business days - Express shipping: 1 to 2 business days

Expected delivery time: - 5 to 13 business days

Expected delivery time: - 5 to 13 business days

Expected delivery time: - 5 to 13 business days

Expected delivery time: - 5 to 13 business days

Expected delivery time: - Standard shipping: 2 to 5 business days - Express shipping: 1 to 2 business days

Expected delivery time: - Standard shipping: 2 to 5 business days - Express shipping: 1 to 2 business days

Expected delivery time: - Standard shipping: 2 to 5 business days - Express shipping: 1 to 2 business days

Expected delivery time: - Standard shipping: 2 to 5 business days - Express shipping: 1 to 2 business days

Expected delivery time: - Standard shipping: 2 to 5 business days - Express shipping: 1 to 2 business days
Expected delivery time: - 5 to 13 business days

Expected delivery time: - 5 to 13 business days

Expected delivery time: - 5 to 13 business days

Expected delivery time: - 5 to 13 business days

Expected delivery time: - 5 to 13 business days

Expected delivery time: - 5 to 13 business days

Expected delivery time: - 5 to 13 business days

Expected delivery time: - 5 to 13 business days

Expected delivery time: - 5 to 13 business days

Expected delivery time: - 5 to 13 business days

Expected delivery time: - 5 to 13 business days

Expected delivery time: - 5 to 13 business days

Expected delivery time: - 5 to 13 business days

Expected delivery time: - 5 to 13 business days

Expected delivery time: - 5 to 13 business days

Expected delivery time: - 5 to 13 business days

Expected delivery time: - 5 to 13 business days

Expected delivery time: - 5 to 13 business days

Expected delivery time: - 5 to 13 business days

Expected delivery time: - 5 to 13 business days

Expected delivery time: - 5 to 13 business days

Expected delivery time: - 5 to 13 business days

Expected delivery time: - 5 to 13 business days

Expected delivery time: - 5 to 13 business days

Expected delivery time: - 5 to 13 business days

Expected delivery time: - 5 to 13 business days

Expected delivery time: - 5 to 13 business days

Expected delivery time: - 5 to 13 business days

Expected delivery time: - 5 to 13 business days

Expected delivery time: - 5 to 13 business days

Expected delivery time: - 5 to 13 business days

Expected delivery time: - 5 to 13 business days

Expected delivery time: - 5 to 13 business days

Expected delivery time: - 5 to 13 business days

Expected delivery time: - 5 to 13 business days

Not served

Expected delivery time: - 5 to 13 business days

Expected delivery time: - 5 to 13 business days

Expected delivery time: - 5 to 13 business days
Expected delivery time: - 5 to 13 business days

Expected delivery time: - 5 to 13 business days

Expected delivery time: - 5 to 13 business days

Expected delivery time: - 5 to 13 business days

Expected delivery time: - 5 to 13 business days

Expected delivery time: - 5 to 13 business days

Expected delivery time: - 5 to 13 business days

Expected delivery time: - 5 to 13 business days

Expected delivery time: - 5 to 13 business days

Expected delivery time: - 5 to 13 business days

Expected delivery time: - 5 to 13 business days

Expected delivery time: - 5 to 13 business days

Expected delivery time: - 5 to 13 business days

Expected delivery time: - 5 to 13 business days

Expected delivery time: - 5 to 13 business days

Expected delivery time: - 5 to 13 business days

Expected delivery time: - 5 to 13 business days

Expected delivery time: - 5 to 13 business days

Expected delivery time: - 5 to 13 business days

Expected delivery time: - 5 to 13 business days

Expected delivery time: - 5 to 13 business days

Expected delivery time: - 5 to 13 business days

Expected delivery time: - 5 to 13 business days

Expected delivery time: - 5 to 13 business days

Expected delivery time: - 5 to 13 business days

Expected delivery time: - Standard shipping: 2 to 5 business days - Express shipping: 1 to 2 business days
Expected delivery time: - 5 to 13 business days

Expected delivery time: - 5 to 13 business days

Expected delivery time: - 5 to 13 business days

Expected delivery time: - 5 to 13 business days

Expected delivery time: - 5 to 13 business days

Expected delivery time: - 5 to 13 business days

Expected delivery time: - 5 to 13 business days

Expected delivery time: - 5 to 13 business days

Expected delivery time: - 5 to 13 business days

Expected delivery time: - 5 to 13 business days

Expected delivery time: - 5 to 13 business days

Expected delivery time: - 5 to 13 business days

Expected delivery time: - 5 to 13 business days

Expected delivery time: - 5 to 13 business days
Expected delivery time: - 5 to 13 business days
Expected delivery time: - 5 to 13 business days
Expected delivery time: - 5 to 13 business days
Expected delivery time: - 5 to 13 business days
Expected delivery time: - 5 to 13 business days
Expected delivery time: - 5 to 13 business days
Expected delivery time: - 5 to 13 business days
Expected delivery time: - 5 to 13 business days
Expected delivery time: - 5 to 13 business days
Expected delivery time: - 5 to 13 business days
Expected delivery time: - 5 to 13 business days
Expected delivery time: - 5 to 13 business days
Expected delivery time: - 5 to 13 business days
Expected delivery time: - 5 to 13 business days
Expected delivery time: - 5 to 13 business days
Expected delivery time: - 5 to 13 business days
Expected delivery time: - 5 to 13 business days
Expected delivery time: - 5 to 13 business days
Expected delivery time: - 5 to 13 business days
Expected delivery time: - 5 to 13 business days
Expected delivery time: - 5 to 13 business days
Expected delivery time: - 5 to 13 business days
Expected delivery time: - 5 to 13 business days
Expected delivery time: - 5 to 13 business days
Expected delivery time: - 5 to 13 business days
Expected delivery time: - 5 to 13 business days
Expected delivery time: - 5 to 13 business days
Expected delivery time: - 5 to 13 business days
Expected delivery time: - 5 to 13 business days
Expected delivery time: - 5 to 13 business days
Expected delivery time: - 5 to 13 business days
Expected delivery time: - 5 to 13 business days
Expected delivery time: - 5 to 13 business days
Expected delivery time: - 5 to 13 business days
Expected delivery time: - 5 to 13 business days
Expected delivery time: - 5 to 13 business days
Expected delivery time: - 5 to 13 business days
Expected delivery time: - 5 to 13 business days
Expected delivery time: - 5 to 13 business days
Expected delivery time: - 5 to 13 business days
Expected delivery time: - 5 to 13 business days
Expected delivery time: - 5 to 13 business days
Expected delivery time: - 5 to 13 business days
Expected delivery time: - 5 to 13 business days
Expected delivery time: - 5 to 13 business days
Expected delivery time: - 5 to 13 business days
Expected delivery time: - 5 to 13 business days
Expected delivery time: - 5 to 13 business days
Expected delivery time: - 5 to 13 business days
Expected delivery time: - 5 to 13 business days
Expected delivery time: - 5 to 13 business days
Expected delivery time: - 5 to 13 business days
Expected delivery time: - 5 to 13 business days
Expected delivery time: - 5 to 13 business days
Expected delivery time: - 5 to 13 business days
Expected delivery time: - 5 to 13 business days
Expected delivery time: - 5 to 13 business days
Expected delivery time: - 5 to 13 business days
Expected delivery time: - 5 to 13 business days
Expected delivery time: - 5 to 13 business days
Expected delivery time: - 5 to 13 business days
Expected delivery time: - 5 to 13 business days
Expected delivery time: - 5 to 13 business days
Expected delivery time: - 5 to 13 business days
Expected delivery time: - 5 to 13 business days
Expected delivery time: - 5 to 13 business days
Expected delivery time: - 5 to 13 business days
Expected delivery time: - 5 to 13 business days
Expected delivery time: - 5 to 13 business days
Expected delivery time: - 5 to 13 business days
Expected delivery time: - 5 to 13 business days
Expected delivery time: - 5 to 13 business days
Expected delivery time: - 5 to 13 business days
Expected delivery time: - 5 to 13 business days
Expected delivery time: - 5 to 13 business days
Expected delivery time: - 5 to 13 business days
Expected delivery time: - 5 to 13 business days
Expected delivery time: - 5 to 13 business days
Expected delivery time: - 5 to 13 business days
Not served
Expected delivery time: - 5 to 13 business days
Expected delivery time: - 5 to 13 business days
Expected delivery time: - 5 to 13 business days
Expected delivery time: - 5 to 13 business days
Expected delivery time: - 5 to 13 business days
Expected delivery time: - 5 to 13 business days
Expected delivery time: - 5 to 13 business days
Expected delivery time: - 5 to 13 business days
Expected delivery time: - 5 to 13 business days
Expected delivery time: - 5 to 13 business days
Expected delivery time: - 5 to 13 business days
Expected delivery time: - 5 to 13 business days
Expected delivery time: - 5 to 13 business days
Expected delivery time: - 5 to 13 business days
Expected delivery time: - 5 to 13 business days
Expected delivery time: - 5 to 13 business days
Expected delivery time: - 5 to 13 business days
Expected delivery time: - 5 to 13 business days
Expected delivery time: - 5 to 13 business days
Expected delivery time: - 5 to 13 business days
Expected delivery time: - 5 to 13 business days
Expected delivery time: - 5 to 13 business days
Expected delivery time: - 5 to 13 business days
Expected delivery time: - 5 to 13 business days
Expected delivery time: - 5 to 13 business days
Expected delivery time: - 5 to 13 business days
Expected delivery time: - 5 to 13 business days
Expected delivery time: - 5 to 13 business days
Expected delivery time: - 5 to 13 business days
Expected delivery time: - 5 to 13 business days
Expected delivery time: - 5 to 13 business days
Expected delivery time: - 5 to 13 business days
Expected delivery time: - 5 to 13 business days
Expected delivery time: - 5 to 13 business days
Expected delivery time: - 5 to 13 business days
Expected delivery time: - 5 to 13 business days
Expected delivery time: - 5 to 13 business days
Expected delivery time: - 5 to 13 business days
Expected delivery time: - Standard shipping: 2 to 5 business days - Express shipping: 1 to 2 business days
Expected delivery time: - 5 to 13 business days
Expected delivery time: - Standard shipping: 2 to 5 business days - Express shipping: 1 to 2 business days
Expected delivery time: - 5 to 13 business days
Expected delivery time: - 5 to 13 business days
Expected delivery time: - Standard shipping: 2 to 5 business days - Express shipping: 1 to 2 business days
Expected delivery time: - Standard shipping: 2 to 5 business days - Express shipping: 1 to 2 business days
Expected delivery time: - Standard shipping: 2 to 5 business days - Express shipping: 1 to 2 business days
Expected delivery time: - Standard shipping: 2 to 5 business days - Express shipping: 1 to 2 business days
Expected delivery time: - Standard shipping: 2 to 5 business days - Express shipping: 1 to 2 business days
Expected delivery time: - 5 to 13 business days
Expected delivery time: - Standard shipping: 2 to 5 business days - Express shipping: 1 to 2 business days
Expected delivery time: - Standard shipping: 2 to 5 business days - Express shipping: 1 to 2 business days
Expected delivery time: - Standard shipping: 2 to 5 business days - Express shipping: 1 to 2 business days
Expected delivery time: - 5 to 13 business days
Expected delivery time: - Standard shipping: 2 to 5 business days - Express shipping: 1 to 2 business days
Expected delivery time: - 5 to 13 business days
Expected delivery time: - Standard shipping: 2 to 5 business days - Express shipping: 1 to 2 business days
Expected delivery time: - 5 to 13 business days
Expected delivery time: - Standard shipping: 2 to 5 business days - Express shipping: 1 to 2 business days
Expected delivery time: - 5 to 13 business days
Expected delivery time: - Standard shipping: 2 to 5 business days - Express shipping: 1 to 2 business days
Expected delivery time: - 5 to 13 business days
Expected delivery time: - Standard shipping: 2 to 5 business days - Express shipping: 1 to 2 business days
Expected delivery time: - 5 to 13 business days
Expected delivery time: - 5 to 13 business days
Expected delivery time: - Standard shipping: 2 to 5 business days - Express shipping: 1 to 2 business days
Expected delivery time: - 5 to 13 business days
Expected delivery time: - 5 to 13 business days
Expected delivery time: - 5 to 13 business days
Expected delivery time: - Standard shipping: 2 to 5 business days - Express shipping: 1 to 2 business days
Expected delivery time: - 5 to 13 business days
Expected delivery time: - Standard shipping: 2 to 5 business days - Express shipping: 1 to 2 business days
Expected delivery time: - Standard shipping: 2 to 5 business days - Express shipping: 1 to 2 business days
Expected delivery time: - Standard shipping: 2 to 5 business days - Express shipping: 1 to 2 business days
Expected delivery time: - Standard shipping: 2 to 5 business days - Express shipping: 1 to 2 business days
Expected delivery time: - Standard shipping: 2 to 5 business days - Express shipping: 1 to 2 business days
Not served
Expected delivery time: - 5 to 13 business days
Expected delivery time: - Standard shipping: 2 to 5 business days - Express shipping: 1 to 2 business days
Expected delivery time: - Standard shipping: 2 to 5 business days - Express shipping: 1 to 2 business days
Expected delivery time: - Standard shipping: 2 to 5 business days - Express shipping: 1 to 2 business days
Expected delivery time: - Standard shipping: 2 to 5 business days - Express shipping: 1 to 2 business days
Expected delivery time: - 5 to 13 business days
Expected delivery time: - Standard shipping: 2 to 5 business days - Express shipping: 1 to 2 business days
Expected delivery time: - 5 to 13 business days
Expected delivery time: - 5 to 13 business days
Expected delivery time: - 5 to 13 business days
Expected delivery time: - Standard shipping: 2 to 5 business days - Express shipping: 1 to 2 business days
Expected delivery time: - 5 to 13 business days
Expected delivery time: - 5 to 13 business days
Expected delivery time: - 5 to 13 business days
Expected delivery time: - 5 to 13 business days
Expected delivery time: - 5 to 13 business days
Expected delivery time: - 5 to 13 business days
Expected delivery time: - 5 to 13 business days
Expected delivery time: - 5 to 13 business days
Expected delivery time: - 5 to 13 business days
Expected delivery time: - 5 to 13 business days
Expected delivery time: - 5 to 13 business days
Expected delivery time: - 5 to 13 business days
Expected delivery time: - 5 to 13 business days
Expected delivery time: - 5 to 13 business days
Expected delivery time: - 5 to 13 business days
Expected delivery time: - 5 to 13 business days
Expected delivery time: - 5 to 13 business days
Expected delivery time: - 5 to 13 business days
Expected delivery time: - 5 to 13 business days
Expected delivery time: - 5 to 13 business days
Expected delivery time: - 5 to 13 business days
Expected delivery time: - 5 to 13 business days
Expected delivery time: - 5 to 13 business days
Expected delivery time: - 5 to 13 business days
Not served
Expected delivery time: - 5 to 13 business days
Expected delivery time: - 5 to 13 business days
Expected delivery time: - 5 to 13 business days
Expected delivery time: - 5 to 13 business days
Expected delivery time: - 5 to 13 business days
Expected delivery time: - 5 to 13 business days
Expected delivery time: - 5 to 13 business days
Expected delivery time: - 5 to 13 business days
Expected delivery time: - 5 to 13 business days
Expected delivery time: - 5 to 13 business days
Expected delivery time: - 5 to 13 business days
Expected delivery time: - 5 to 13 business days
Expected delivery time: - 5 to 13 business days
Expected delivery time: - 5 to 13 business days
Expected delivery time: - 5 to 13 business days
Expected delivery time: - 5 to 13 business days
Expected delivery time: - 5 to 13 business days
Expected delivery time: - 5 to 13 business days
Expected delivery time: - 5 to 13 business days
Expected delivery time: - 5 to 13 business days
Expected delivery time: - 5 to 13 business days
Expected delivery time: - 5 to 13 business days
Expected delivery time: - 5 to 13 business days
Expected delivery time: - 5 to 13 business days
Expected delivery time: - 5 to 13 business days
Expected delivery time: - 5 to 13 business days
Expected delivery time: - 5 to 13 business days
Expected delivery time: - 5 to 13 business days
Expected delivery time: - 5 to 13 business days
Expected delivery time: - 5 to 13 business days
Expected delivery time: - 5 to 13 business days
Expected delivery time: - 5 to 13 business days
Expected delivery time: - 5 to 13 business days
Expected delivery time: - 5 to 13 business days
Expected delivery time: - 5 to 13 business days
Expected delivery time: - 5 to 13 business days
Expected delivery time: - 5 to 13 business days
Expected delivery time: - 5 to 13 business days
Expected delivery time: - Standard shipping: 2 to 5 business days - Express shipping: 1 to 2 business days
Expected delivery time: - 5 to 13 business days
Expected delivery time: - 5 to 13 business days
Expected delivery time: - 5 to 13 business days
Expected delivery time: - 5 to 13 business days
Expected delivery time: - 5 to 13 business days
Expected delivery time: - 5 to 13 business days
Expected delivery time: - 5 to 13 business days
Expected delivery time: - 5 to 13 business days
Expected delivery time: - 5 to 13 business days
Expected delivery time: - 5 to 13 business days
Expected delivery time: - 5 to 13 business days
Expected delivery time: - 5 to 13 business days
Expected delivery time: - 5 to 13 business days
Expected delivery time: - 5 to 13 business days
Expected delivery time: - 5 to 13 business days
Expected delivery time: - 5 to 13 business days