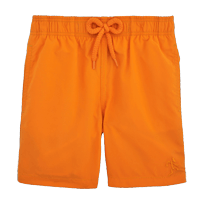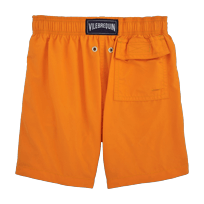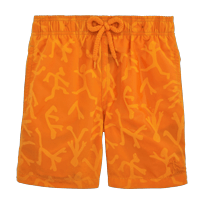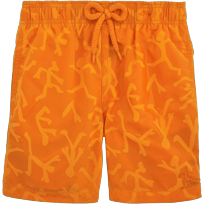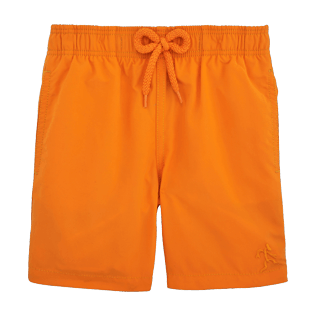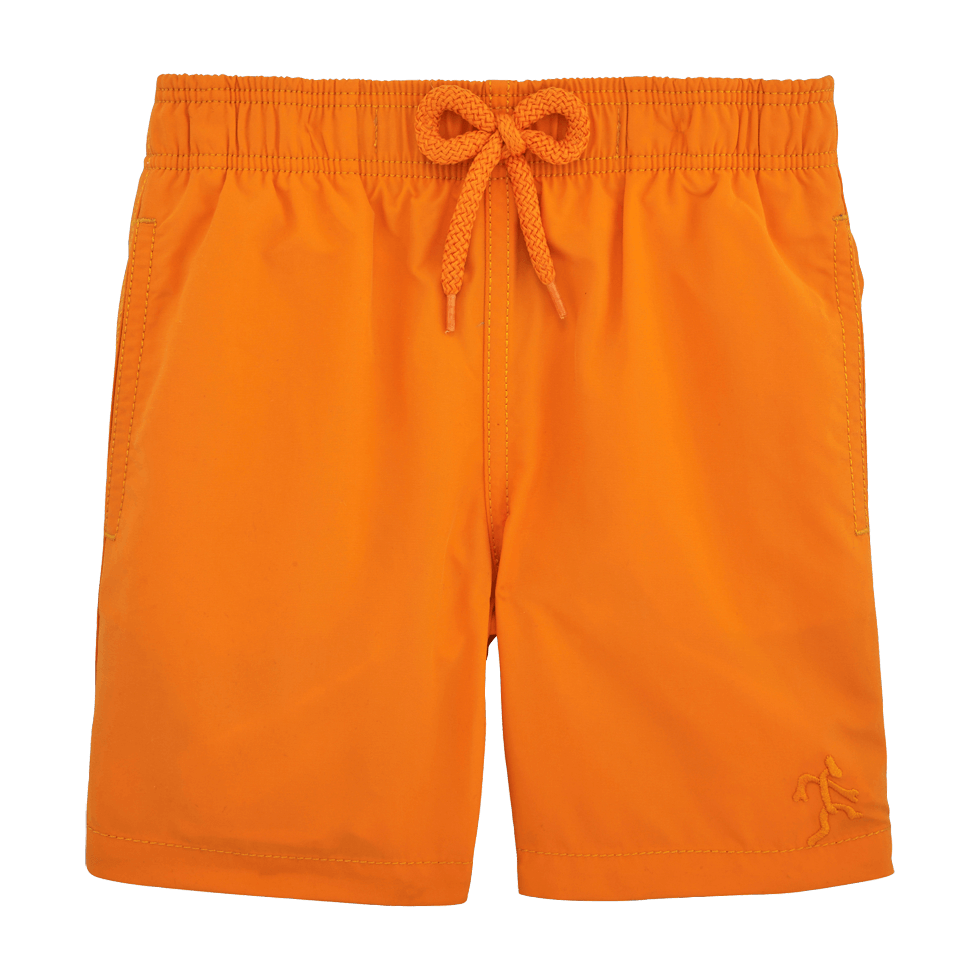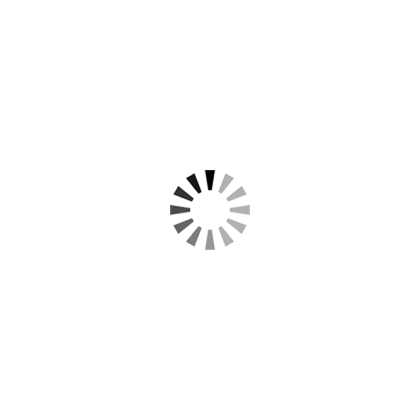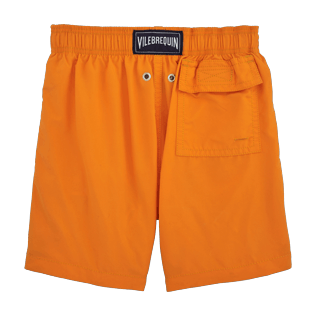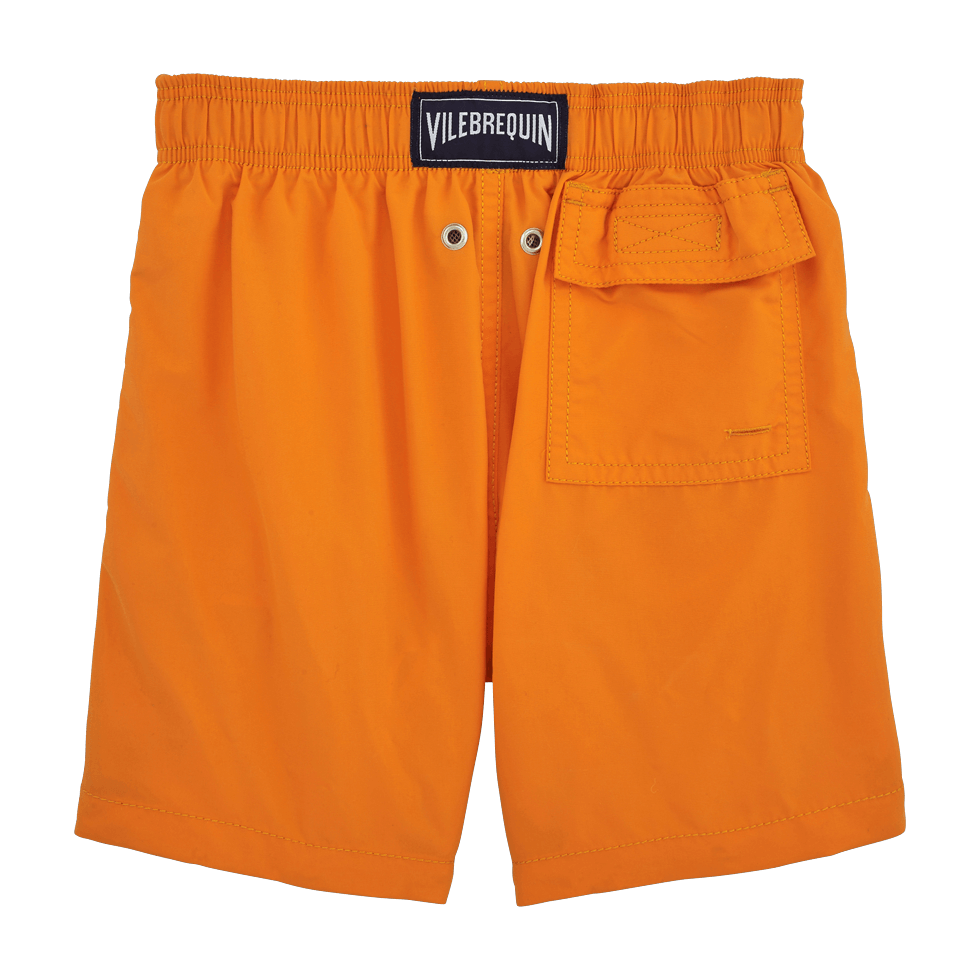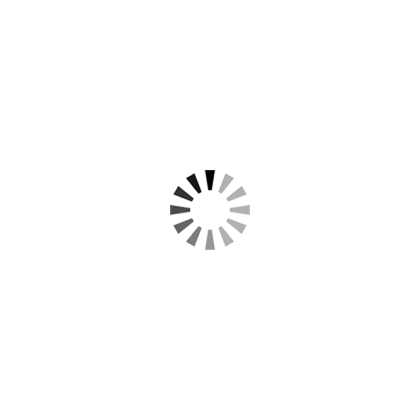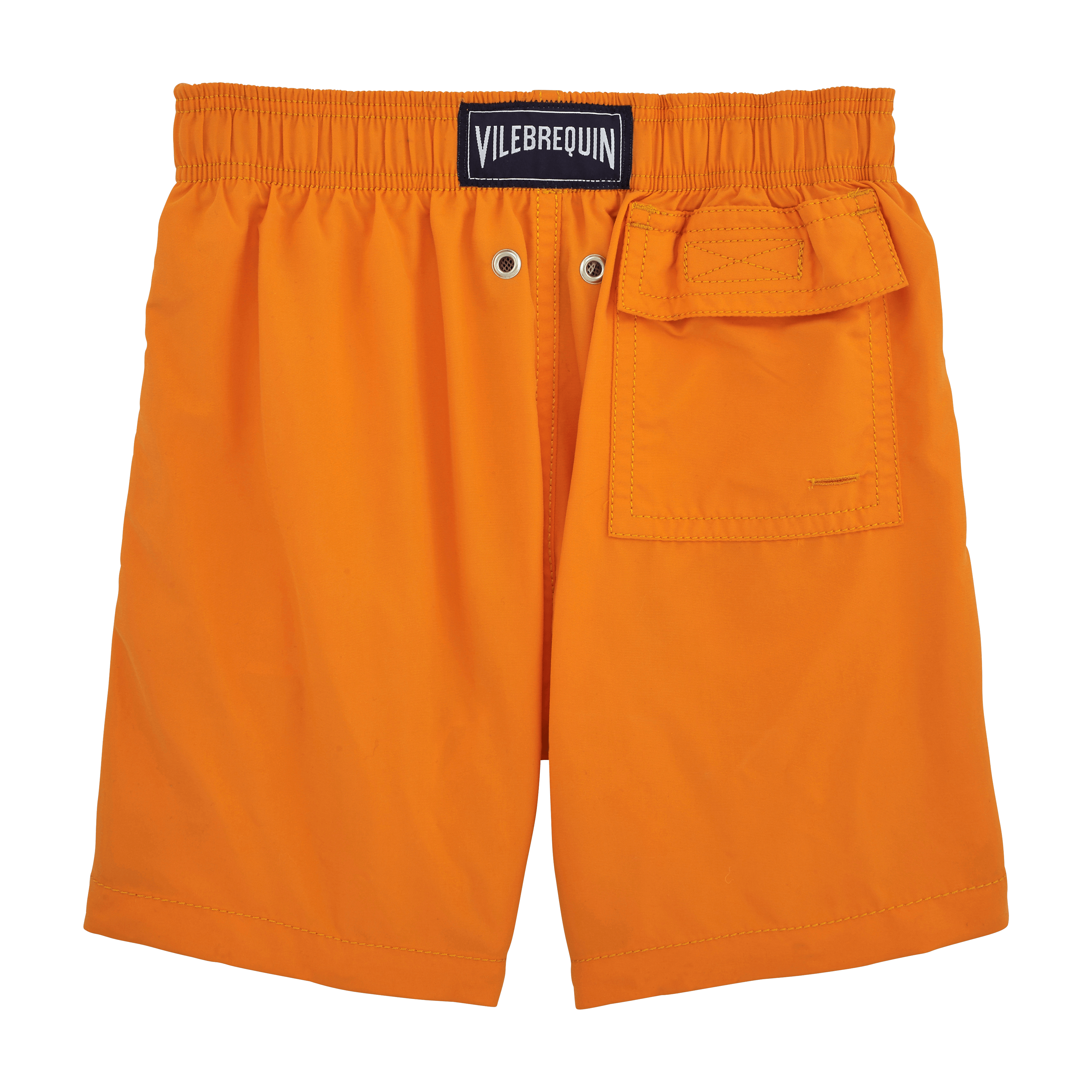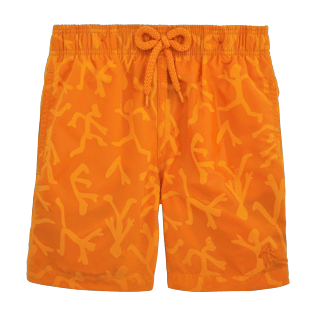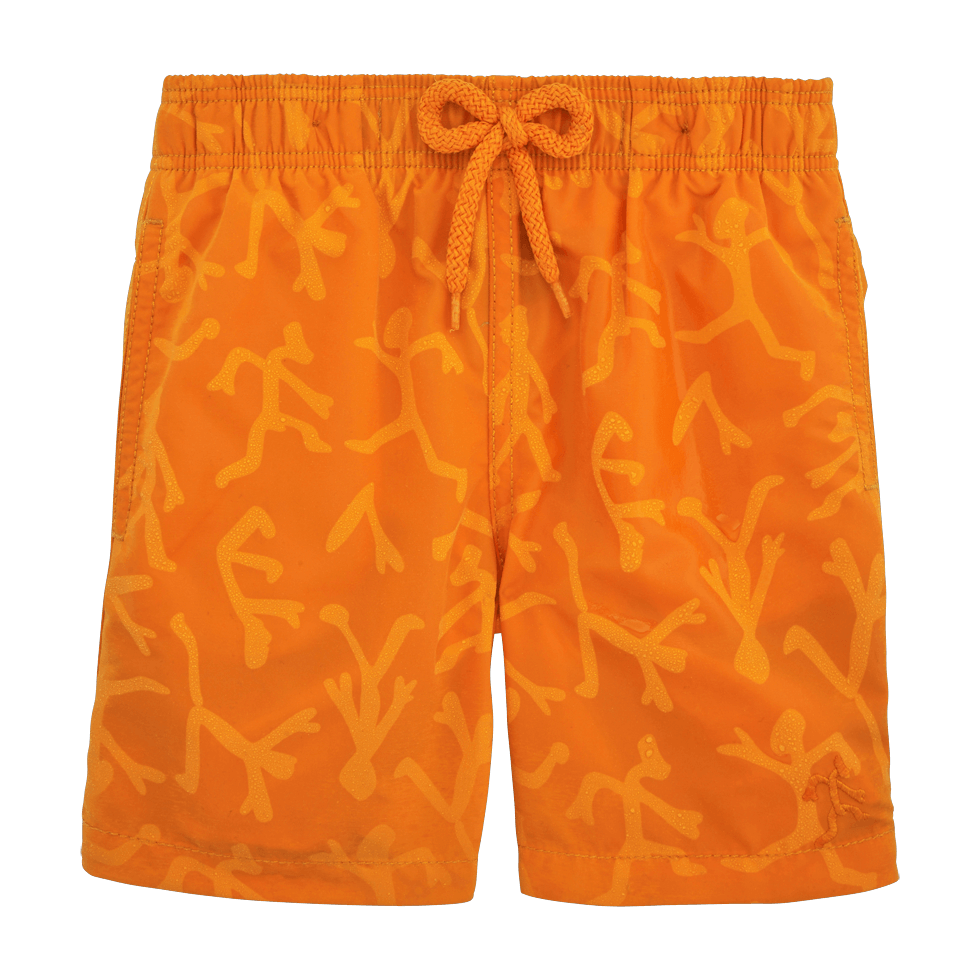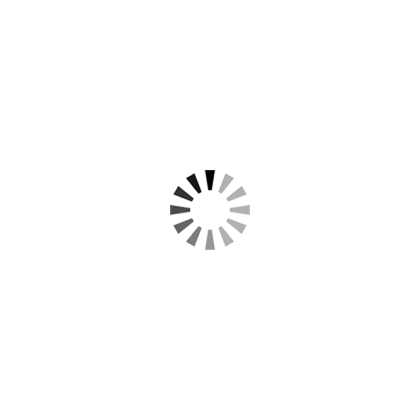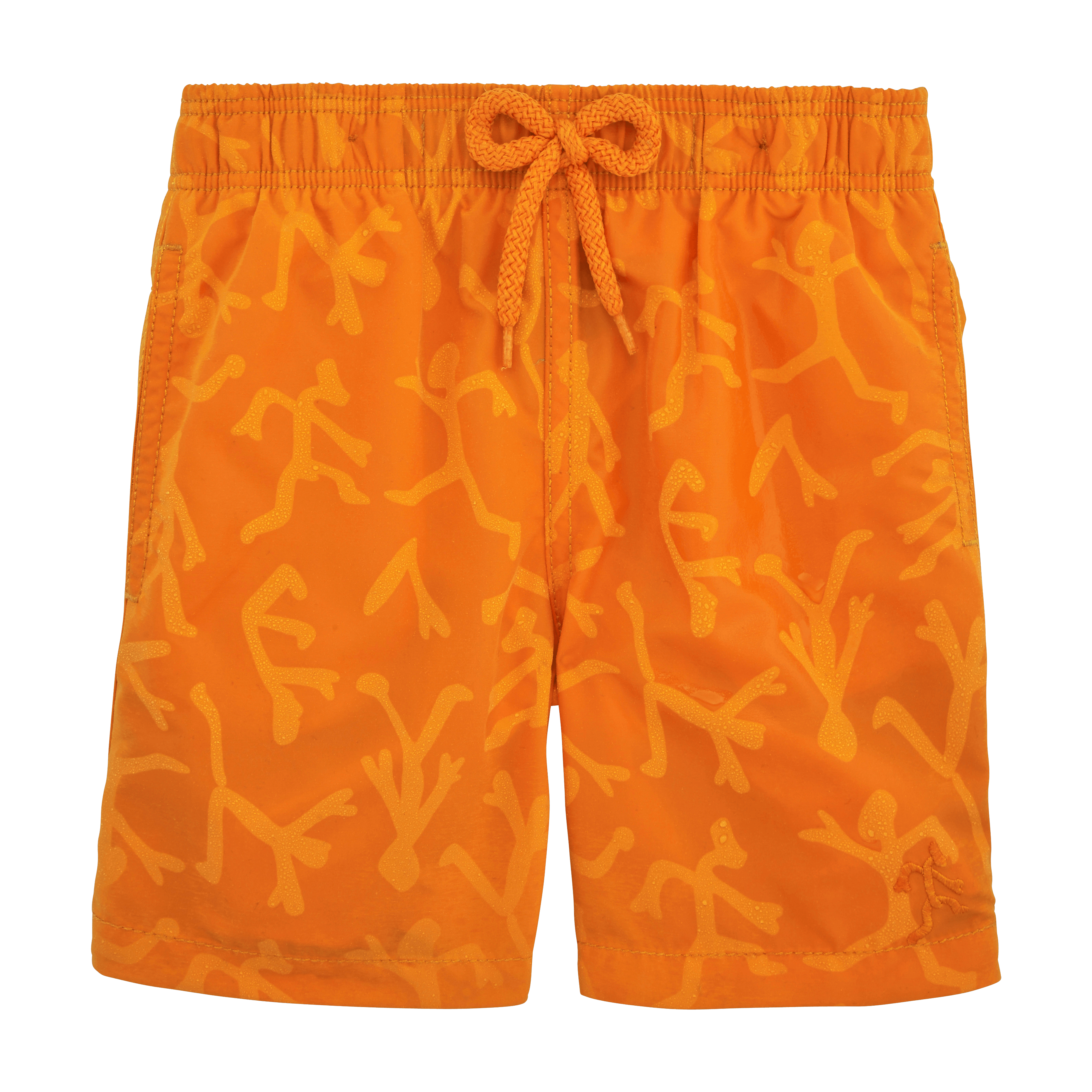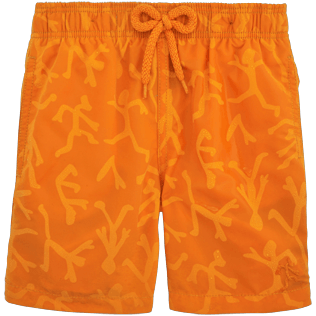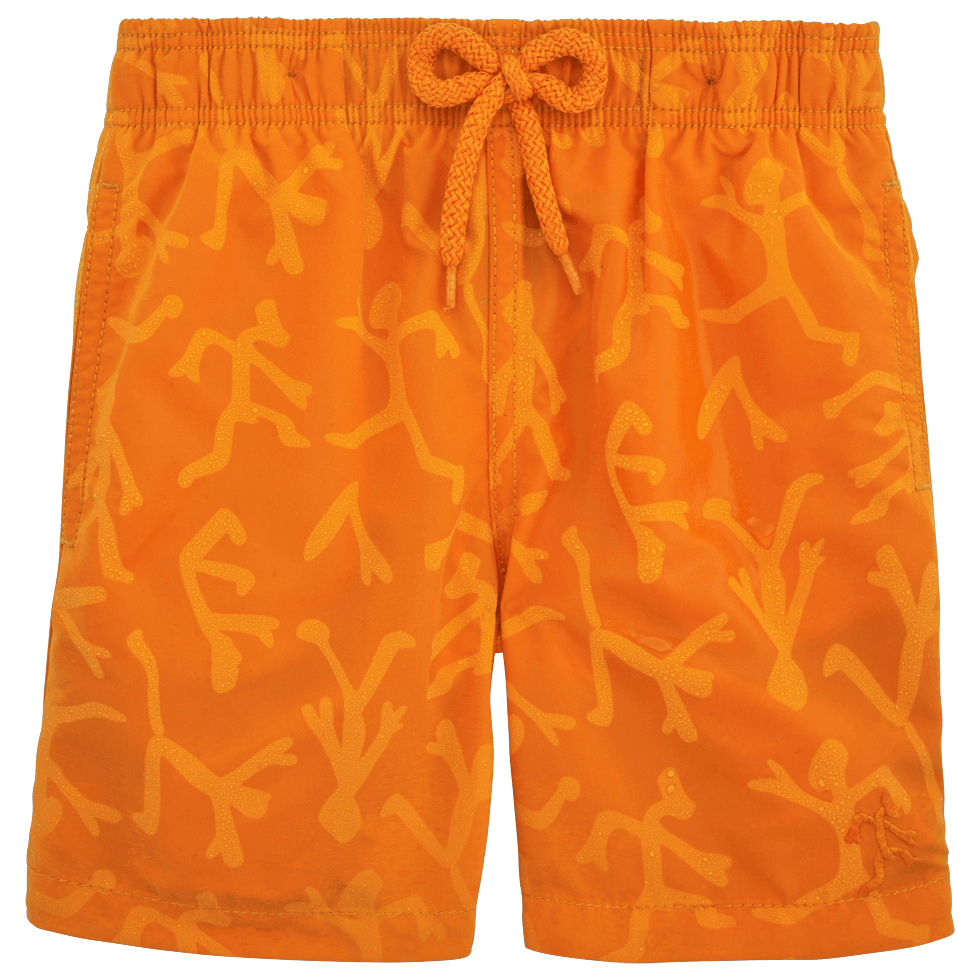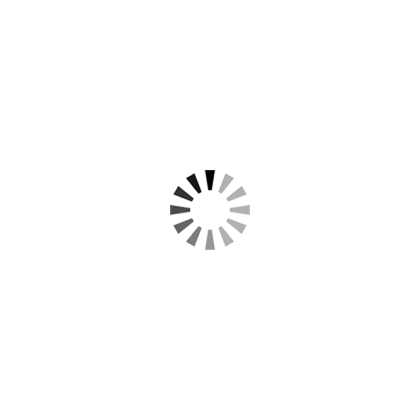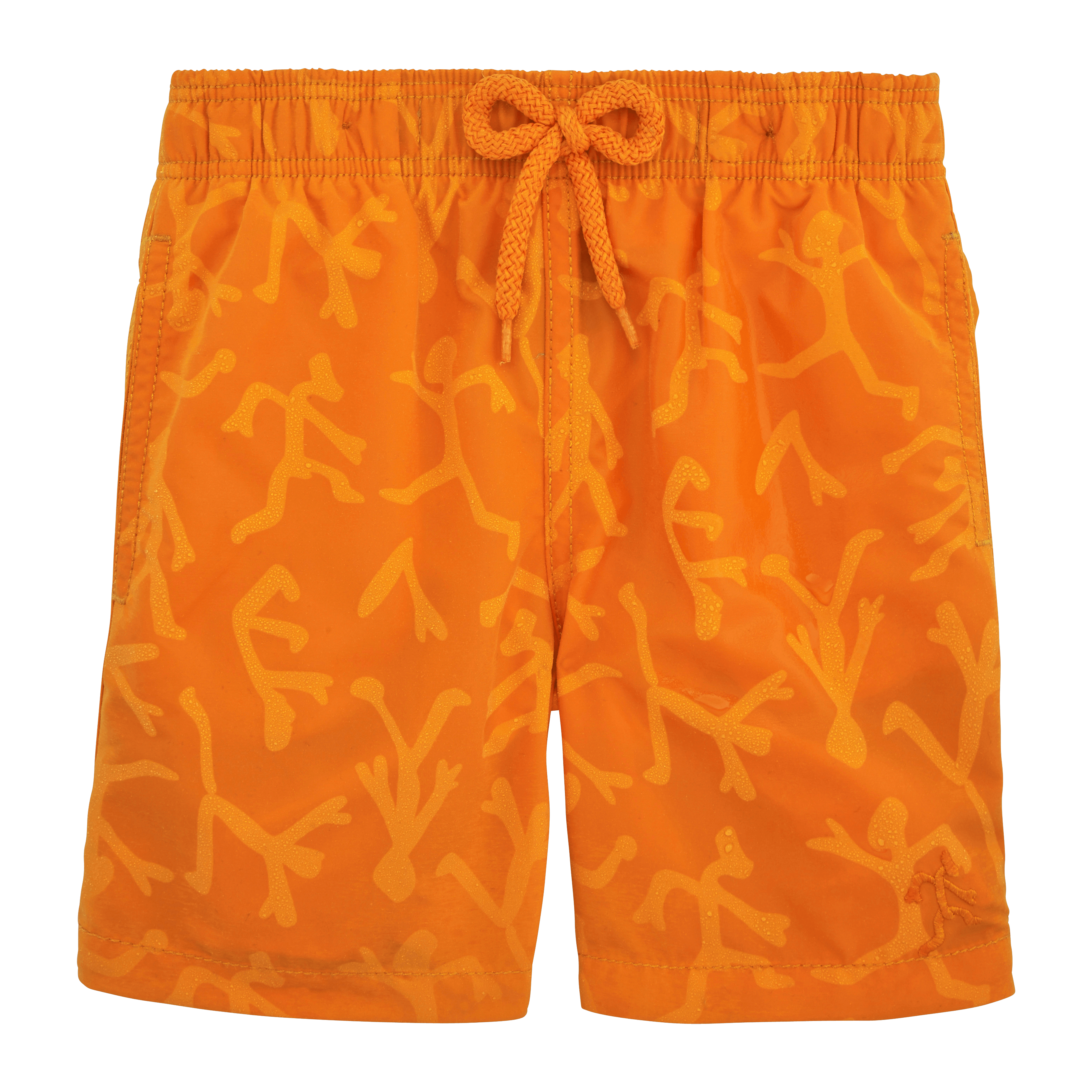 Additional Information




Description
Vilebrequin's Jim range is the children's version of the popular Moorea cut. Available for boys between 2 and 14 years, it features an elastic waistband with a fixed knot to ensure a comfortable fit, it also has a Velcro rear pocket and spacious side pockets. This version features the season's Danse du Feu in an aquareactive print.
Range of the Moorea - Kid
Elastic waistband
Fixed knot
Side pockets
Back pocket with velcro flap
Side leg length in 2 years : 8.7''
100% polyamide
2-14 years
Style:
jim
Model:
WB-MOO8703E-GAR-170
Color:
PAPAYA / ORANGE
Care instructions
Wash at or below 65F
Do not bleach
Do not tumble dry
Regular ironing, steam or dry, may be performed at low setting 230F
Do not dryclean
Wash with similar colours
Iron inside out
We advise you to rinse your swimwear with fresh water after each use
To preserve the aquareactive effect as long as possible or to reactivate it, we recommend you to cool iron your garment on reverse side.
BOYS JIM/JAM SIZE CHART - THE KID MOOREA
The Jim is the range of the Moorea for kid and the Jam for teenager. The Moorea style is the original from the 70's - Our iconic and most beloved style.
Elastic waistband, fixed knot, side pockets, back pocket with Velcro flap.
2 ANS/YEARS
| | |
| --- | --- |
| SUGGESTED AGE | 6 months - 1 year |
SIZES (IN)
12 ANS/YEARS
| | |
| --- | --- |
| SUGGESTED AGE | 10-11 years |
SIZES (IN)
14 ANS/YEARS
| | |
| --- | --- |
| SUGGESTED AGE | 12-13 years |
SIZES (IN)
Standard Free shipping
Home delivery within 2-6 working days from order confirmation. Please check our FAQ for more details.
Express Delivery
Home delivery within 1-3 working days from order confirmation if order placed before 1pm CET.
30 Days Return Policy
You have 30 days from receipt of your order to return a product purchased from our Online Shop. Please use the return form included in your package.
Where we ship
On our European website, we deliver to the following countries. Click your destination country to get more information about delivery times..
Expected delivery time: - 5 to 13 business days

Expected delivery time: - 5 to 13 business days

Expected delivery time: - 5 to 13 business days

Expected delivery time: - 5 to 13 business days

Expected delivery time: - 5 to 13 business days

Expected delivery time: - 5 to 13 business days

Expected delivery time: - 5 to 13 business days

Expected delivery time: - 5 to 13 business days

Expected delivery time: - 5 to 13 business days

Expected delivery time: - 5 to 13 business days

Expected delivery time: - 5 to 13 business days

Expected delivery time: - 5 to 13 business days

Expected delivery time: - 5 to 13 business days

Expected delivery time: - 5 to 13 business days

Expected delivery time: - 5 to 13 business days

Expected delivery time: - 5 to 13 business days

Expected delivery time: - 5 to 13 business days

Expected delivery time: - 5 to 13 business days

Expected delivery time: - 5 to 13 business days

Expected delivery time: - 5 to 13 business days

Expected delivery time: - 5 to 13 business days

Expected delivery time: - 5 to 13 business days

Expected delivery time: - 5 to 13 business days

Expected delivery time: - 5 to 13 business days

Expected delivery time: - 5 to 13 business days

Expected delivery time: - 5 to 13 business days

Expected delivery time: - 5 to 13 business days

Expected delivery time: - 5 to 13 business days

Expected delivery time: - 5 to 13 business days

Expected delivery time: - 5 to 13 business days

Expected delivery time: - 5 to 13 business days

Expected delivery time: - 5 to 13 business days

Expected delivery time: - 5 to 13 business days

Expected delivery time: - 5 to 13 business days

Expected delivery time: - 5 to 13 business days

Expected delivery time: - 5 to 13 business days

Expected delivery time: - 5 to 13 business days

Expected delivery time: - 5 to 13 business days

Expected delivery time: - 5 to 13 business days

Expected delivery time: - 5 to 13 business days

Expected delivery time: - 5 to 13 business days

Expected delivery time: - 5 to 13 business days

Expected delivery time: - 5 to 13 business days

Expected delivery time: - 5 to 13 business days

Expected delivery time: - 5 to 13 business days

Expected delivery time: - 5 to 13 business days

Expected delivery time: - 5 to 13 business days

Expected delivery time: - 5 to 13 business days

Expected delivery time: - 5 to 13 business days

Expected delivery time: - 5 to 13 business days

Expected delivery time: - 5 to 13 business days

Expected delivery time: - 5 to 13 business days

Expected delivery time: - 5 to 13 business days

Expected delivery time: - 5 to 13 business days

Expected delivery time: - 5 to 13 business days

Expected delivery time: - 5 to 13 business days

Expected delivery time: - 5 to 13 business days
Expected delivery time: - 5 to 13 business days

Expected delivery time: - 5 to 13 business days

Expected delivery time: - 5 to 13 business days

Expected delivery time: - 5 to 13 business days

Expected delivery time: - 5 to 13 business days
Expected delivery time: - 5 to 13 business days

Expected delivery time: - 5 to 13 business days

Expected delivery time: - 5 to 13 business days

Expected delivery time: - 5 to 13 business days

Expected delivery time: - 5 to 13 business days

Expected delivery time: - 5 to 13 business days

Expected delivery time: - 5 to 13 business days

Expected delivery time: - 5 to 13 business days

Expected delivery time: - 5 to 13 business days

Expected delivery time: - 5 to 13 business days

Expected delivery time: - 5 to 13 business days

Expected delivery time: - 5 to 13 business days

Expected delivery time: - 5 to 13 business days

Expected delivery time: - 5 to 13 business days

Expected delivery time: - 5 to 13 business days

Expected delivery time: - 5 to 13 business days

Expected delivery time: - 5 to 13 business days

Expected delivery time: - 5 to 13 business days

Not served

Expected delivery time: - 5 to 13 business days

Expected delivery time: - 5 to 13 business days

Expected delivery time: - 5 to 13 business days

Expected delivery time: - 5 to 13 business days

Expected delivery time: - 5 to 13 business days

Expected delivery time: - 5 to 13 business days

Expected delivery time: - 5 to 13 business days

Expected delivery time: - 5 to 13 business days

Expected delivery time: - 5 to 13 business days

Expected delivery time: - 5 to 13 business days

Expected delivery time: - 5 to 13 business days

Expected delivery time: - 5 to 13 business days

Expected delivery time: - 5 to 13 business days

Expected delivery time: - 5 to 13 business days

Expected delivery time: - 5 to 13 business days

Expected delivery time: - 5 to 13 business days

Expected delivery time: - 5 to 13 business days

Expected delivery time: - 5 to 13 business days

Expected delivery time: - 5 to 13 business days

Expected delivery time: - 5 to 13 business days

Expected delivery time: - 5 to 13 business days

Expected delivery time: - 5 to 13 business days

Expected delivery time: - 5 to 13 business days

Expected delivery time: - 5 to 13 business days

Expected delivery time: - 5 to 13 business days

Expected delivery time: - 5 to 13 business days

Expected delivery time: - 5 to 13 business days

Expected delivery time: - 5 to 13 business days

Expected delivery time: - 5 to 13 business days

Expected delivery time: - 5 to 13 business days

Expected delivery time: - 5 to 13 business days

Expected delivery time: - 5 to 13 business days

Expected delivery time: - 5 to 13 business days

Expected delivery time: - 5 to 13 business days
Expected delivery time: - 5 to 13 business days

Expected delivery time: - 5 to 13 business days

Expected delivery time: - Standard shipping: 2 to 5 business days - Express shipping: 1 to 2 business days

Expected delivery time: - Standard shipping: 2 to 5 business days - Express shipping: 1 to 2 business days

Expected delivery time: - Standard shipping: 2 to 5 business days - Express shipping: 1 to 2 business days

Expected delivery time: - Standard shipping: 2 to 5 business days - Express shipping: 1 to 2 business days

Expected delivery time: - Standard shipping: 2 to 5 business days - Express shipping: 1 to 2 business days

Expected delivery time: - 5 to 13 business days

Expected delivery time: - 5 to 13 business days

Expected delivery time: - Standard shipping: 2 to 5 business days - Express shipping: 1 to 2 business days

Not served

Expected delivery time: - Standard shipping: 2 to 5 business days - Express shipping: 1 to 2 business days

Expected delivery time: - 5 to 13 business days

Expected delivery time: - 5 to 13 business days

Expected delivery time: - 5 to 13 business days

Expected delivery time: - Standard shipping: 2 to 5 business days - Express shipping: 1 to 2 business days

Expected delivery time: - Standard shipping: 2 to 5 business days - Express shipping: 1 to 2 business days

Expected delivery time: - 5 to 13 business days

Expected delivery time: - 5 to 13 business days

Expected delivery time: - 5 to 13 business days

Expected delivery time: - 5 to 13 business days

Expected delivery time: - Standard shipping: 2 to 5 business days - Express shipping: 1 to 2 business days

Expected delivery time: - Standard shipping: 2 to 5 business days - Express shipping: 1 to 2 business days

Expected delivery time: - Standard shipping: 2 to 5 business days - Express shipping: 1 to 2 business days

Expected delivery time: - 5 to 13 business days

Expected delivery time: - Standard shipping: 2 to 5 business days - Express shipping: 1 to 2 business days

Expected delivery time: - 5 to 13 business days

Expected delivery time: - 5 to 13 business days

Expected delivery time: - 5 to 13 business days

Expected delivery time: - Standard shipping: 2 to 5 business days - Express shipping: 1 to 2 business days

Expected delivery time: - Standard shipping: 2 to 5 business days - Express shipping: 1 to 2 business days

Expected delivery time: - Standard shipping: 2 to 5 business days - Express shipping: 1 to 2 business days

Expected delivery time: - Standard shipping: 2 to 5 business days - Express shipping: 1 to 2 business days

Expected delivery time: - Standard shipping: 2 to 5 business days - Express shipping: 1 to 2 business days

Expected delivery time: - 5 to 13 business days

Expected delivery time: - 5 to 13 business days

Expected delivery time: - Standard shipping: 2 to 5 business days - Express shipping: 1 to 2 business days

Expected delivery time: - Standard shipping: 2 to 5 business days - Express shipping: 1 to 2 business days

Expected delivery time: - 5 to 13 business days

Expected delivery time: - 5 to 13 business days

Expected delivery time: - Standard shipping: 2 to 5 business days - Express shipping: 1 to 2 business days

Expected delivery time: - 5 to 13 business days

Expected delivery time: - Standard shipping: 2 to 5 business days - Express shipping: 1 to 2 business days

Expected delivery time: - Standard shipping: 2 to 5 business days - Express shipping: 1 to 2 business days

Expected delivery time: - 5 to 13 business days

Expected delivery time: - 5 to 13 business days

Expected delivery time: - 5 to 13 business days

Expected delivery time: - 5 to 13 business days

Expected delivery time: - Standard shipping: 2 to 5 business days - Express shipping: 1 to 2 business days

Expected delivery time: - Standard shipping: 2 to 5 business days - Express shipping: 1 to 2 business days

Expected delivery time: - Standard shipping: 2 to 5 business days - Express shipping: 1 to 2 business days

Expected delivery time: - Standard shipping: 2 to 5 business days - Express shipping: 1 to 2 business days

Expected delivery time: - Standard shipping: 2 to 5 business days - Express shipping: 1 to 2 business days
Expected delivery time: - 5 to 13 business days

Expected delivery time: - 5 to 13 business days

Expected delivery time: - 5 to 13 business days

Expected delivery time: - 5 to 13 business days

Expected delivery time: - 5 to 13 business days

Expected delivery time: - 5 to 13 business days

Expected delivery time: - 5 to 13 business days

Expected delivery time: - 5 to 13 business days

Expected delivery time: - 5 to 13 business days

Expected delivery time: - 5 to 13 business days

Expected delivery time: - 5 to 13 business days

Expected delivery time: - 5 to 13 business days

Expected delivery time: - 5 to 13 business days

Expected delivery time: - 5 to 13 business days

Expected delivery time: - 5 to 13 business days

Expected delivery time: - 5 to 13 business days

Expected delivery time: - 5 to 13 business days

Expected delivery time: - 5 to 13 business days

Expected delivery time: - 5 to 13 business days

Expected delivery time: - 5 to 13 business days

Expected delivery time: - 5 to 13 business days

Expected delivery time: - 5 to 13 business days

Expected delivery time: - 5 to 13 business days

Expected delivery time: - 5 to 13 business days

Expected delivery time: - 5 to 13 business days

Expected delivery time: - 5 to 13 business days

Expected delivery time: - 5 to 13 business days

Expected delivery time: - 5 to 13 business days

Expected delivery time: - 5 to 13 business days

Expected delivery time: - 5 to 13 business days

Expected delivery time: - 5 to 13 business days

Expected delivery time: - 5 to 13 business days

Expected delivery time: - 5 to 13 business days

Expected delivery time: - 5 to 13 business days

Expected delivery time: - 5 to 13 business days

Not served

Expected delivery time: - 5 to 13 business days

Expected delivery time: - 5 to 13 business days

Expected delivery time: - 5 to 13 business days
Expected delivery time: - 5 to 13 business days

Expected delivery time: - 5 to 13 business days

Expected delivery time: - 5 to 13 business days

Expected delivery time: - 5 to 13 business days

Expected delivery time: - 5 to 13 business days

Expected delivery time: - 5 to 13 business days

Expected delivery time: - 5 to 13 business days

Expected delivery time: - 5 to 13 business days

Expected delivery time: - 5 to 13 business days

Expected delivery time: - 5 to 13 business days

Expected delivery time: - 5 to 13 business days

Expected delivery time: - 5 to 13 business days

Expected delivery time: - 5 to 13 business days

Expected delivery time: - 5 to 13 business days

Expected delivery time: - 5 to 13 business days

Expected delivery time: - 5 to 13 business days

Expected delivery time: - 5 to 13 business days

Expected delivery time: - 5 to 13 business days

Expected delivery time: - 5 to 13 business days

Expected delivery time: - 5 to 13 business days

Expected delivery time: - 5 to 13 business days

Expected delivery time: - 5 to 13 business days

Expected delivery time: - 5 to 13 business days

Expected delivery time: - 5 to 13 business days

Expected delivery time: - 5 to 13 business days

Expected delivery time: - Standard shipping: 2 to 5 business days - Express shipping: 1 to 2 business days
Expected delivery time: - 5 to 13 business days

Expected delivery time: - 5 to 13 business days

Expected delivery time: - 5 to 13 business days

Expected delivery time: - 5 to 13 business days

Expected delivery time: - 5 to 13 business days

Expected delivery time: - 5 to 13 business days

Expected delivery time: - 5 to 13 business days

Expected delivery time: - 5 to 13 business days

Expected delivery time: - 5 to 13 business days

Expected delivery time: - 5 to 13 business days

Expected delivery time: - 5 to 13 business days

Expected delivery time: - 5 to 13 business days

Expected delivery time: - 5 to 13 business days

Expected delivery time: - 5 to 13 business days
Expected delivery time: - 5 to 13 business days
Expected delivery time: - 5 to 13 business days
Expected delivery time: - 5 to 13 business days
Expected delivery time: - 5 to 13 business days
Expected delivery time: - 5 to 13 business days
Expected delivery time: - 5 to 13 business days
Expected delivery time: - 5 to 13 business days
Expected delivery time: - 5 to 13 business days
Expected delivery time: - 5 to 13 business days
Expected delivery time: - 5 to 13 business days
Expected delivery time: - 5 to 13 business days
Expected delivery time: - 5 to 13 business days
Expected delivery time: - 5 to 13 business days
Expected delivery time: - 5 to 13 business days
Expected delivery time: - 5 to 13 business days
Expected delivery time: - 5 to 13 business days
Expected delivery time: - 5 to 13 business days
Expected delivery time: - 5 to 13 business days
Expected delivery time: - 5 to 13 business days
Expected delivery time: - 5 to 13 business days
Expected delivery time: - 5 to 13 business days
Expected delivery time: - 5 to 13 business days
Expected delivery time: - 5 to 13 business days
Expected delivery time: - 5 to 13 business days
Expected delivery time: - 5 to 13 business days
Expected delivery time: - 5 to 13 business days
Expected delivery time: - 5 to 13 business days
Expected delivery time: - 5 to 13 business days
Expected delivery time: - 5 to 13 business days
Expected delivery time: - 5 to 13 business days
Expected delivery time: - 5 to 13 business days
Expected delivery time: - 5 to 13 business days
Expected delivery time: - 5 to 13 business days
Expected delivery time: - 5 to 13 business days
Expected delivery time: - 5 to 13 business days
Expected delivery time: - 5 to 13 business days
Expected delivery time: - 5 to 13 business days
Expected delivery time: - 5 to 13 business days
Expected delivery time: - 5 to 13 business days
Expected delivery time: - 5 to 13 business days
Expected delivery time: - 5 to 13 business days
Expected delivery time: - 5 to 13 business days
Expected delivery time: - 5 to 13 business days
Expected delivery time: - 5 to 13 business days
Expected delivery time: - 5 to 13 business days
Expected delivery time: - 5 to 13 business days
Expected delivery time: - 5 to 13 business days
Expected delivery time: - 5 to 13 business days
Expected delivery time: - 5 to 13 business days
Expected delivery time: - 5 to 13 business days
Expected delivery time: - 5 to 13 business days
Expected delivery time: - 5 to 13 business days
Expected delivery time: - 5 to 13 business days
Expected delivery time: - 5 to 13 business days
Expected delivery time: - 5 to 13 business days
Expected delivery time: - 5 to 13 business days
Expected delivery time: - 5 to 13 business days
Expected delivery time: - 5 to 13 business days
Expected delivery time: - 5 to 13 business days
Expected delivery time: - 5 to 13 business days
Expected delivery time: - 5 to 13 business days
Expected delivery time: - 5 to 13 business days
Expected delivery time: - 5 to 13 business days
Expected delivery time: - 5 to 13 business days
Expected delivery time: - 5 to 13 business days
Expected delivery time: - 5 to 13 business days
Expected delivery time: - 5 to 13 business days
Expected delivery time: - 5 to 13 business days
Expected delivery time: - 5 to 13 business days
Expected delivery time: - 5 to 13 business days
Expected delivery time: - 5 to 13 business days
Expected delivery time: - 5 to 13 business days
Expected delivery time: - 5 to 13 business days
Expected delivery time: - 5 to 13 business days
Expected delivery time: - 5 to 13 business days
Expected delivery time: - 5 to 13 business days
Expected delivery time: - 5 to 13 business days
Expected delivery time: - 5 to 13 business days
Expected delivery time: - 5 to 13 business days
Not served
Expected delivery time: - 5 to 13 business days
Expected delivery time: - 5 to 13 business days
Expected delivery time: - 5 to 13 business days
Expected delivery time: - 5 to 13 business days
Expected delivery time: - 5 to 13 business days
Expected delivery time: - 5 to 13 business days
Expected delivery time: - 5 to 13 business days
Expected delivery time: - 5 to 13 business days
Expected delivery time: - 5 to 13 business days
Expected delivery time: - 5 to 13 business days
Expected delivery time: - 5 to 13 business days
Expected delivery time: - 5 to 13 business days
Expected delivery time: - 5 to 13 business days
Expected delivery time: - 5 to 13 business days
Expected delivery time: - 5 to 13 business days
Expected delivery time: - 5 to 13 business days
Expected delivery time: - 5 to 13 business days
Expected delivery time: - 5 to 13 business days
Expected delivery time: - 5 to 13 business days
Expected delivery time: - 5 to 13 business days
Expected delivery time: - 5 to 13 business days
Expected delivery time: - 5 to 13 business days
Expected delivery time: - 5 to 13 business days
Expected delivery time: - 5 to 13 business days
Expected delivery time: - 5 to 13 business days
Expected delivery time: - 5 to 13 business days
Expected delivery time: - 5 to 13 business days
Expected delivery time: - 5 to 13 business days
Expected delivery time: - 5 to 13 business days
Expected delivery time: - 5 to 13 business days
Expected delivery time: - 5 to 13 business days
Expected delivery time: - 5 to 13 business days
Expected delivery time: - 5 to 13 business days
Expected delivery time: - 5 to 13 business days
Expected delivery time: - 5 to 13 business days
Expected delivery time: - 5 to 13 business days
Expected delivery time: - 5 to 13 business days
Expected delivery time: - 5 to 13 business days
Expected delivery time: - Standard shipping: 2 to 5 business days - Express shipping: 1 to 2 business days
Expected delivery time: - 5 to 13 business days
Expected delivery time: - Standard shipping: 2 to 5 business days - Express shipping: 1 to 2 business days
Expected delivery time: - 5 to 13 business days
Expected delivery time: - 5 to 13 business days
Expected delivery time: - Standard shipping: 2 to 5 business days - Express shipping: 1 to 2 business days
Expected delivery time: - Standard shipping: 2 to 5 business days - Express shipping: 1 to 2 business days
Expected delivery time: - Standard shipping: 2 to 5 business days - Express shipping: 1 to 2 business days
Expected delivery time: - Standard shipping: 2 to 5 business days - Express shipping: 1 to 2 business days
Expected delivery time: - Standard shipping: 2 to 5 business days - Express shipping: 1 to 2 business days
Expected delivery time: - 5 to 13 business days
Expected delivery time: - Standard shipping: 2 to 5 business days - Express shipping: 1 to 2 business days
Expected delivery time: - Standard shipping: 2 to 5 business days - Express shipping: 1 to 2 business days
Expected delivery time: - Standard shipping: 2 to 5 business days - Express shipping: 1 to 2 business days
Expected delivery time: - 5 to 13 business days
Expected delivery time: - Standard shipping: 2 to 5 business days - Express shipping: 1 to 2 business days
Expected delivery time: - 5 to 13 business days
Expected delivery time: - Standard shipping: 2 to 5 business days - Express shipping: 1 to 2 business days
Expected delivery time: - 5 to 13 business days
Expected delivery time: - Standard shipping: 2 to 5 business days - Express shipping: 1 to 2 business days
Expected delivery time: - 5 to 13 business days
Expected delivery time: - Standard shipping: 2 to 5 business days - Express shipping: 1 to 2 business days
Expected delivery time: - 5 to 13 business days
Expected delivery time: - Standard shipping: 2 to 5 business days - Express shipping: 1 to 2 business days
Expected delivery time: - 5 to 13 business days
Expected delivery time: - 5 to 13 business days
Expected delivery time: - Standard shipping: 2 to 5 business days - Express shipping: 1 to 2 business days
Expected delivery time: - 5 to 13 business days
Expected delivery time: - 5 to 13 business days
Expected delivery time: - 5 to 13 business days
Expected delivery time: - Standard shipping: 2 to 5 business days - Express shipping: 1 to 2 business days
Expected delivery time: - 5 to 13 business days
Expected delivery time: - Standard shipping: 2 to 5 business days - Express shipping: 1 to 2 business days
Expected delivery time: - Standard shipping: 2 to 5 business days - Express shipping: 1 to 2 business days
Expected delivery time: - Standard shipping: 2 to 5 business days - Express shipping: 1 to 2 business days
Expected delivery time: - Standard shipping: 2 to 5 business days - Express shipping: 1 to 2 business days
Expected delivery time: - Standard shipping: 2 to 5 business days - Express shipping: 1 to 2 business days
Not served
Expected delivery time: - 5 to 13 business days
Expected delivery time: - Standard shipping: 2 to 5 business days - Express shipping: 1 to 2 business days
Expected delivery time: - Standard shipping: 2 to 5 business days - Express shipping: 1 to 2 business days
Expected delivery time: - Standard shipping: 2 to 5 business days - Express shipping: 1 to 2 business days
Expected delivery time: - Standard shipping: 2 to 5 business days - Express shipping: 1 to 2 business days
Expected delivery time: - 5 to 13 business days
Expected delivery time: - Standard shipping: 2 to 5 business days - Express shipping: 1 to 2 business days
Expected delivery time: - 5 to 13 business days
Expected delivery time: - 5 to 13 business days
Expected delivery time: - 5 to 13 business days
Expected delivery time: - Standard shipping: 2 to 5 business days - Express shipping: 1 to 2 business days
Expected delivery time: - 5 to 13 business days
Expected delivery time: - 5 to 13 business days
Expected delivery time: - 5 to 13 business days
Expected delivery time: - 5 to 13 business days
Expected delivery time: - 5 to 13 business days
Expected delivery time: - 5 to 13 business days
Expected delivery time: - 5 to 13 business days
Expected delivery time: - 5 to 13 business days
Expected delivery time: - 5 to 13 business days
Expected delivery time: - 5 to 13 business days
Expected delivery time: - 5 to 13 business days
Expected delivery time: - 5 to 13 business days
Expected delivery time: - 5 to 13 business days
Expected delivery time: - 5 to 13 business days
Expected delivery time: - 5 to 13 business days
Expected delivery time: - 5 to 13 business days
Expected delivery time: - 5 to 13 business days
Expected delivery time: - 5 to 13 business days
Expected delivery time: - 5 to 13 business days
Expected delivery time: - 5 to 13 business days
Expected delivery time: - 5 to 13 business days
Expected delivery time: - 5 to 13 business days
Expected delivery time: - 5 to 13 business days
Expected delivery time: - 5 to 13 business days
Not served
Expected delivery time: - 5 to 13 business days
Expected delivery time: - 5 to 13 business days
Expected delivery time: - 5 to 13 business days
Expected delivery time: - 5 to 13 business days
Expected delivery time: - 5 to 13 business days
Expected delivery time: - 5 to 13 business days
Expected delivery time: - 5 to 13 business days
Expected delivery time: - 5 to 13 business days
Expected delivery time: - 5 to 13 business days
Expected delivery time: - 5 to 13 business days
Expected delivery time: - 5 to 13 business days
Expected delivery time: - 5 to 13 business days
Expected delivery time: - 5 to 13 business days
Expected delivery time: - 5 to 13 business days
Expected delivery time: - 5 to 13 business days
Expected delivery time: - 5 to 13 business days
Expected delivery time: - 5 to 13 business days
Expected delivery time: - 5 to 13 business days
Expected delivery time: - 5 to 13 business days
Expected delivery time: - 5 to 13 business days
Expected delivery time: - 5 to 13 business days
Expected delivery time: - 5 to 13 business days
Expected delivery time: - 5 to 13 business days
Expected delivery time: - 5 to 13 business days
Expected delivery time: - 5 to 13 business days
Expected delivery time: - 5 to 13 business days
Expected delivery time: - 5 to 13 business days
Expected delivery time: - 5 to 13 business days
Expected delivery time: - 5 to 13 business days
Expected delivery time: - 5 to 13 business days
Expected delivery time: - 5 to 13 business days
Expected delivery time: - 5 to 13 business days
Expected delivery time: - 5 to 13 business days
Expected delivery time: - 5 to 13 business days
Expected delivery time: - 5 to 13 business days
Expected delivery time: - 5 to 13 business days
Expected delivery time: - 5 to 13 business days
Expected delivery time: - 5 to 13 business days
Expected delivery time: - Standard shipping: 2 to 5 business days - Express shipping: 1 to 2 business days
Expected delivery time: - 5 to 13 business days
Expected delivery time: - 5 to 13 business days
Expected delivery time: - 5 to 13 business days
Expected delivery time: - 5 to 13 business days
Expected delivery time: - 5 to 13 business days
Expected delivery time: - 5 to 13 business days
Expected delivery time: - 5 to 13 business days
Expected delivery time: - 5 to 13 business days
Expected delivery time: - 5 to 13 business days
Expected delivery time: - 5 to 13 business days
Expected delivery time: - 5 to 13 business days
Expected delivery time: - 5 to 13 business days
Expected delivery time: - 5 to 13 business days
Expected delivery time: - 5 to 13 business days
Expected delivery time: - 5 to 13 business days
Expected delivery time: - 5 to 13 business days