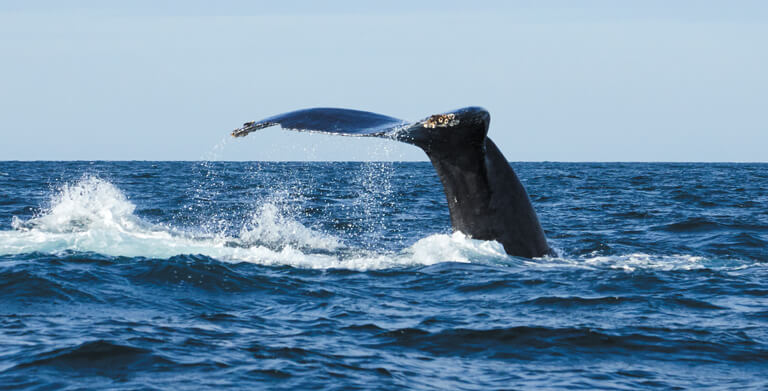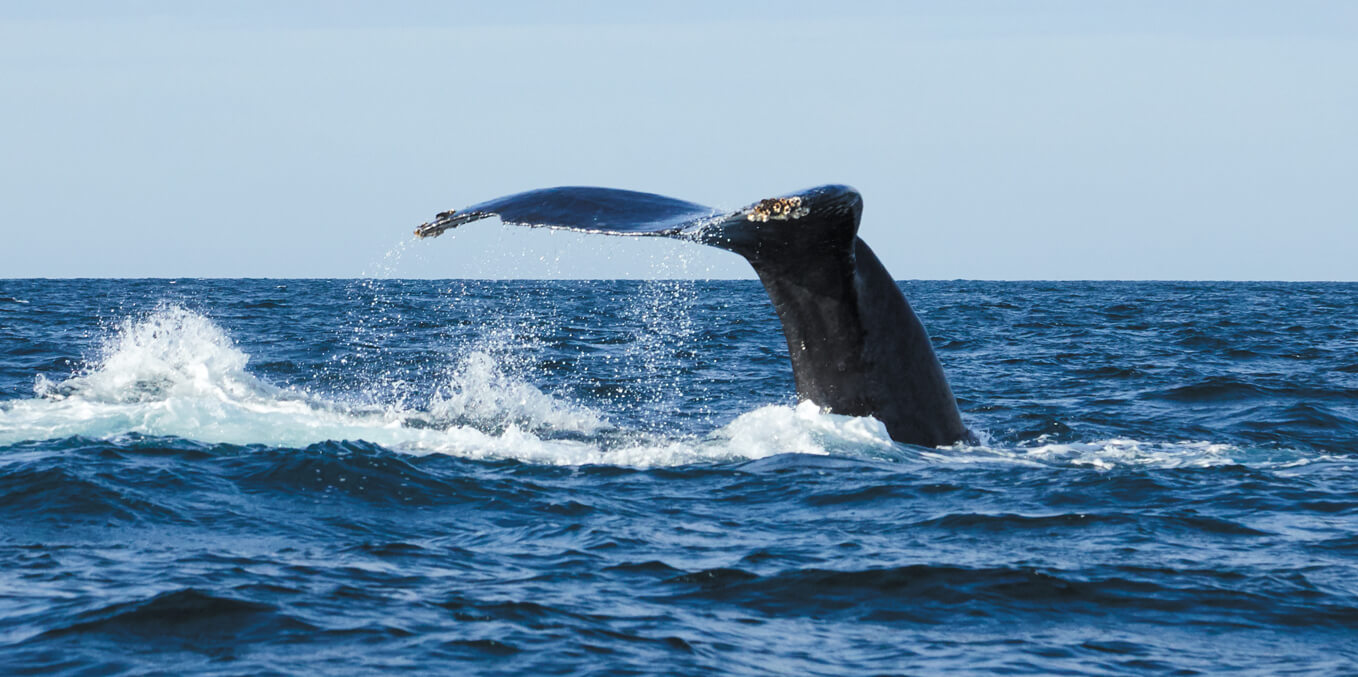 And Action!
01 一月 2023 - 活动
Instead of making bold New Year's Resolutions (does Googling gym memberships count as sport?), we've been busy thinking about the small-but-positive changes we can all be introducing into our daily routines in 2023 to ensure a brighter future for Planet Blue.
#1: WEAR LESS
The less you're wearing, the better!
Your resources are precious (and so are the planet's), so keep your wardrobe to a minimum.
This year more than ever, we're dedicating our energy to creating high-quality, durable classics that focus on joy and won't need replacing anytime soon.
#2: CARE MORE
But only about the important stuff.
Caring for your swimwear properly can extend its sex appeal. Luckily our swimsuits aren't divas! A quick wash on a cool cycle and air-drying is all it takes to keep them in shape.
And if they ever need some extra loving, Vilebrequin Repair Service is here to ensure you get plenty more wears out of them.
Landfill is not an option.
#3: CLOSE TO HOME
The most environmentally-friendly way for your clothing to travel? Down the generations.
Designed to last the summers, Vilebrequin garments are sustainably crafted in Europe—as close as possible to home.
This year, we'll be spending even more time in Italy (it's a tough job!) to bring you beautifully-made ready-to-wear you can keep and pass on.
#4: SLOW UP!
There's no excuse for being in a hurry—you're on vacation!
Cycling tours are one of the most eco-friendly travel options around, and a great way to enjoy the local scenery. Imagine winding your way from the Pacific to the Caribbean in Costa Rica, surrounded by nothing but rocky cliffs, waterfalls, and white sandy beaches. Or taking in the Loire and Nappa Valleys, met by a nice glass of wine (ok, several).
As for us, we've been taking our sea turtles' advice, choosing land transport over planes wherever possible. 94% of our goods now travel by truck. And for longer hauls, we prefer to go by water than by air… It's more our style!
#5: GET CREATIVE
Bathing isn't just reserved for the water.
One of the biggest trends in sustainable tourism comes from the heart of the Japanese countryside. Shirin-yoku, literally "forest bathing", is the art of immersing yourself the woodlands (no phones!!) while learning to protect their fragile ecosystem. Just a few hours are enough to lower your heart rate, blood pressure, and cortisol levels. You don't have to go to Japan to practise it, either. Forest bathing experiences are available everywhere from California to Kenya and Scandinavia. Something to meditate on!
As proud Mediterraneans, we feel very connected to our roots. 90% of all Vilebrequin's production comes from the EUROMED zone. Fabrics are sourced from the finest suppliers in France, Italy, Portugal and Turkey. To ensure the shortest circuit possible, everything happens within a 2200km radius of our Belgian warehouse.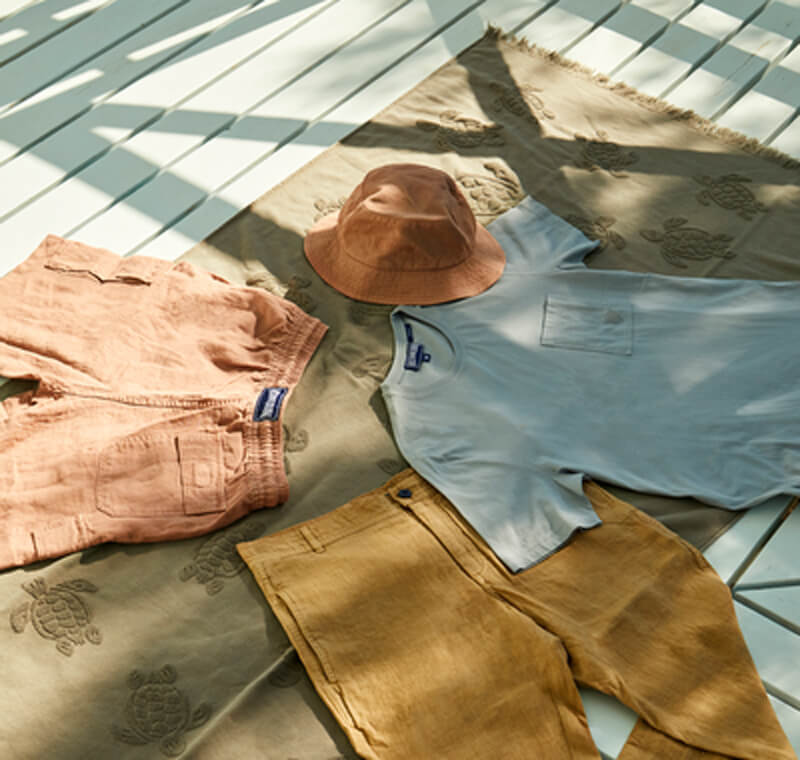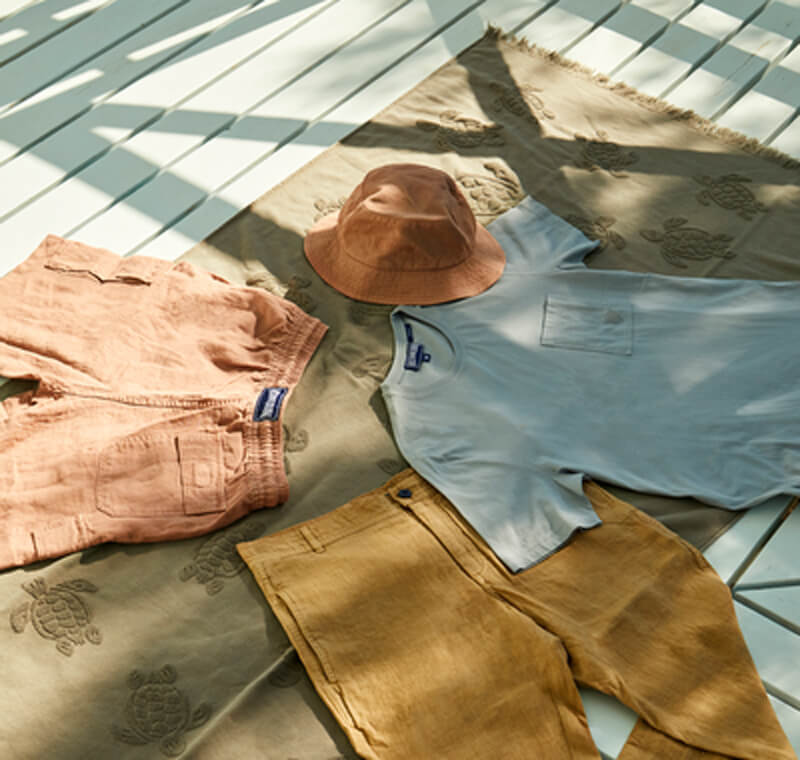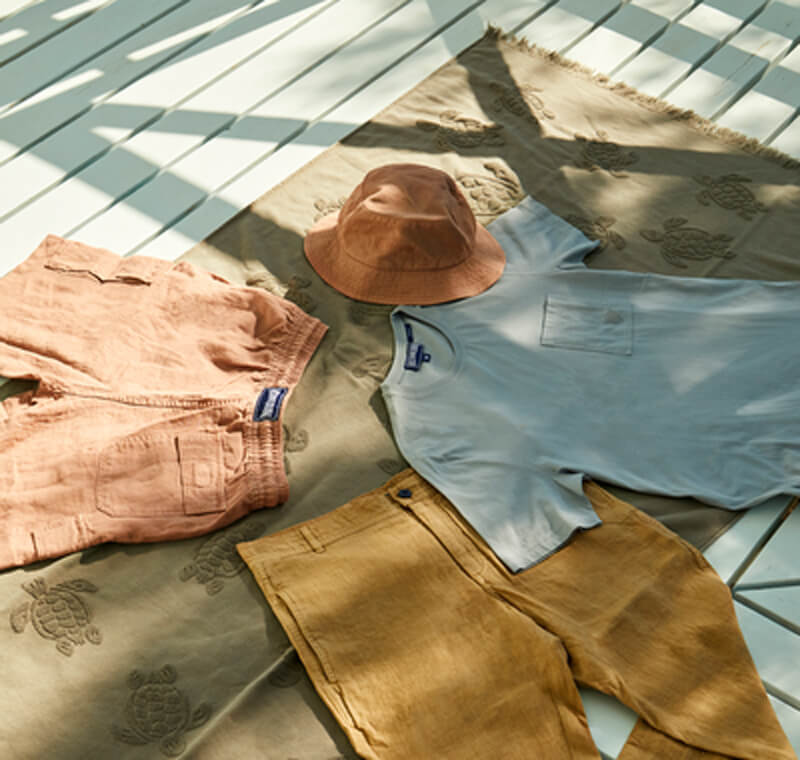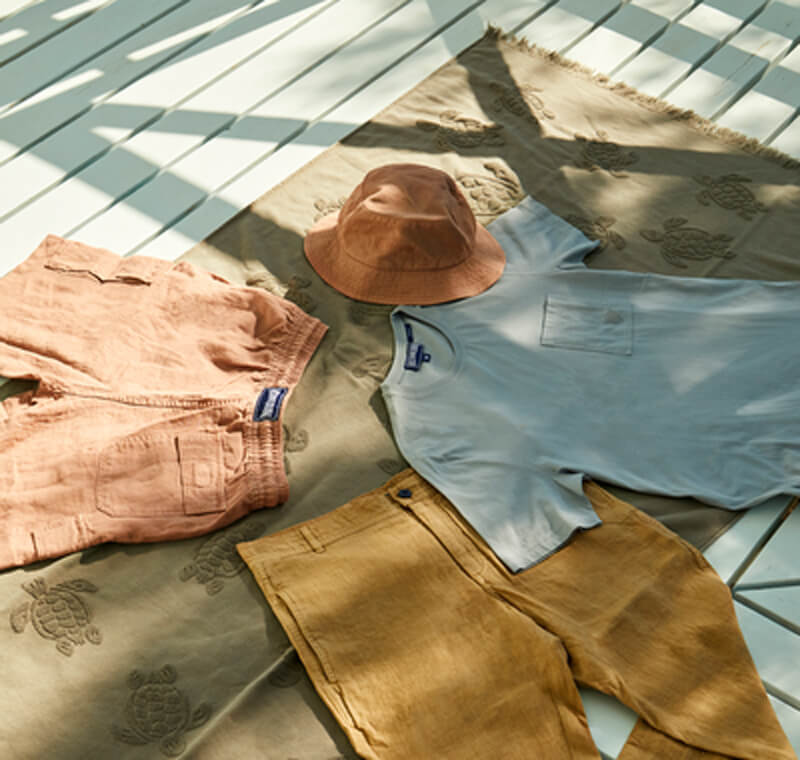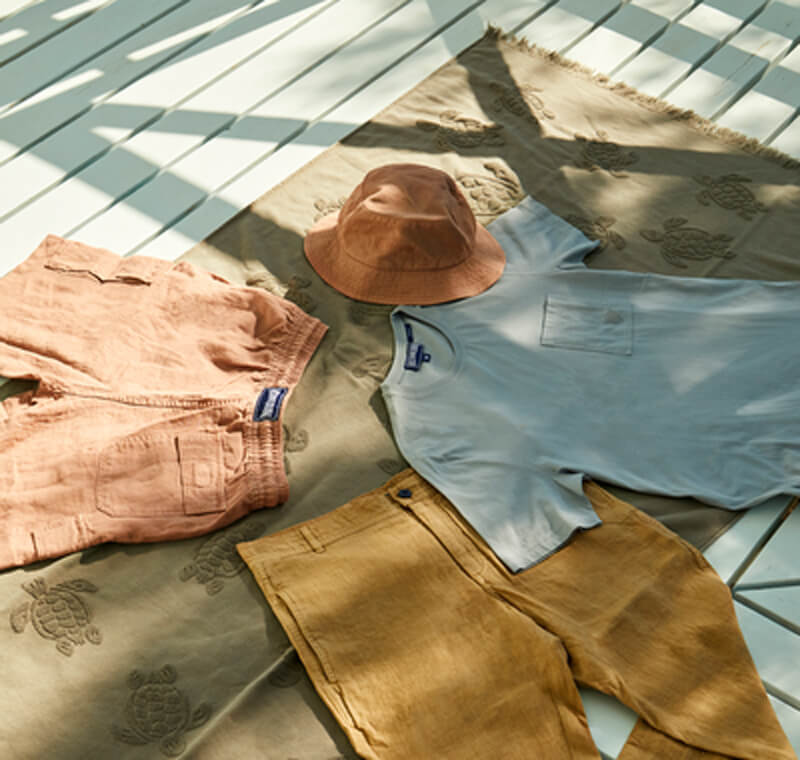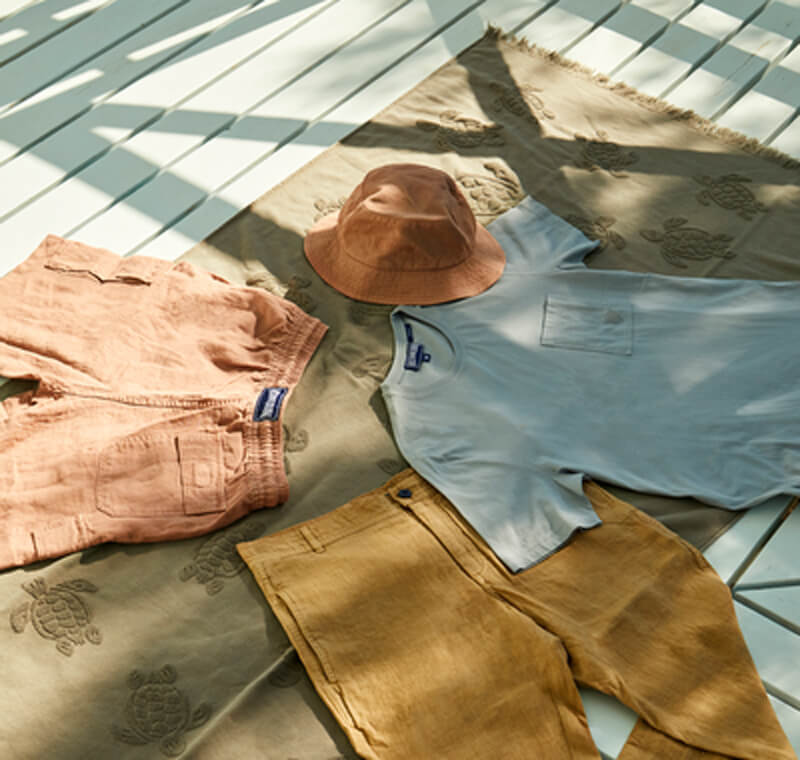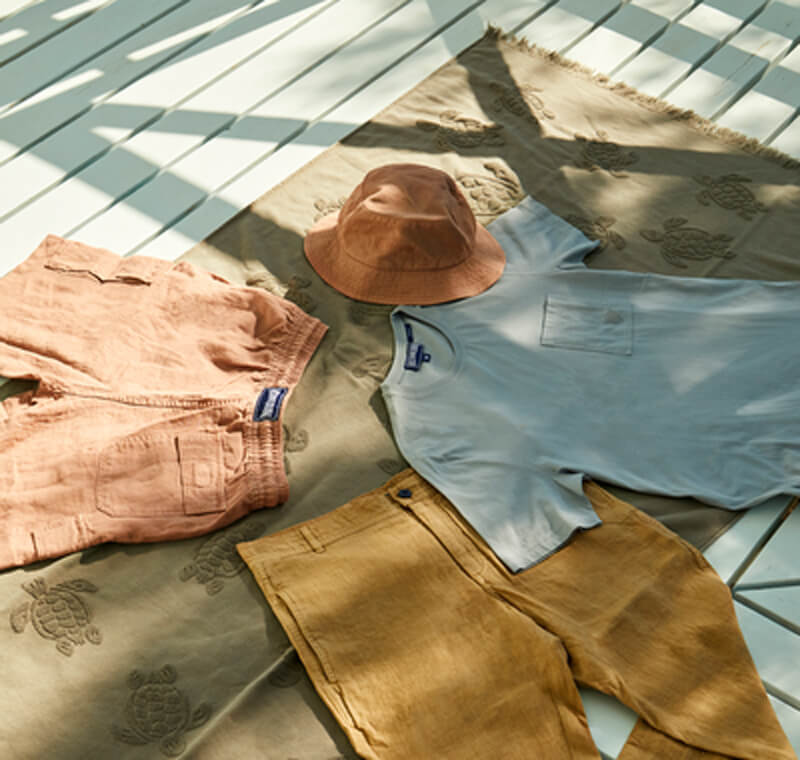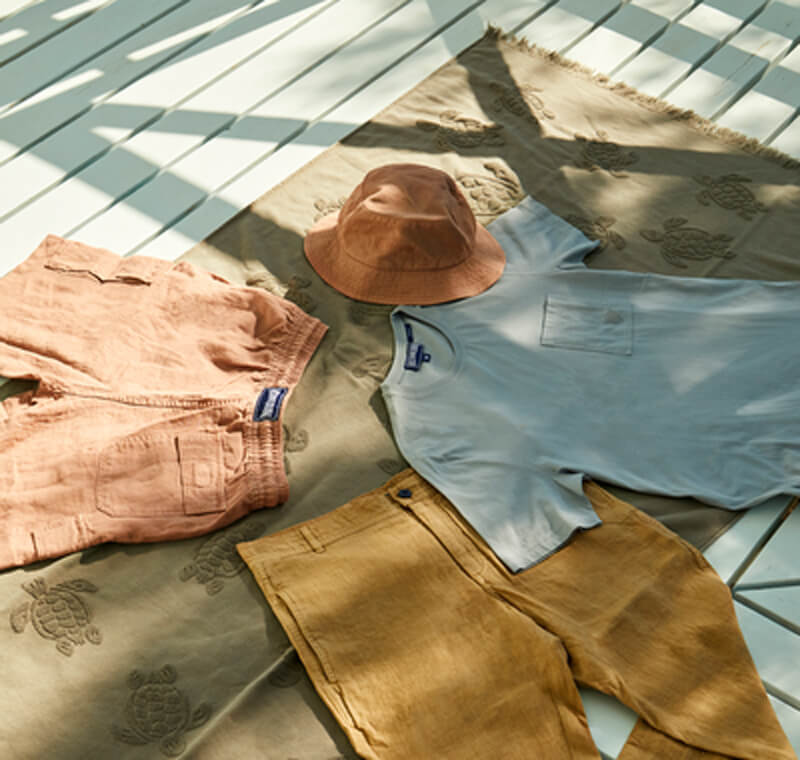 #6: AIR AND RE-WEAR
Hands up if you're a fan of laundry. No one?
The average household consumes 16,000 gallons of water a year on laundry alone— enough to fill a swimming pool! The easy way to cut down? Choose natural fibres like wool, linen, or denim. Their antimicrobial and odor-resistant properties mean you can air them instead of over-washing them. A quick cold rinse or machine cycle will suffice.
We believe high-quality, breathable fabrics are the future. From certified European linen (tough as steel, requires very little water to grow) to TENCEL® (silky AND sustainable), the Vilebrequin wardrobe is full of them! We even make swim trunks from water-friendly, renewable, and biodegradable Merino wool… Yes, wool!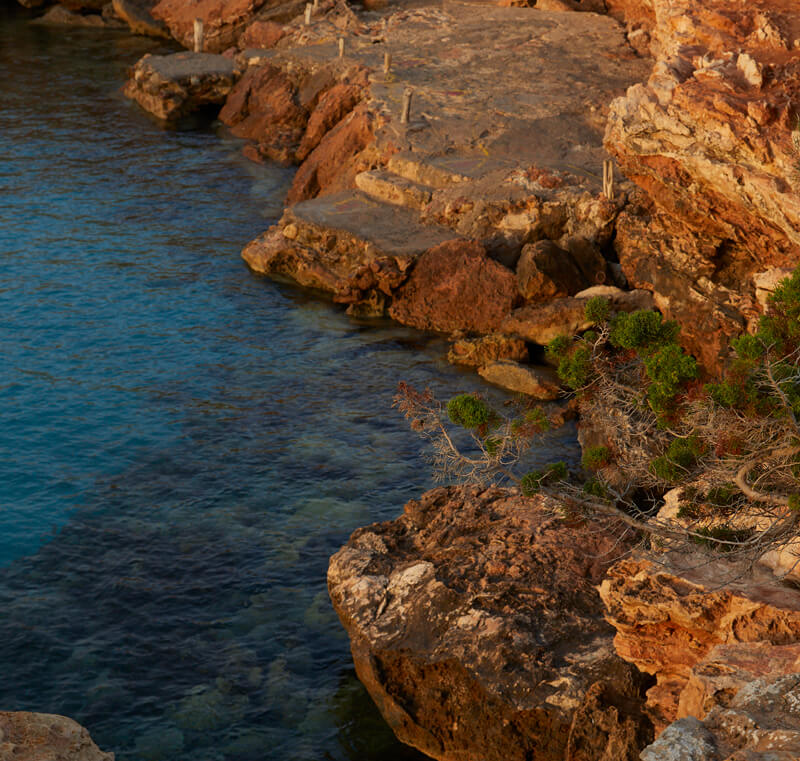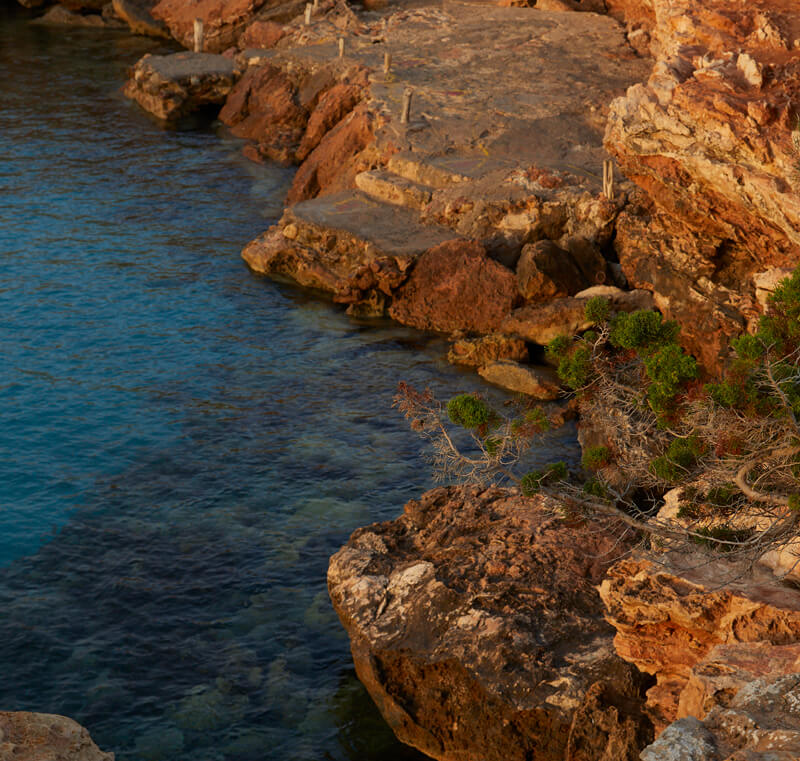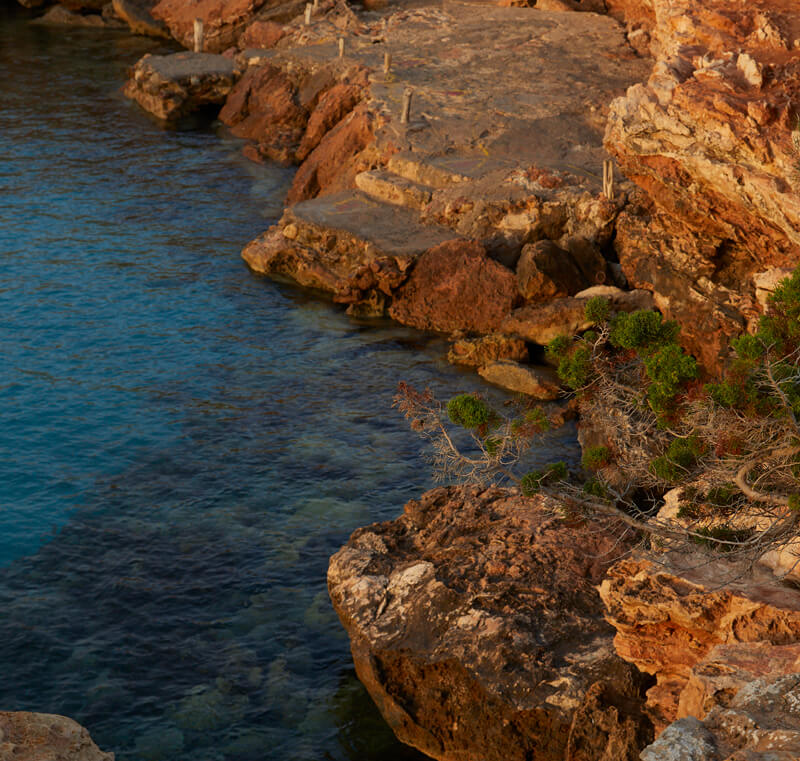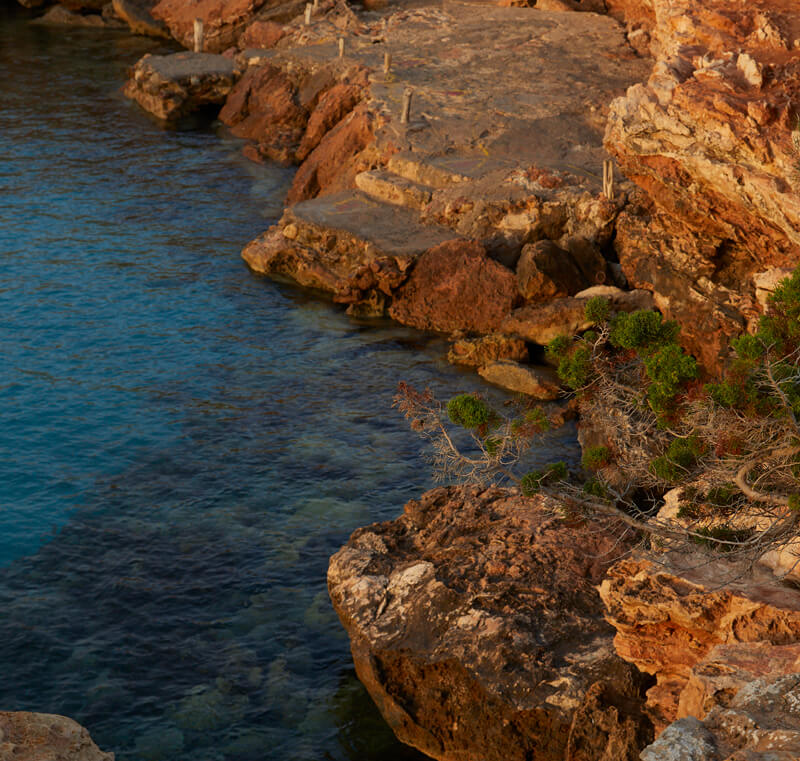 #7: KNOW YOUR SEAFOOD
As proud Mediterraneans, seafood is a very big deal to us. Maybe you've tried our lobster, shrimp, or sea urchin prints?
But did you know that 40% of fish caught globally every year are discarded (an estimated 63 billion tons)? If we continue at this rate, the oceans could be empty by 2048.
We've been working with Mediterranean fishermen on another mission: helping to rid our home of harmful marine plastics. Our partner SEAQUAL® upcycles waste to create a luxury-feel 100% post-consumer swimwear yarn.
As of this year, 88% of our overall production is recycled or recyclable.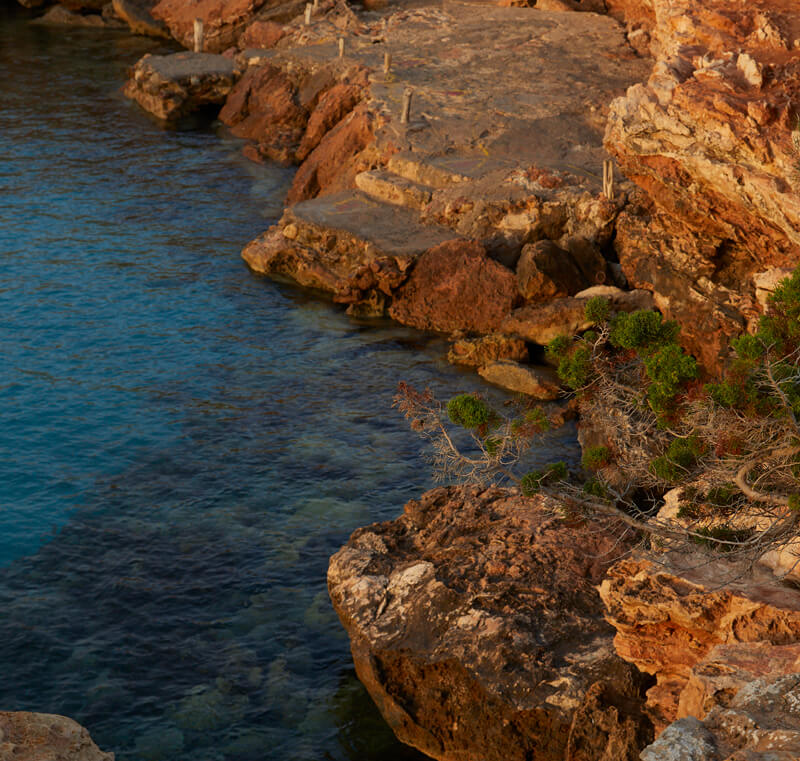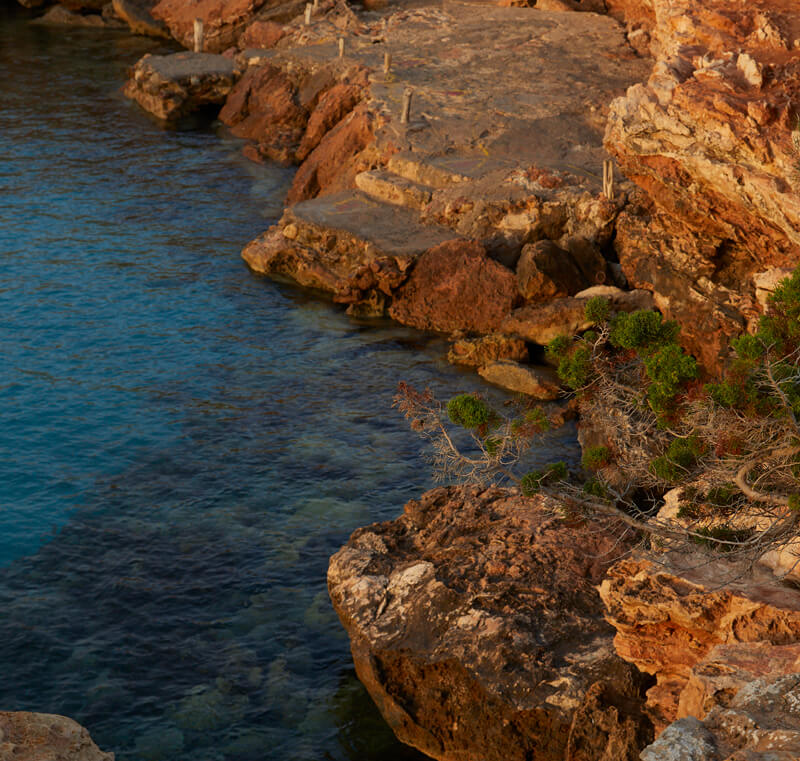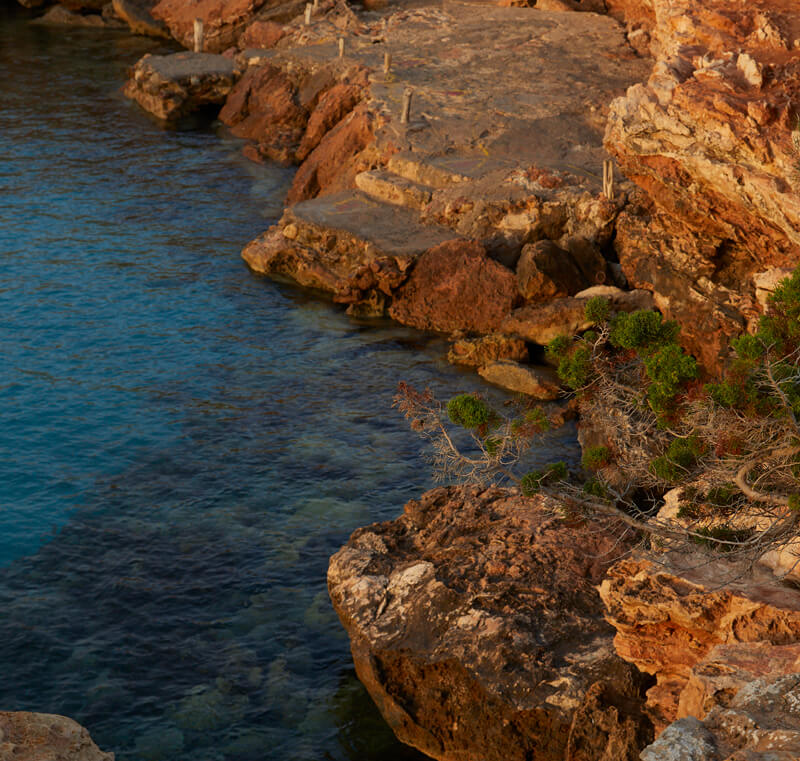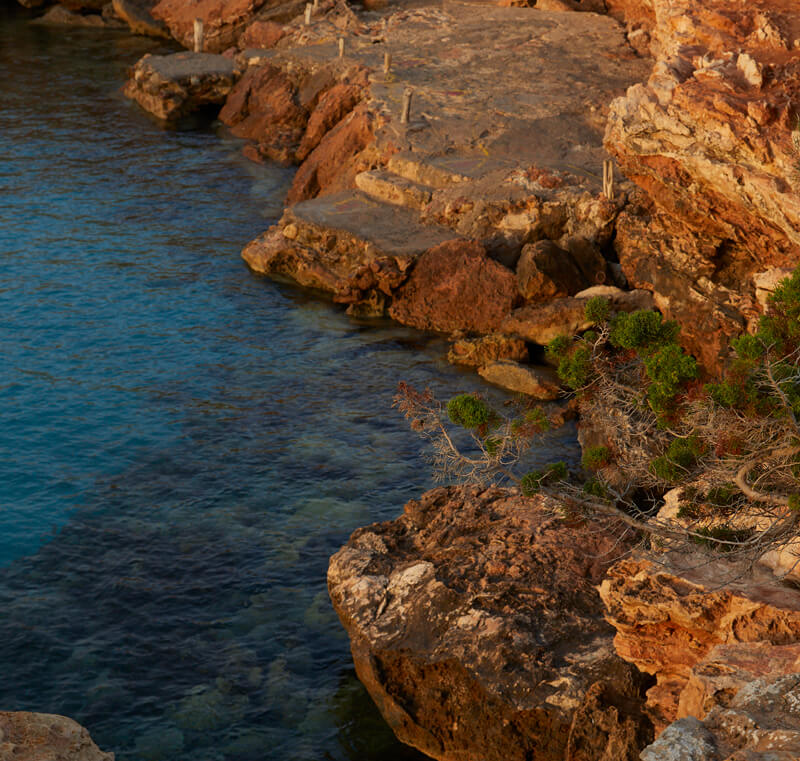 #8 BECOME AN ARTIST
We're not suggesting you drop everything to enrol in art school (although…). Adding a new creative activity to your routine can help with problem-solving, concentration, and give you a genuine feeling of satisfaction.
One big trend for 2023 is survivalist prepping. Too… extreme? Try prepping for your next vacation instead by learning the lingo. French phrases like "Tu as de beaux yeux, tu sais ?"* are very useful. Or take yourself back to your last trip by cooking some of the local delicacies… More Mongolian soup, anybody?
As for us, we have plenty more artistic collaborations up our sleeve for 2023, so prepare to get creative in the swimwear dept.!
*Hey there, ocean eyes!
#9 MORE COLOR
Many of us are conservative when it comes to color and print, with one small exception: Vilebrequin! Everyone from presidents and royalty to CEOs has been spotted in an eye-catching pair of trunks at some point. But what if your poolside uniform could bring you joy the rest of the year round?
Scientists have discovered that dressing colorfully boosts our confidence and helps us feel positive. Lucky for you, we've extended our famous swimwear palette to everyday essentials such as linen shirts, polos, and chinos.
Your challenge for 2023: try adding in at least one color you'd never normally wear. Ours: to keep imagining a wardrobe that's chic with a smile.
#10 LIKE A CHILD!
We could all gain a lot from being more like childen: curious and excited, fearless, and always in the mood for fun. So this year, let's follow their example. Be the one to start the water fight, giggle as they bury you
in the sand, challenge them to a noodle battle in the pool.
But why wait until vacation? Start today. Rediscover a film or book you loved as a kid. Eat a dish that your grandmother used to cook for you. Scribble somewhere you shouldn't.
Vilebrequin's job: to help you channel your inner kid. Whether its a magic water-reactive print, matching father-and-son trunks, or our signature beach games, expect big laughs.