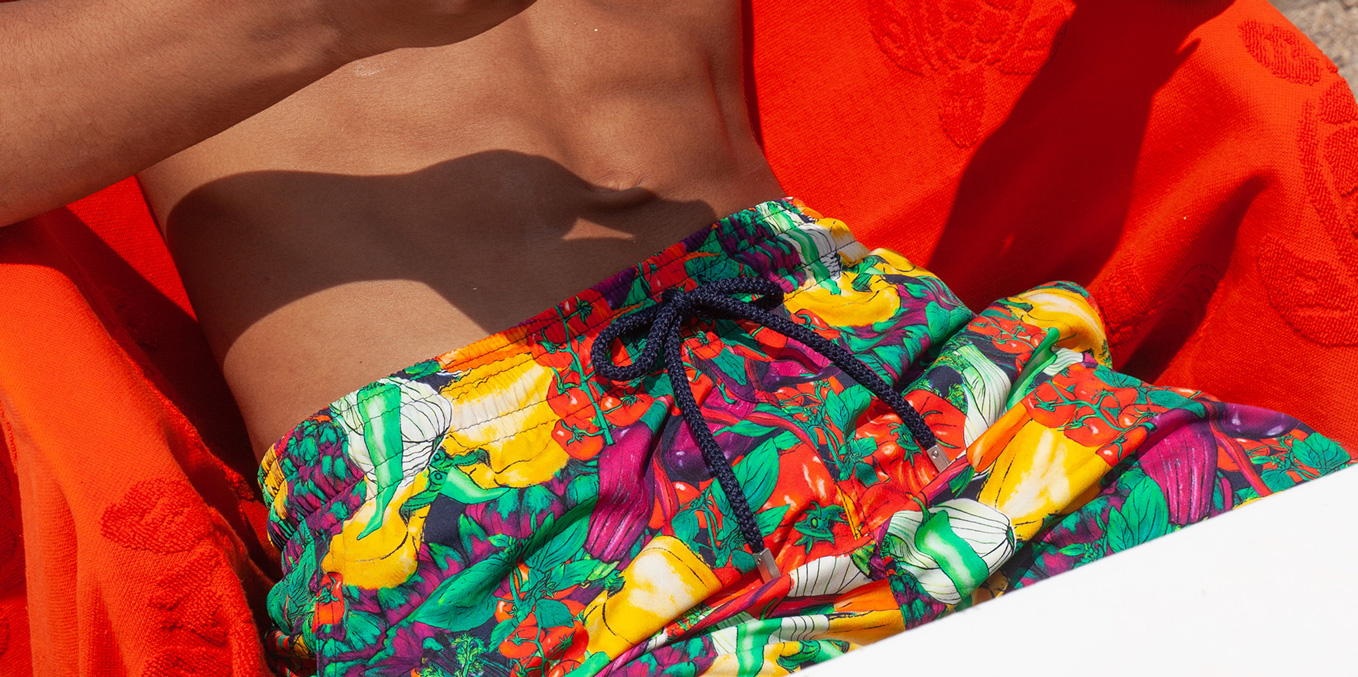 SUNSHINE ON A PLATE: A FOODIE'S GUIDE TO THE FRENCH RIVIERA
03 August 2023 - Destinations
Generous and colorful, simple yet perfectly done...There are two religions in the South of France: cuisine and family.
This summer, Vilebrequin is opening its French Riviera address book just for you.
If you worship garlic and olive oil or believe in the virtues of daily gelato, your tastebuds are in luck. This summer, Vilebrequin is opening its French Riviera address book just for you. Don't expect us to give you our famous Ratatouille recipe, though: our grandmothers made us swear never to tell.
CANNES - A LIGHT LUNCH AT MARCHÉ FORVILLE & SUQUET
Undoubtedly one of the most authentic local food experiences in Cannes. You have, have, have to try the courgette flower fritters at Coco, an institution at the Marché Forville. They prepare them right in front of you while you wait. Be sure to order a larger portion, as they tend not to last very long… then head off to discover the old town of Suquet. The views from Notre-Dame de l'Espérance are 100% worth the walk, and you'll instantly get a feel for Cannes' less glitzy personality as a former fishing town.
CANNES - TEA TIME CHIC AT LE SUD @ HOTEL MARTINEZ
All that sunbathing can be hungry work. After a long day at the beach, reward yourself with afternoon tea at Le Sud (formerly known as Le Jardin) in the Hôtel Martinez, a few steps away from L'Ondine Plage, Vilebrequin's new private beach experience. We'll be relying on Julien Ochando's exquisite pastries to tide us over until the Michelin-starred Palme d'Or restaurant re-opens with Jean Imbert at the helm in Spring 2024.
NICE - TRY 'PAN BAGNAT' FROM LA GRATTA
A little sandwich hut that's not much to look at. But don't let that fool you: La Gratta is a Mecca for locals in search of the perfect Pan Bagnat (literally "bathed bread", the sandwich of choice for hungry fishermen). La Gratta is also a great starting point for a stroll along the Promenade des Anglais or for taking in the old town. Don't miss the port: its wonderful colors really illuminate the citrus shades of Nice's façades.
NICE - CRAVING SOMETHING SWEET? STOP AT NÉRON
While you're in the old town, Rue du Four is a must. Start with coffee from Brume Café as you drool over the nearby ice cream counter at Néron. Approved by the locals, it's become a serious rival for the iconic Nice ice cream parlor Fenocchio. Their specialty: flambé banana. Other to-die-for flavors include Iranian pistachio and cinnamon. What's French for "three scoops"?
NICE - CRAVING SOMETHING SWEET? STOP AT CHEZ THÉRÉSA
Follow the Rue Droite and after a few minutes, you'll reach Chez Thérésa, *the* place to sample one of Nice's iconic local dishes: Socca (chickpea flatbread). You may need to be patient, though, as long queues are not unusual. If you're up and about early, you can find them at the Saleya market—except for Mondays. On Mondays, we sleep at the beach.
NICE - A TYPICAL SUMMER AFTERNOON AT LE SAFARI & ALZIARI
Right near the seafront, the Cours Saleya is best known for its restaurants and bars. At the far end of the street, you'll find the famous Le Safari—the ideal spot for trying your first Bagna-Cauda or "Hot Bath". Don't worry, you won't need your swim trunks. This warm garlic and anchovy dip is a regional culinary tradition. Want to bring a taste of the South home with you? Make a quick pit stop at Alziari, purveyor of fine olives and oil oils. The store's retro design is a feast for the eyes.
MENTON - DINE AT THE BEST RESTAURANT IN THE WORLD, MIRAZUR
As you follow the coast toward Menton, near the Italian border, see if you can score a table at Mirazur, voted Best Restaurant in the World. From unexpected food pairings to unusual fermented juices, a breathtaking culinary moment awaits you. Certified sustainable, the Mirazur takes an almost spiritual approach to fine dining. And it's completely guilt-free.