Women 2001 Broken Waves Look
Surf the waves with the striking motifs on this colourful matching set 2001 Broken Waves. This look takes you back to the early 2000s and it is composed of a timeless cotton shirt, an asymmetrical midi brief bikini top with its bottom, and a beach fouta towel. The perfect look to go to the beach on a sunny day.
Please select the items from this look that you would like to add to your order.
Products
Product added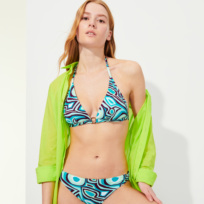 Checkout/Shopping Bag