Back to Browsing
Back to Browsing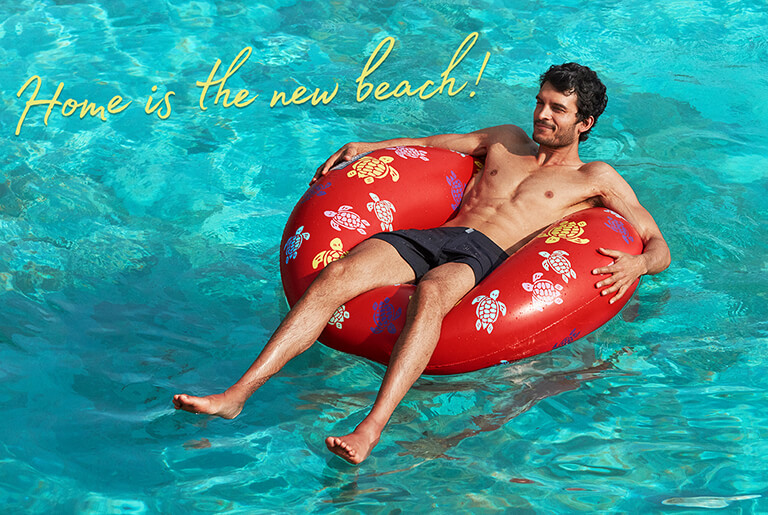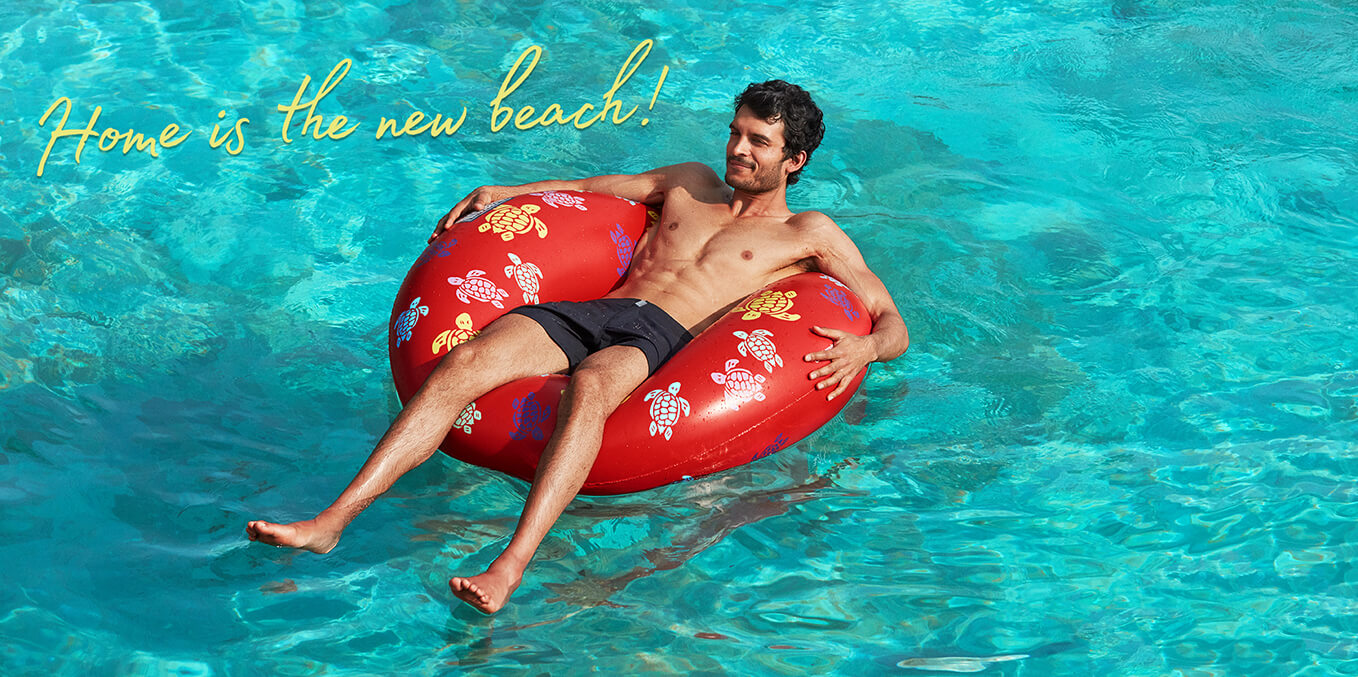 #HOMEISTHENEWBEACH : SUNKIT #3
24 April 2020 - Events
Hello and welcome. Are you ready to work up a sweat? Us neither.
In this class, you'll learn the basics of Vilebrequin's favorite sport: being inactive.
Make sure you're equipped with the proper swimsuit. Allez, courage!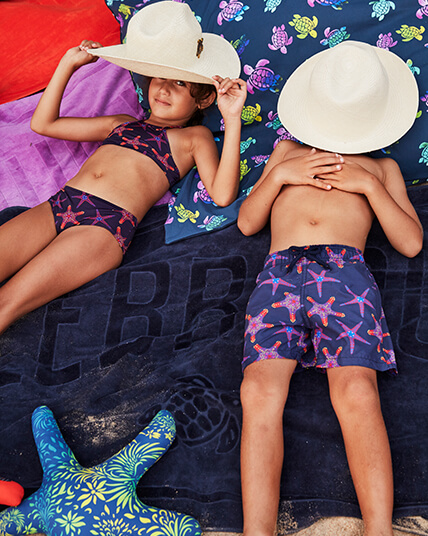 Being lazy requires discipline. Like any great athlete, you have to put in the hours. If you want to go olympic like our koalas (20+ hours of siestas/day), we recommend the following training routine:
Beginners: 30 minutes a day, 7 days a week. Important: absolutely no breaks.
Intermediate-advanced level: add in an extra 60 minutes of daily sun.
1) Bury your smartphone. Airplane mode is still too tempting.
2) Stay fueled: choose carbs over proteins. We're French, we know about these things.
3) Dress to de-stress in cool and loose-fitting fabrics – the day pajama's hotter cousin.
4) Calm your thoughts using soothing colors. Blue is a personal favorite of ours.
5) Practice selective hearing. Nothing but the sound of kids screaming birds singing.
Multiple studies have shown Vilebrequin swimsuits improve laziness.
Share your progress with us: @vilebrequin #HomeIsTheNewBeach

For the net posts: Take two empty bottles or containers with a lid (not glass).
Weight them using pebbles, marbles – or whatever you can find lying around the house.
For the net: gently pierce the containers on both sides using a screw driver and thread a piece of rope or string through the middle, tying it tightly at both ends (a chance to brush up on your sailor's knots). Et voilà !

If you want an extra challenge, try making a 'full net' using fabric off-cuts or old clothing. Upcycling counts as exercise, you know. Here's how Vilebrequin has been getting creative with recycled materials this season.
Is your technique as polished as your home beach outfit?
Show us your skills (and swimsuits!): @vilebrequin #HomeIsTheNewBeach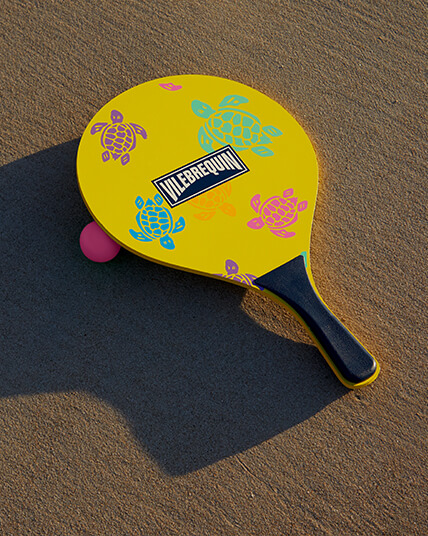 The last section of this workout focuses on building upper body strength while providing some well-deserved hydration. It only takes 5 minutes and can be done before lunch, after lunch, mid-afternoon, early evening… Probably best avoided pre-croissant, though.
In the spirit of Vilebrequin Summer 20 collection, join us in raising a glass to India with this recipe for the Pondicherry Punch, a great cocktail to wow your Zoom / Hangout guests with, or just sip on while reading your favorite travel novels.

The ingredients:
5 cl (1,7 oz.) Cognac
1,5 cl (0,5 oz.) Banana schnapps
2 cl (0,7 oz.) Fresh orange juice
1,5 cl (0,5 oz.) Fresh lime juice
1 bar spoon Granulated sugar
1 bar spoon Cardamom pods
1 bar spoon Loose-leaf Darjeeling
Start by crushing the cardamom pods up in the bottom of your shaker. Now add the rest of the ingredients over ice and give it a good shaking for 10 seconds (the strenuous part). Pour it into a highball filled with ice and add a pinch of curry for an extra kick.
Recipe by mixologist Julien Escot courtesy of Quaff Magazine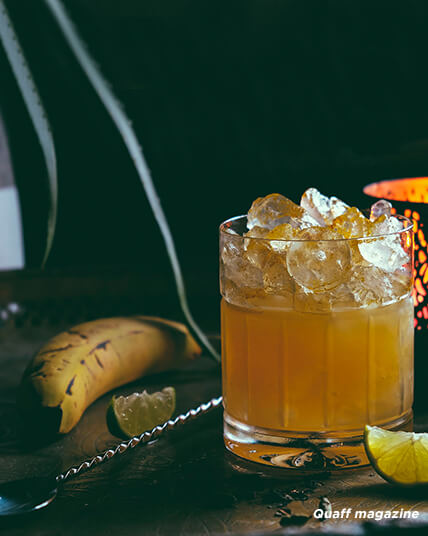 THE CHEEKY MONKEY
Alcohol-free, kid-friendly alternative.
The ingredients (serves 4):
1 Pineapple, diced
4 Bananas, cut into pieces
4 tablespoons of Agave syrup or honey
1 cup Fresh pineapple juice
1 cup Lemonade
Place the fruit and sweetener of your choice in a blender. Mix until smooth. Add the pineapple juice and a handful of ice. Blend again. Find a nice tall glass and start pouring out the mixture. Float off your cocktail using the lemonade. Add umbrella. Very important.