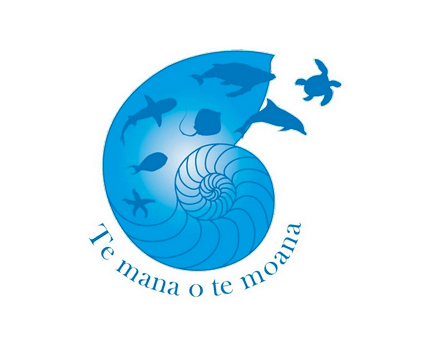 Since 2016, we've been committed to helping Polynesian association Te mana o te moana save the sea turtles. Every year, the association rescue various marine species, providing them with the care needed before releasing them back into the wild. In 2016 and 2017, Vilebrequin donated over $50,000 to the association thanks to sales from the «Mappemonde dots» swimsuit. A hundred or so turtles were given shelter at the clinic. In total, education and awareness programs reached 7600 people.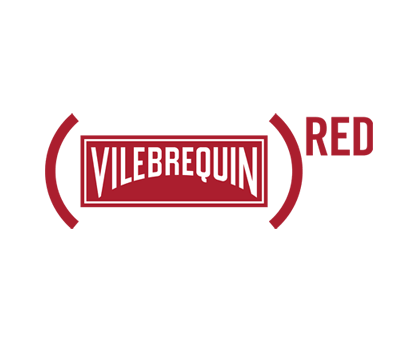 Fight AIDS in style. For each order of a Vilebrequin x (RED) men swimsuit, $15 will be directly donated to (RED) to support field assistance in Sub-Saharan Africa through the Global Fund. (RED) has raised more than $500 million and impacted more than 110 million lives through HIV prevention, testing and treatment, counselling and education programmes.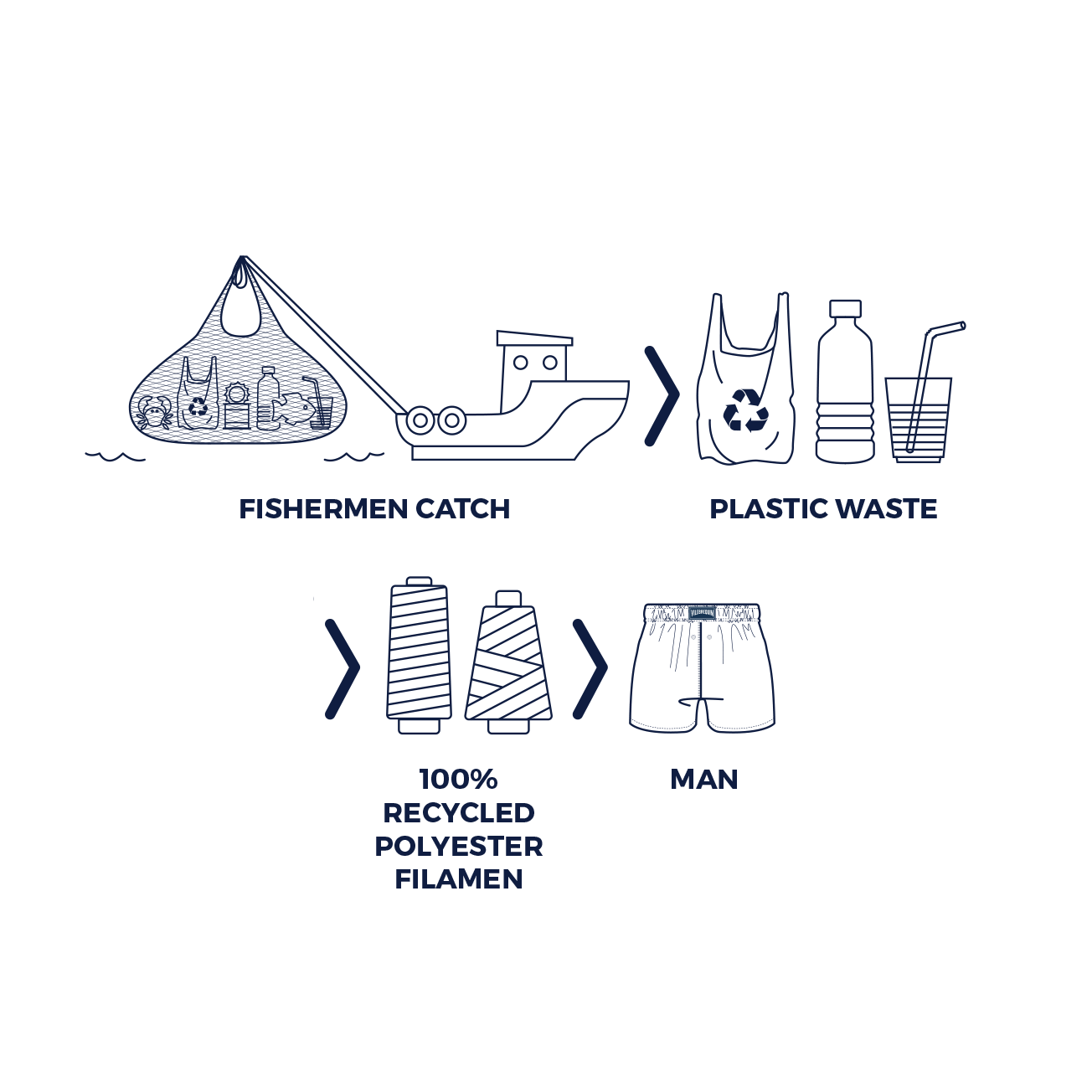 100% recycled polyester
For its MAN range of short, stretchy swim trunks, Vilebrequin uses a 100% recycled polyester filament made of plastic waste recovered from the Mediterranean sea by fishing boat - a way for Vilebrequin to take care of its home.For every kilo of this 100% recycled polyester yarn, 1 kilo of trash is removed from the depths of the sea.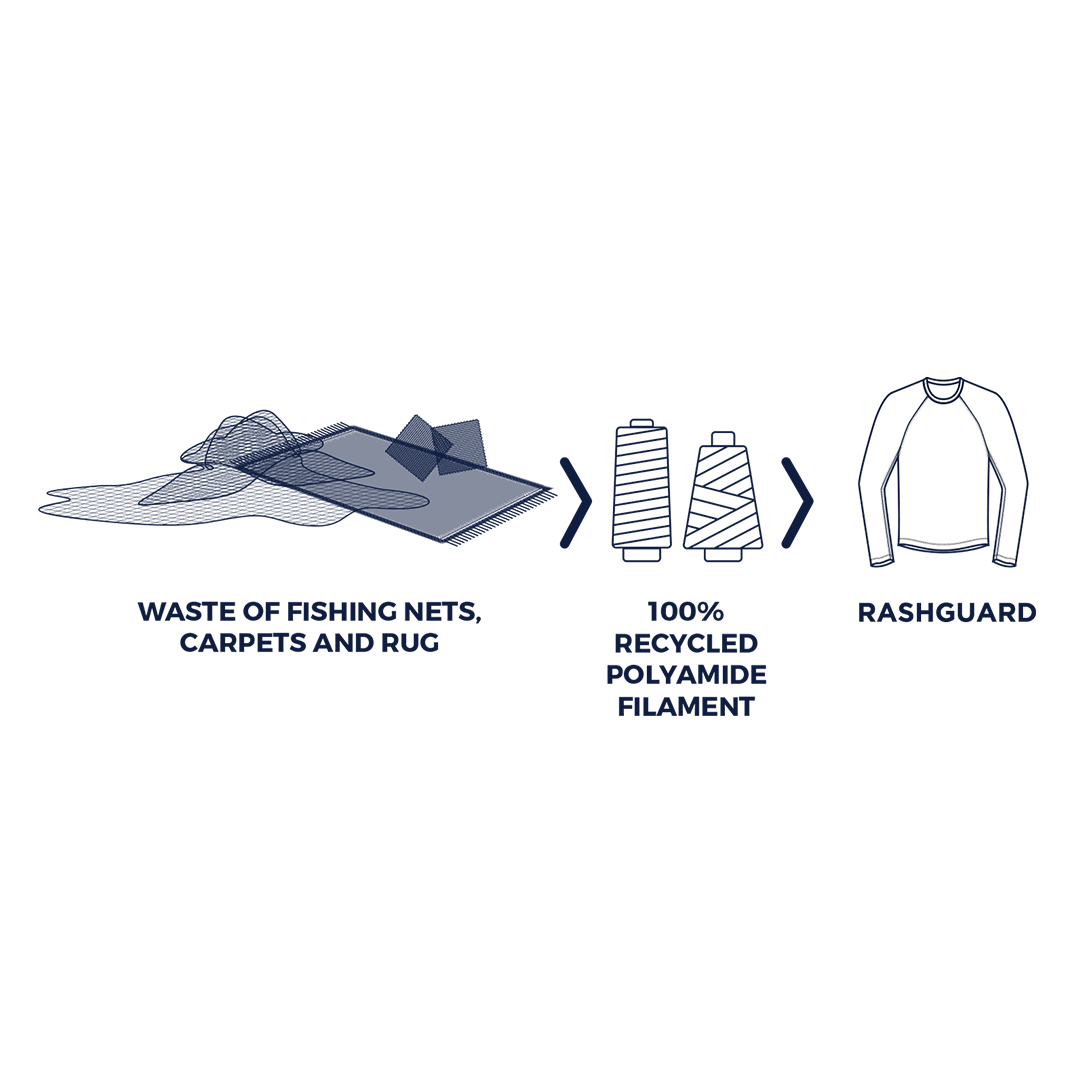 Recycled polyamide
Wise Sun Collectors take note! Vilebrequin is commited to protect the skin of all holidaymakers. Let's enjoy summer carelessly and unite with the sun: the Vilebrequin Anti-UV products will complete the panoply of the perfect holidaymaker. A real protection armor to face a dazzling sun with serenity! For the range of Rashguards, Vilebrequin uses a fiber made out of recycled polyamide waste of fishing nets, carpets and rugs.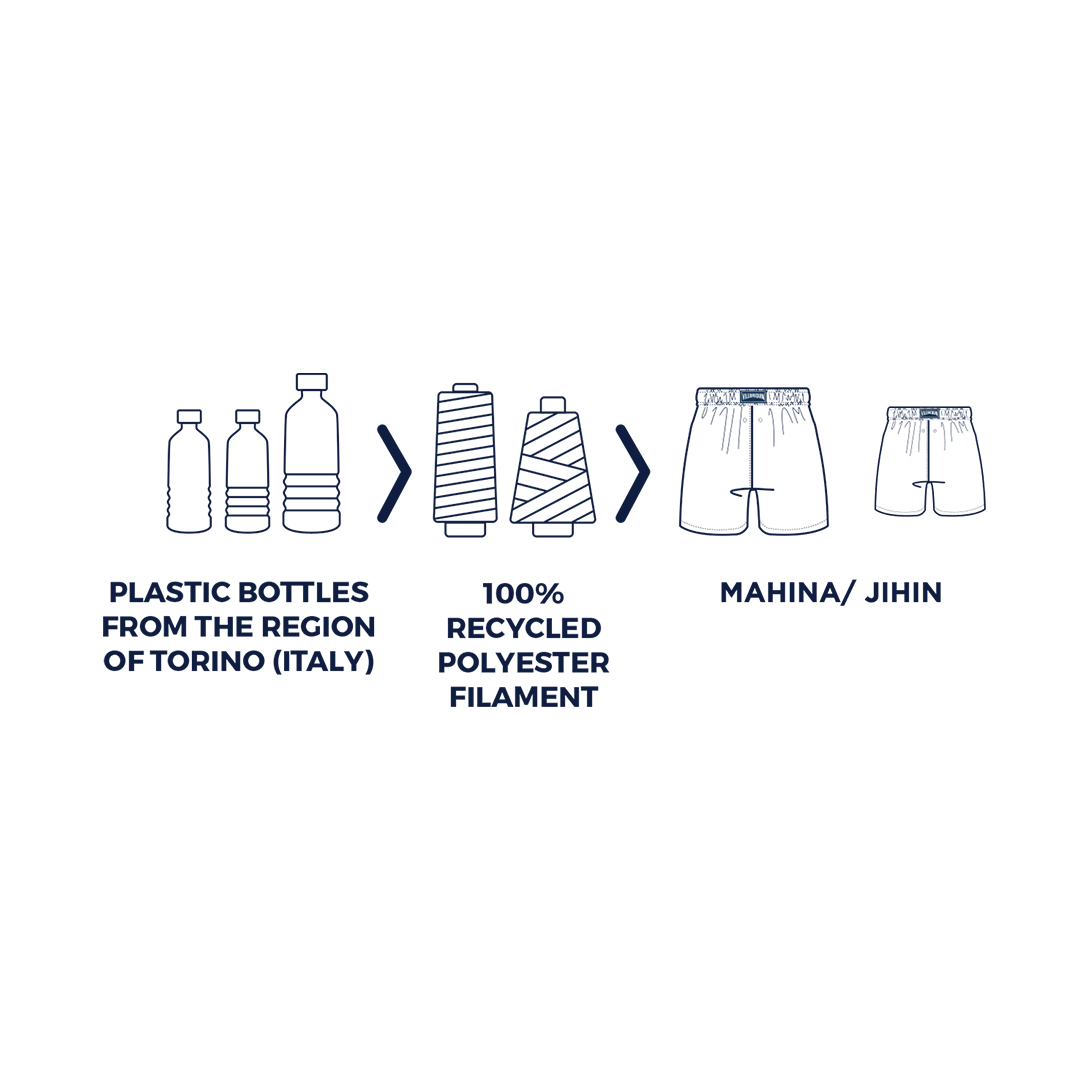 Recycled plastic bottles
For its Iight fabric version of the classic elastic waistband swimshorts, Vilebrequin chose to use a polyester fiber made from recycled plastic bottles from the region of Torino in Italy.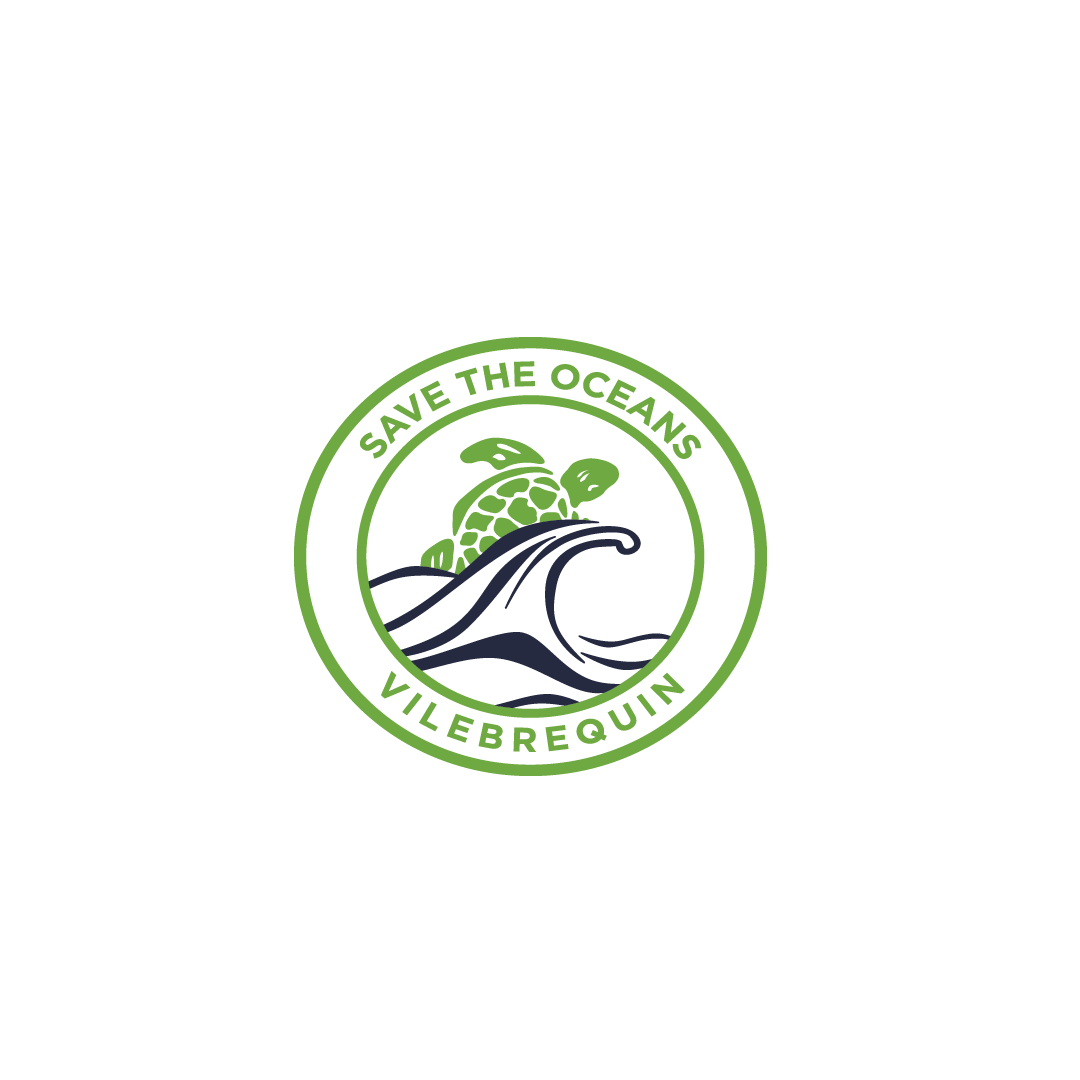 Biodegradable fabrics
The MINISE is a shorter and more fitted version of the MERISE men swim shorts. The Made in Italy Stretch Polyamide is made out of biodegradable materials.The process of self-biodegradation starts only after the garment's natural life cycle has come to an end, which means when its user decides to throw it away. This fibre offers a better access to bacteria facilitating the digestion of the waste material and its decomposition.
A standard Polyamide's biodegradability: 6% after 3 years.
Our Minise Stretch polyamide's biodegradability: 76,5% after 3 years.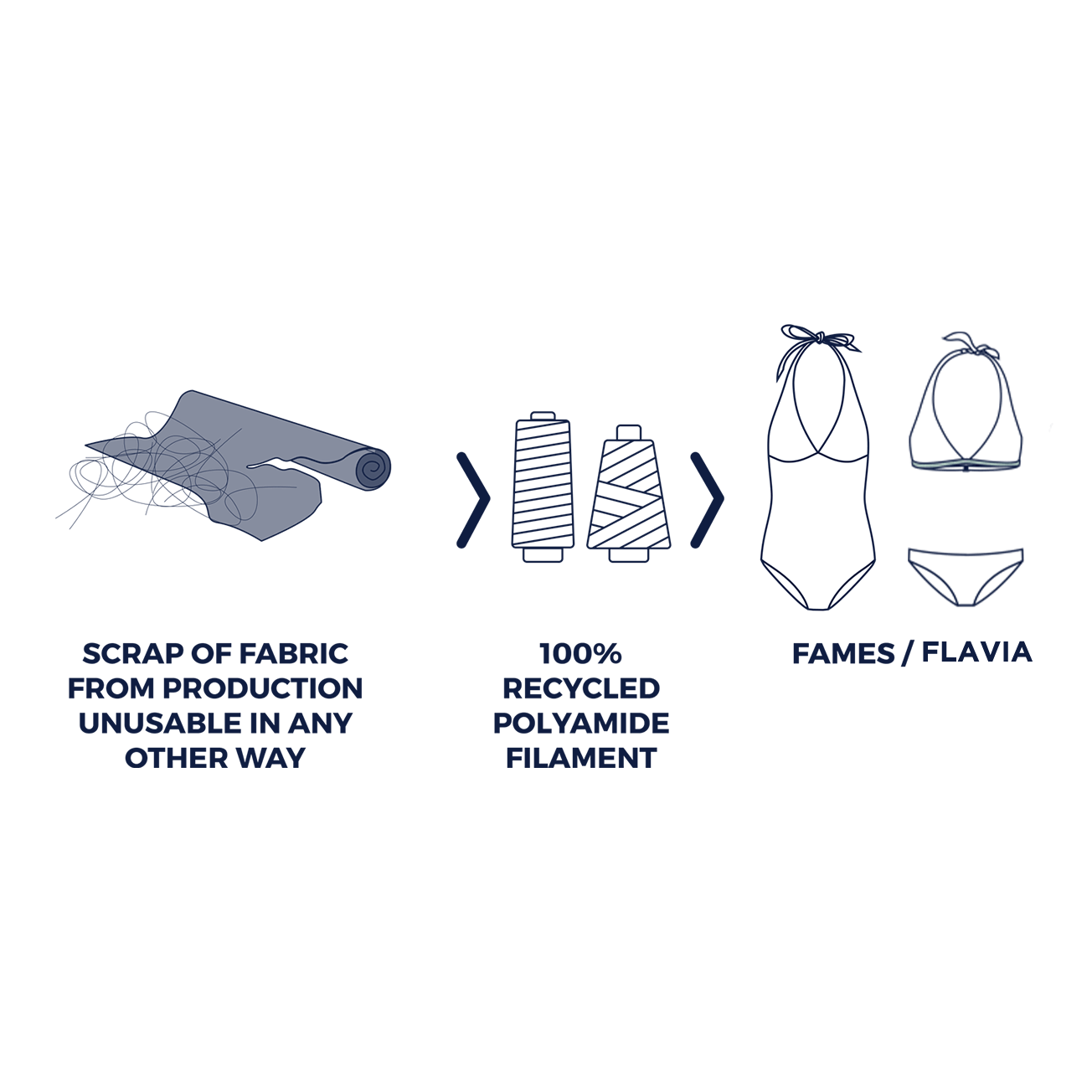 SOLID WATER
For the SOLID WATER range of products - FLAVIA and FAME women bikini and one-piece swimsuit - and for NUAGE and NEO - men swim briefs - Vilebrequin chose to use a recycled fabric obtained from offcuts of fibers and materials not used industrially. It also uses less water and energy than a classic fiber while emitting 80% less CO².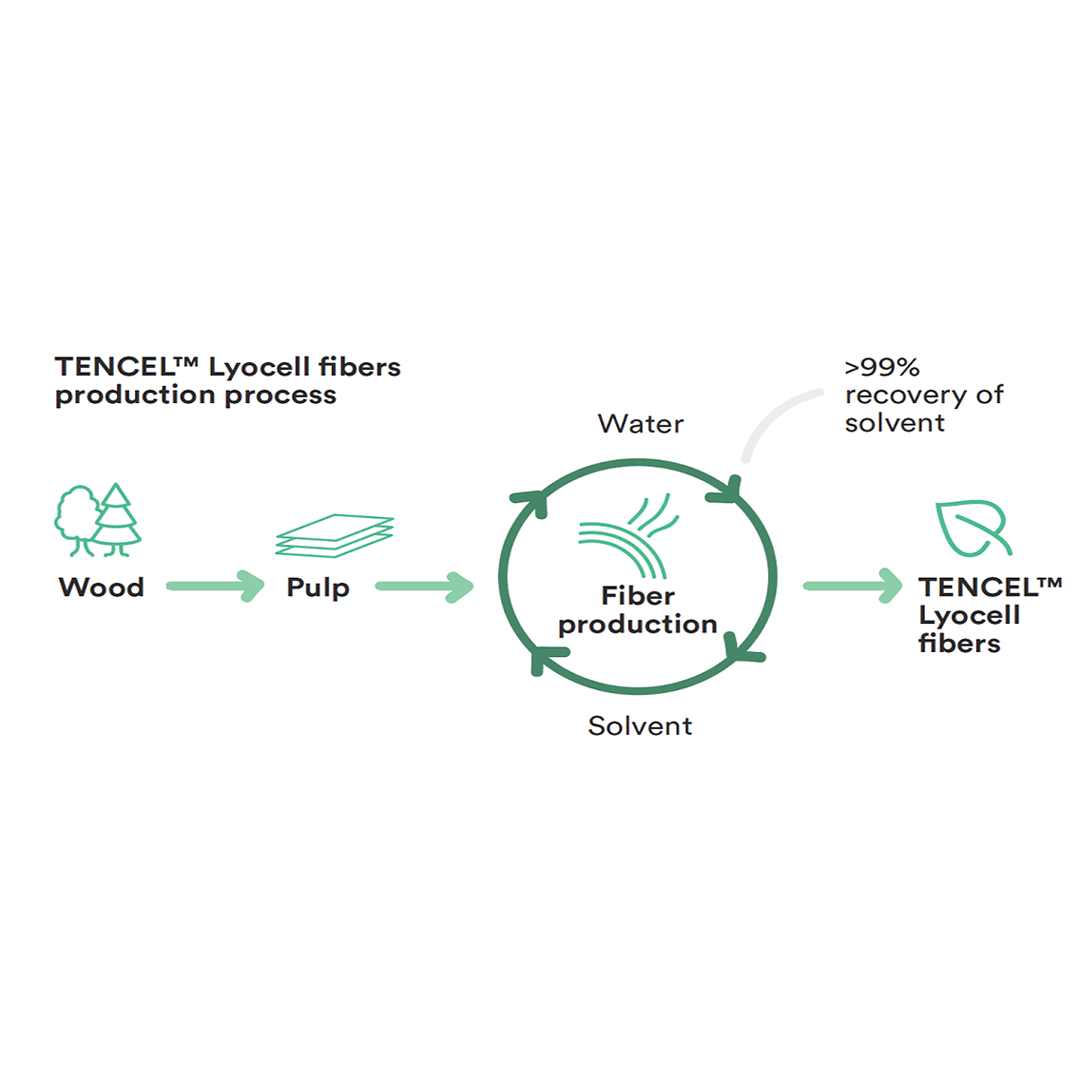 Tencel Fabric
The Tencel is a sustainable fabric sourced from eucalyptus wood using non-toxic solvents as part of closed-loop process. Naturally moisture-wicking and anti-bacterial, its quick-drying, fresh and breathable properties make the summer heat that bit more bearable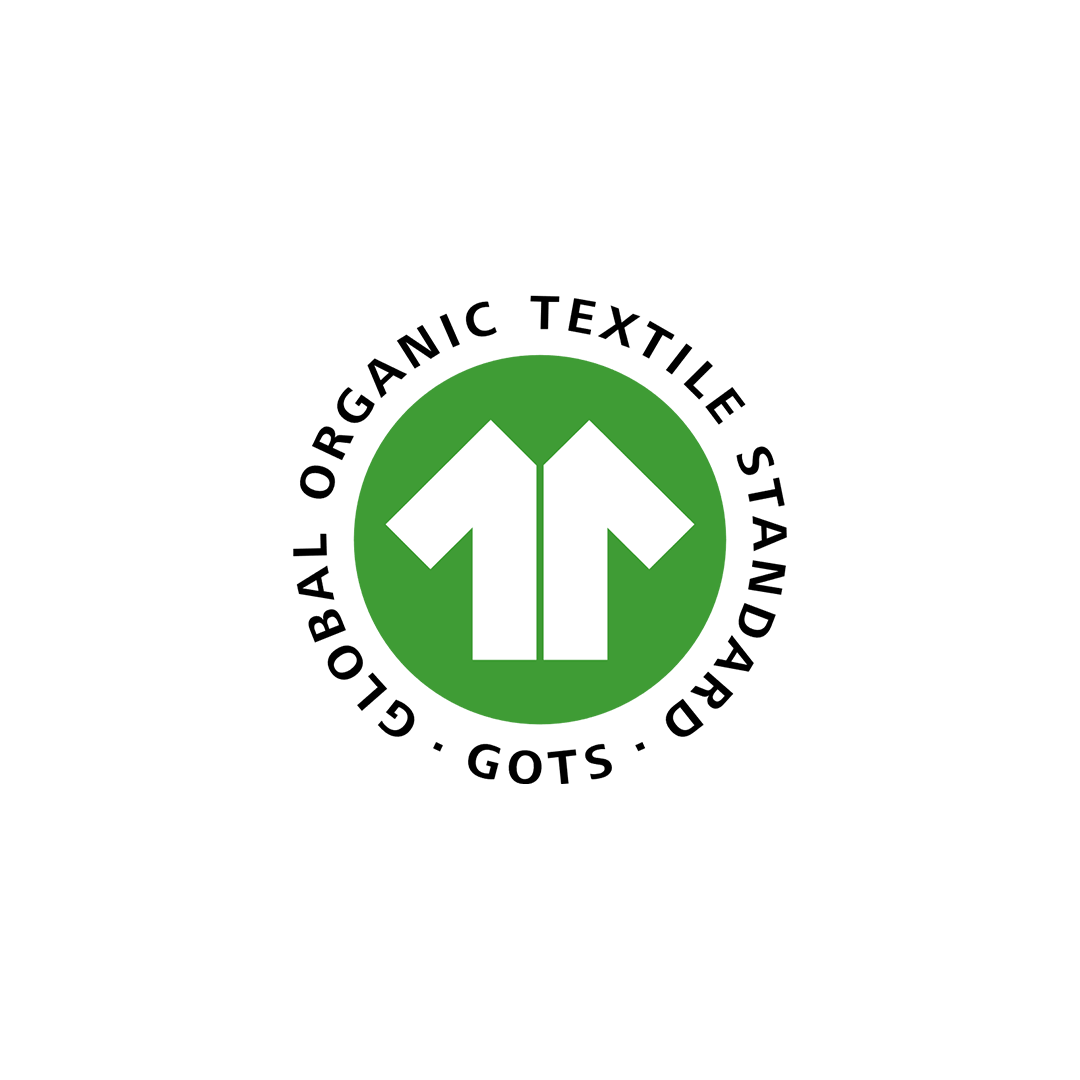 Organic cotton certified GOTS
The Global Organic Textile Standard (GOTS) is the worldwide leading textile processing standard for organic fibers, including ecological and social criteria, completed by an independent certification of the entire textile supply chain. Our supplier got this certification and his yarns suppliers too. A product certified GOTS respect specific criteria:
Composed of 95% of certified organic fibers, if the product is not certified and got just the information « made of organic fiber » the percentage can be only 70%.
Chemicals and dyestuff should be selected according to the norms requested, water should be recycled.
Packaging should also be eco friendly.
The social condition of employees must meet the requirements of the label.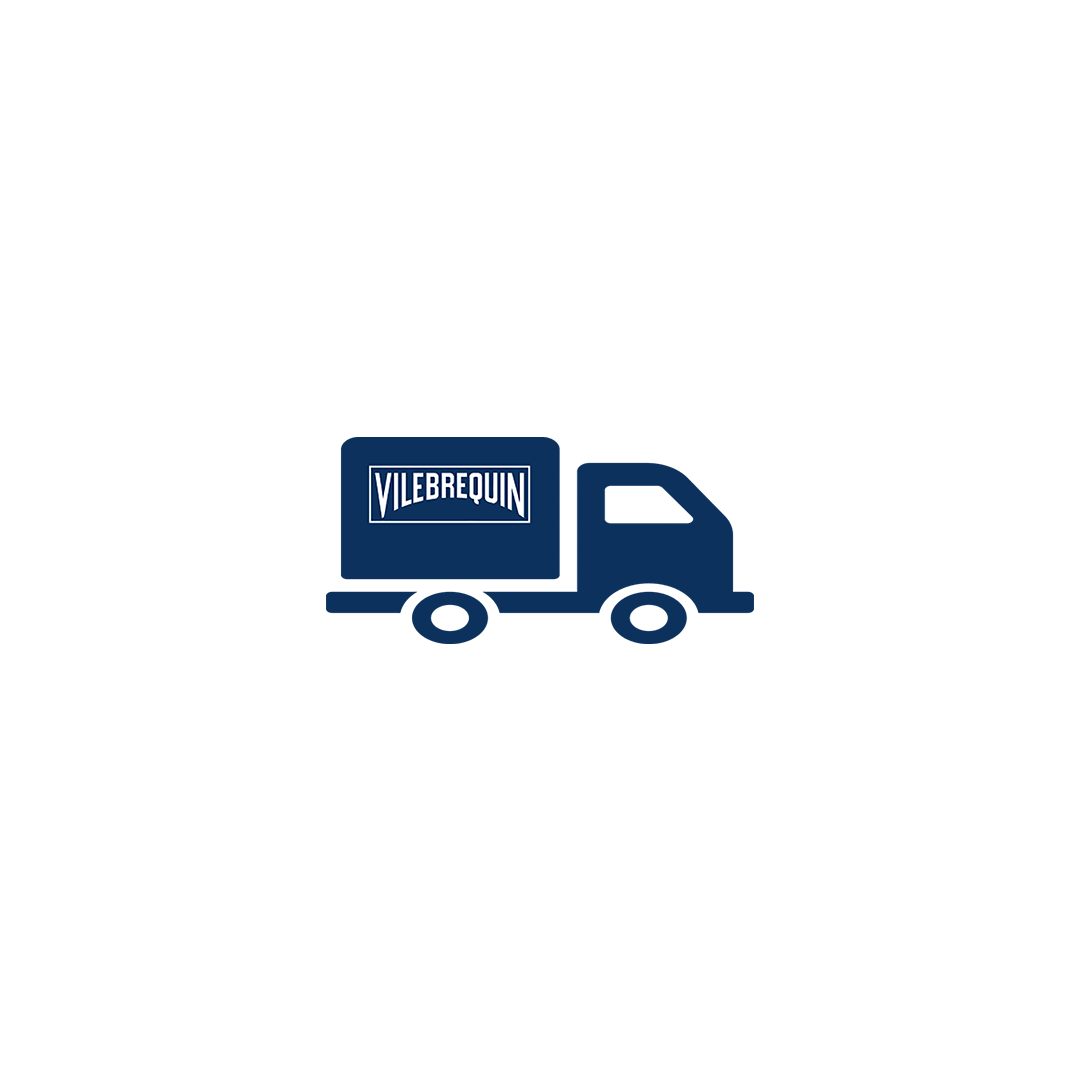 ABOUT TRANSPORTATION
94% of the production is made in Euro med area, maximum 2.200km from the Belgium warehouses. We use trucks for 94% of the production. For USA, we have started using Sea Shipment since the past three collection and we increase the volume of goods shipped by sea from almost 0% to 70% in 2020, 65% in 2019.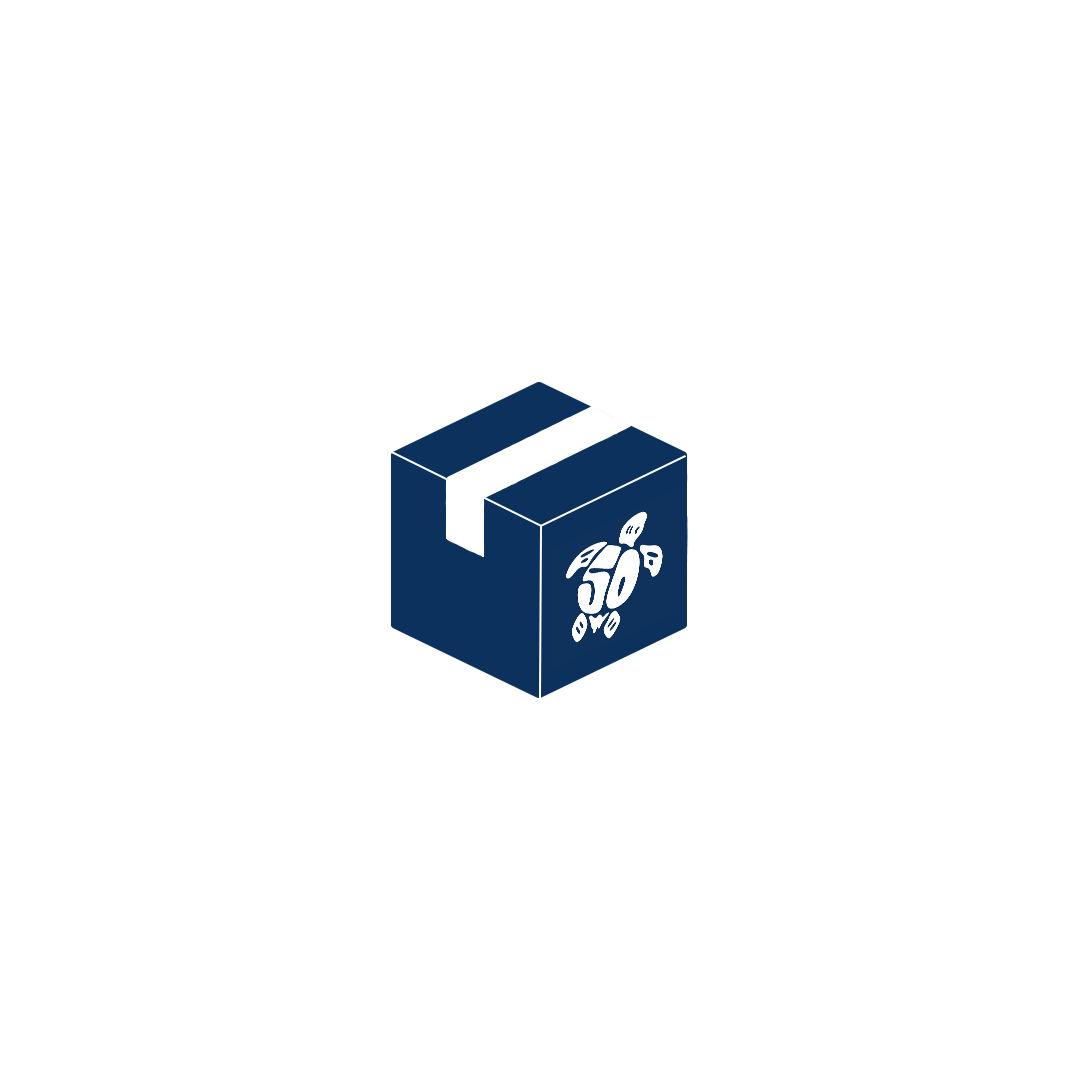 OUR ECO FRIENDLY PACKAGING
Since 2019, our shopping bags & gift boxes are 100% recyclable and made of 40% of recycled paper coming from responsible forest (FCS approved), as well as our silk paper. Our new giant cotton bags are in recycled cotton (for the blue ones) and in organic cotton (for the white ones). For our ecommerce packaging shipping Kraft boxes and cardholders, they are 100 % recyclable as well.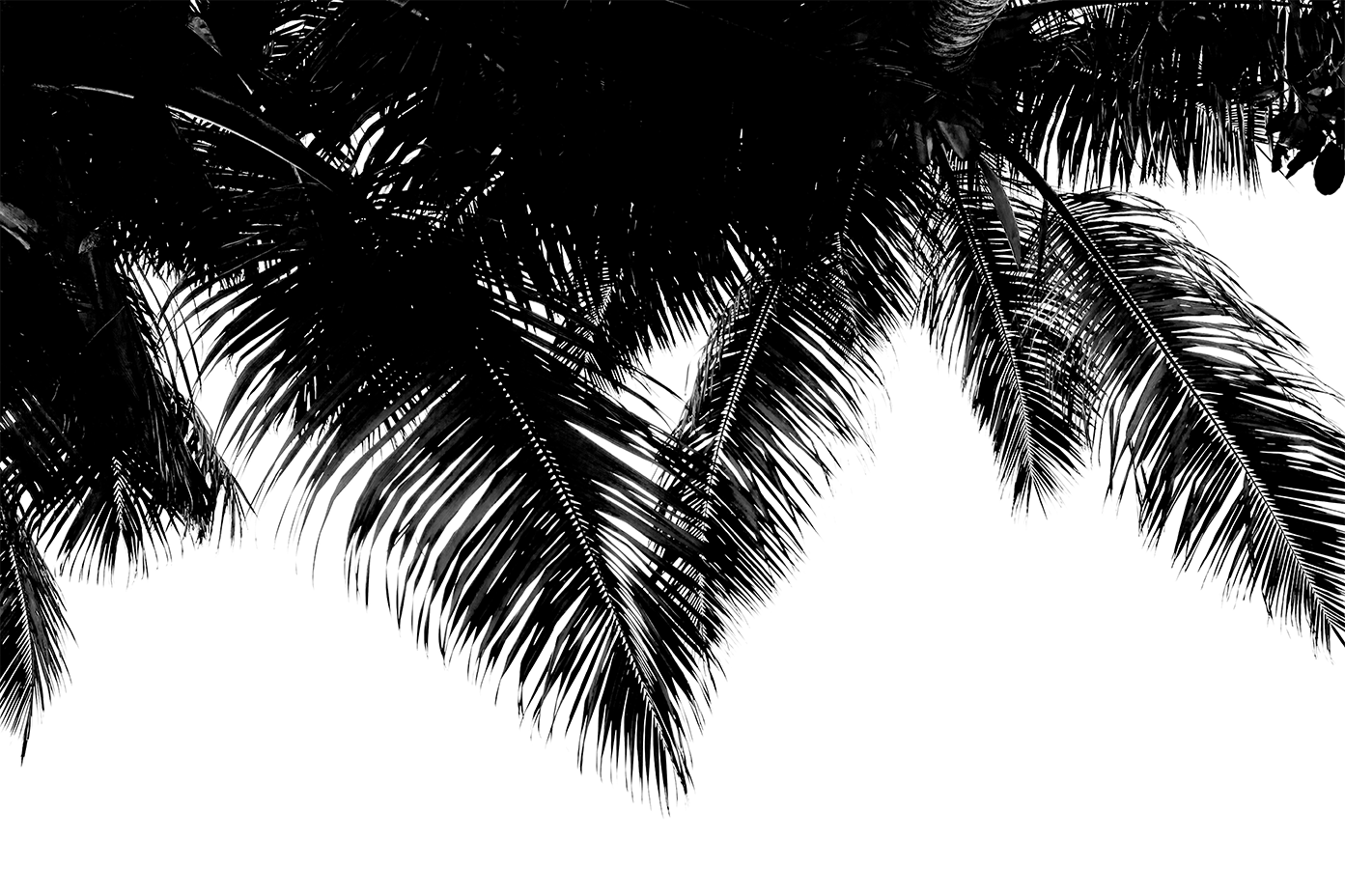 #1
Legal requirements
G-III's vendors and factories must operate in full compliance with the applicable laws, regulations, rules and local legal requirements relevant to the conduct of their business. They must adopt and adhere to rules and conditions of employment that respect workers and, at a minimum, safeguard their rights under applicable national and international labor and social security laws and regulations. We will seek vendors and factories who respect the legal and moral rights of the employees.
#2
Child Labor
The use of Child Labor is strictly prohibited. Employees of G-III's vendors and factories must be over the applicable minimum legal age requirement -- generally 16 years old -- But no persons shall be employed under the age of 15 or under, or under the age for completion of compulsory education, whichever is higher. The vendors and factories must observe all legal requirements for work of authorized minors, particularly those pertaining to hours of work, wages, minimum education, work type and working conditions. Facilities must maintain proper documentation of each worker's date of birth. G-III supports the development of lawful, legitimate workplace apprenticeship programs.
#3
Forced or Compulsory Labor
The use of forced or compulsory labor is prohibited. G-III's vendors and factories shall not in any way use or support the use of forced labor, whether in the form of prison labor, indentured labor, bonded labor or otherwise. Mental and physical coercion, slavery, and human trafficking are prohibited throughout our supply chain.
#4
Health and Safety
The employer shall ensure all applicable laws, regulations, and rules that pertain to health and safety in the workplace are followed. The employer, bearing in mind the prevailing knowledge of the industry and of any specific hazards, shall provide workers a clean, safe, and healthy working environment, including systems and training designed to help prevent accidents, illness, and injury attributable to the operation of the facility and machinery. Responsible measures must be adopted to mitigate negative impacts on the environment. Employers must provide all required and appropriate workers compensation coverage in the event of injury. The employer shall appoint a management representative who is accountable for the health and safety of all personnel.
#5
Freedom of Association and Right to Collective Bargaining
The vendors and factories shall recognize and respect the right of workers to freedom of association and collective bargaining. No worker shall be subject to harassment, intimidation, or retaliation in their efforts to freely associate or bargain collectively. The Employer shall allow union organizers access to employees and shall recognize the union of the employees' choice in accordance with the law and regulation. When the right to freedom of association and collective bargaining is restricted under law, employers shall not obstruct legal alternative means of workers' association.
#6
Non-Discrimination
All employment decisions, including but not limited to hiring, job assignment, wages, bonuses, allowances and other forms of compensation, promotion, discipline, work assignments, termination of employment, provisions of retirement, shall be made solely on the basis of education, training, and demonstrated skills or abilities. Employers shall not discriminate in employment, including gender, race, religion, age, disability, sexual orientation, nationality, political opinion, or social class or ethnic origin. Employers must act in accordance with law and not improperly discriminate.
#7
Disciplinary Practices
The employer shall document and communicate to all workers a progressive disciplinary policy, e.g., escalating disciplinary action steps such as verbal warning, written warning, suspension, and termination. Any exceptions to this rule, e.g., immediate termination for theft or assault, shall be clearly communicated to workers.
#8
Harassment and Abuse
The employers must treat employees with respect and dignity. G-III will not utilize vendors and factories that use or permit the use of corporal punishment, physical, sexual, psychological, or verbal harassment, or other forms of mental or physical coercion, abuse or intimidation.
#9
Wages, Compensations, and Benefits
Wages are essential for meeting the basic needs of workers. Every worker has a right to compensation for a regular work week that is sufficient to meet the worker's basic needs and provide some discretionary income. The employer shall ensure that wages paid for all hours worked meet at least the legal minimum wage required by the local law and regulations or the appropriate prevailing wage, whichever is higher. The employer shall provide all legally mandated fringe benefits and wage requirements to all employees as required by law or contract. Employees shall be compensated for overtime hours at the rate established by law or regulations in the country of manufacture or, in those countries where such laws do not exist, at a premium rate. If the compensation paid does not meet the worker's basic needs and provide some discretionary income, our business partners are required to take appropriate actions that seek to progressively realize a level of compensation that does.
#10
Working Hours
The employees shall not be required to work (inclusive of overtime) more than the local legally prescribed limits. Vendors and factories shall comply with the local applicable laws and regulations that entitle workers to vacation time, leave periods, and holidays. Employers are prohibited from requiring their employees to work more than the regular and overtime hours permitted under the law of the country where they are employed. In no circumstance may regular hours exceed 48 hours in a week and, other than in exceptional circumstances, the sum of regular and overtime hours in a week must not exceed 60 hours. Employees must have at least 24 consecutive hours of rest in every seven-day period. Employers are not permitted to request overtime on a regular basis. All overtime must be consensual and compensated at a premium rate.
#11
Environmental Standard
All vendors and factories shall comply with all applicable environmental laws, rules, and regulations in their countries and the communities in which they operate. This is inclusive of those related to emissions, discharge, and disposal of waste, including chemicals, water, energy, hazardous chemicals, and air quality. Responsible measures must be adopted to mitigate negative impacts on the environment. G-III encourages the nurturing of a better environment at the facilities and in the communities in which they operate.
#12
Sub-Contracting
All vendors or factories providing merchandise to G-III must be disclosed. Vendors or factories that outsource or subcontract work in the production of G-III merchandise shall obtain prior written authorization for doing so. If work is done at another location, the outsourcing employer shall be responsible for assuring that the subcontractor is in compliance with standards set forth in this Code of Conduct.
#13
Access to Facilities
Vendors and factories providing merchandise to G-III are prohibited from denying access to G-III employees or its brands or customers at the facilities where G-III merchandise is produced. Unsolicited Payments Vendors and factories are prohibited from furnishing gifts of any kind on G-III employees, or employees of its associated brands, or customers.
#14
Management Systems
The employer shall have management systems to ensure ongoing compliance. Management Systems shall be implemented, maintained, communicated and accessible to all necessary parties, which may include all levels of management, supervisors, and employees.
#15
Brand Protection
Vendors and factories shall protect the reputation of all G-III brands and customers. Any illegal activities (such as counterfeiting, diversion and other intellectual property rights violations) are prohibited.
#16
C-TPAT/Supply Chain Security
Vendors and factories shall be aware of C-TPAT security guidelines and standards, and ensure compliance with minimal security requirements.
#17
Monitoring and Documentation
In order to verify compliance, the employer shall allow G-III ICM auditors free access to all facility grounds, workers interviews and whatever other resource is necessary to verify compliance. The factories must maintain sufficiently detailed records and documents for the past 12 month to enable G-III ICM auditors to verify their compliance with this Code of Conduct.