Classic
Mens Swim Shorts Classic
86 products
In the late sixties, in Dakar, Vilebrequin founder stumbled upon artisans cutting out swimsuits in "boubou" printed cotton fabrics. He later drew inspiration for his new men's swim trunks designs from his memories of Africa, which he blended with the Californian board-short style of the time. The classic Vilebrequin men's swim trunks were born. The brand has been perfecting its art ever since by designing luxury swimsuits, each more chic, comfortable and timeless than the last. The Moorea swim trunks, combining elegance and performance, illustrate this perfectly.
View All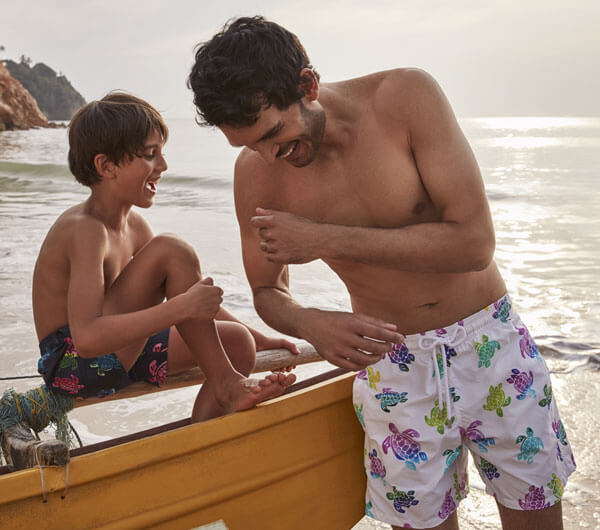 Classic men's swim trunks by Vilebrequin.
Filled with sunshine and inspired by the brand's Saint-Tropez elegance, the iconic Moorea men's swim trunks single-handedly summarise the Vilebrequin philosophy. With exotic patterns and nautical prints giving them both a fun and chic touch, these classic men's swim trunks sport numerous distinctive features. For example, eyelets placed at the back of the swim trunks guarantee that the water runs out, while the use of peach-finish polyamide gives them a soft feel and an unrivalled fit, while helping them dry quicker. Supple, chic and high-performance, these classic Vilebrequin men's swim trunks adapt to every moment and every personality for the most unforgettable of holidays. Epitomising summer chic, these pieces are also available in our kids' swimwear collection for a summer of father-son playfulness.