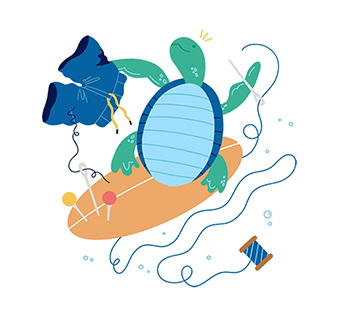 Vilebrequin
Repair Service
Engineered to last
While meticulous about construction, we're aware certain parts may need repairing over time. This is perfectly natural, and a sign your shorts have been out there enjoying themselves.
Irreplaceable.
reparable.
Vilebrequin Ateliers know every pair inside out. Simply request a repair and they'll work their magic on any men's swim shorts, so you can hold on to your favorite models for as long as possible. Sustainability is something we value.
Mechanics
Our swimsuit mechanics are on hand to mend or change everything from net linings and pocket mesh right down to waistband elastics, drawstrings and zamak tips, as required.
Craftmanship
We're so confident in the quality of our craftsmanship that we'll give your swim shorts a comprehensive service once over the course of their life. Laundry mishaps and poolside acrobatics excluded.
Complimentary
repair service
for Mistral Swimsuits
For all purchases of new embroidered swimsuit, the House is pleased to offer you one-time complimentary repairs should the need arise. Our Ateliers will ensure they're good for plenty more summers.
Register your swimsuit
How to?
Simply drop off your shorts for repair at your nearest Vilebrequin store, or you can submit the form below to ship it to us. We'll be in touch as soon as they're ready for collect. Think of it as a quick and easy trip to the tailor's!
Ship it to us and we will
send it back via mail
Request now