Classic
Mens Swim Shorts Classic
90 products
Our iconic men's Moorea swim trunks comes in fish, turtle, and other marine motifs, offering shorts that are both chic and playful. Quite naturally, these men's swim shorts have a classic elastic waist with drawstrings. In the Moorea designs, our high-end swimwear has a 360-degree pattern. A classic men's swim short whose motifs are mirrored in our children's range too.
View All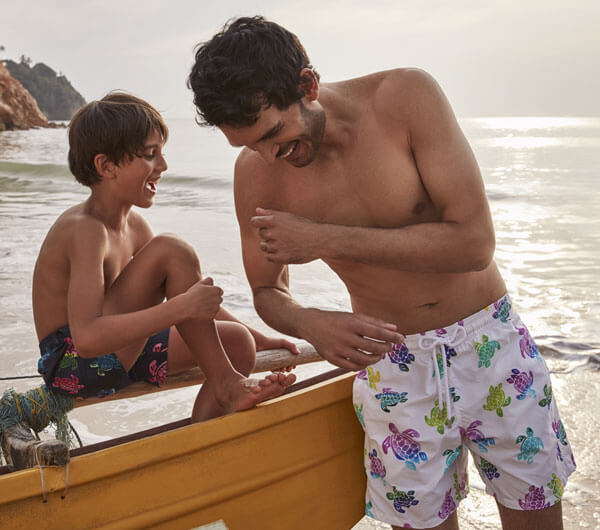 Classic men's swim trunks by Vilebrequin.
Filled with sunshine and inspired by the brand's Saint-Tropez elegance, the iconic Moorea men's swim trunks single-handedly summarise the Vilebrequin philosophy. With exotic patterns and nautical prints giving them both a fun and chic touch, these classic men's swim trunks sport numerous distinctive features. For example, eyelets placed at the back of the swim trunks guarantee that the water runs out, while the use of peach-finish polyamide gives them a soft feel and an unrivalled fit, while helping them dry quicker. Supple, chic and high-performance, these classic Vilebrequin men's swim trunks adapt to every moment and every personality for the most unforgettable of holidays. Epitomising summer chic, these pieces are also available in our kids' swimwear collection for a summer of father-son playfulness.