Bandeau
Bandeau
6 products
Vilebrequin bandeau swimsuits and bandeau bikini are a celebration of summer chic. Lightweight and vibrant, they will show off all your best curves ahead of this beautiful summer. Whether adorned with chic stripes or a turtle-scale pattern, these bandeau swimsuits embody the know-how of a sun-loving maison. As sun-loving as those ladies who opt for these chic yet comfortable swimsuits.
View All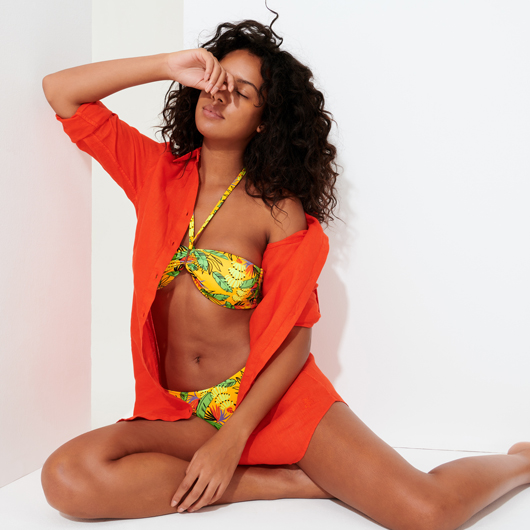 Women's bandeau bikini top.
Embroidery, 3D prints or iconic patterns: with these women's bandeau swimsuits, Vilebrequin showcases both its bold creativity and aesthetic heritage. Flamboyant or discreet, hot pink or lagoon blue, they will meet all your needs (and moods), both on and off the beach. Our wide range of contemporary yet timeless bandeau swimsuits are an invitation to travel. Because luxury is all about the details, our bandeau bikinis embody this Vilebrequin trademark right into their stylish rings and engraved strap tips. However, with their stretch material, terry cloth and removable padding, our bandeau bikinis ensure the comfort of those who wear them. Perfect for sunbathing or playing in the waves, these bandeau bikini tops allow the modern woman to remain in control of her look, whatever the occasion.