Men Micro Ronde Des Tortues Look
Layer your clothes with this casual and fashion forward look. It is composed of a cotton sweatshirt, a timeless cotton shirt and a long-sleeved cotton T-shirt under it. To add a formal style wear a plain five-pocket trousers and don't forget your floaty sunglasses. This whole look will keep you warm on windy days.
Please select the items from this look that you would like to add to your order.
Products
Product added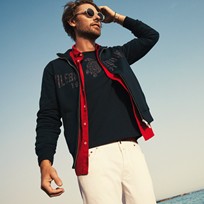 Checkout/Shopping Bag