SUMMER ON WHEELS
Curated by JRP|Editions for Vilebrequin, Swiss artist Sylvie Fleury has been exploring the crossovers between art, fashion, tuning, and the New Age aesthetic since the early 1990s. By customizing objects borrowed from mainstream culture, she forces viewers to reassess the notions of value, fetishized luxury, and gendered consumption. With strong ties to Conceptualism, her artistic practice covers sculpture, performance, painting, and installation.

MECHANICS OF DESIRE

Initially used for wall paintings, the artist's "Hot Rod" visual is revisited here for Vilebrequin as men's and women's swimwear as well as accessories. Present throughout the collection, the two-color flame is a symbol for both the combustion engine—right where Vilebrequin takes its name from—and an invitation to "go faster," wilfully borrowing from American subcultures.
AN "ART-TO-ART"
WITH SYLVIE FLEURY
this is a decorative banner video and does not convey important information
Dive into
Sylvie Fleury's
universe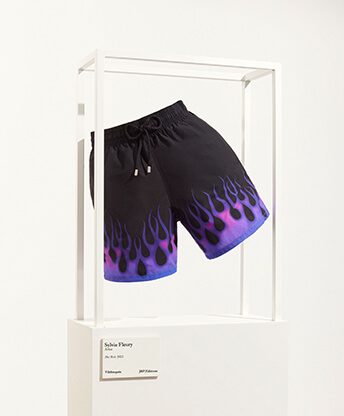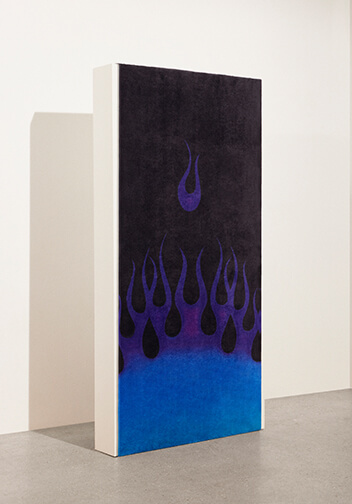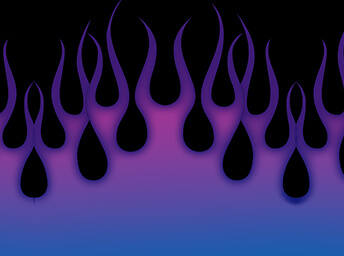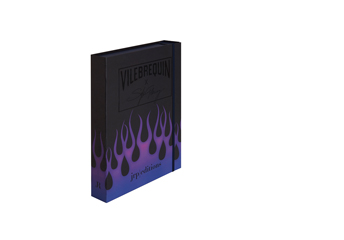 SYLVIE FLEURY's
biography
Sylvie Fleury (b. 1961) is a contemporary Swiss artist. Creating mixed-media works out of the tradition of Conceptual art, she pointedly criticizes superficiality, glamour, and luxury products while appropriating their seduction. Her bronz casts of high heels and shopping carts are indebted to artists such as Marcel Duchamp and Andy Warhol, both in her use of commercial objects and for her interest in subversion. Fleury has shown with Galerie Thaddeus Ropac in Paris, Salon 94 in New York, and Karma International in Zurich. Her work can be found in the collections of the Museum of Modern Art in New York, the Centre for Art and Media in Karlsruhe, MAMCO Geneva, and the Museum der Moderne in Salzburg. She lives and works in Geneva.